mmorpg download
Page 23
More Free games -> 19 | 20 | 21 | 22 | 23 | 24 | 25 | 26 | 27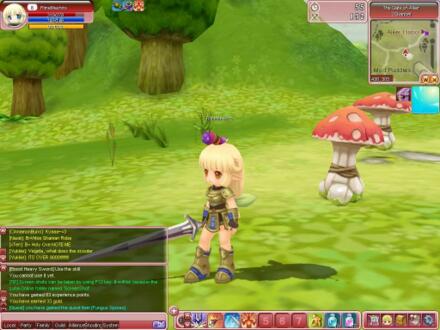 Luna MMO
Luna Online is a cute free-to-play fantasy MMORPG that emphasizes user communities. Among the game's unique social features are the Match Making System, which helps players find the perfect match to play with, and the Family System, which lets players join up and operate a farm together. Other characteristics include flexible character development with jobs, superior graphics, cute character designs, and fast paced action.

Luna Online features over 40 different Job classes and hundreds of unique skills, Luna Online offers players nearly limitless customization options, all designed to be effective when playing solo or with a group of friends. Powerful character customization tools and deep crafting options allows you to maximize your character's potential based on the choices you make and the friends you meet along the way. Join the armies of humans, elves, and dwarves as they band together to harness the power of the Goddess Luna and turn back the tide of evil demons threatening to destroy their world forever!

City of Steam MMO
City of Steam: Arkadia (COS Arkadia) is a free-to-play browser MMORPG based on the Unity3D technology and developed by Mechanist Games. The game takes place in an industrial "steampunk" where clockworks, steam power, and arcane technologies make up the mechanical world of the game.

Players begin their adventure in the city of Nexus, where they have to find out more about their family history, and help to rebuild or destroy Nexus. You can affect the world of the game in many ways, either by defeating enemies in dungeons, or by completing missions that affect the economy, the politics or the inhabitants of Nexus.

Winterfrost Legacy MMO
Winterfrost Legacy is a free to play browser based RPG where players must adventure across a huge fantasy realm filed with orcs, elves and benevolent and malevolent gods in a story driven epic where they are the main protagonist alongside their assembled companions. The game focuses heavily on PVE and PVP content and revolved around gathering equipment, unlocking features and making both your primary character and your mercenary team mates stronger in order to take on more difficult challenges. The game comes with a wide variety of features, giveaways and prizes to be unlocked and earned as players level up, ranging from the Server Events, Daily Events, Logins, Prizes and more.

SKILL Special Force 2 MMO
S.K.I.L.L. Special Force 2 is a free-to-play modern MOFPS developed by Dragonfly GF Co., Ltd that offers good graphics, balanced team warfare and a huge variety in gameplay and customization options with numerous weapons and equipment, varied maps and a grand selection of varying game modes.

In Special Force 2 players can choose between six elite military forces: SAS, the Special Air Service of the British Army, Delta, a special mission unit of the US Army, Spetsnaz, the special forces in Russia, GAFE, a Mexican special force, GIGN, a special operations unit of the French Armed Forces, and the UDT, elite forces of the Korean Naval Special Warfare. In the game you can customize your character through purchase of additional parts or items and features a large set of real-world weapons.

Lets Fish MMO
Let's Fish is a Free to Play Fishing Browser MMO, developed by Ten Square Games.

Let's Fish is a free to play fishing MMO that players can access through their chosen web browser, with a quick initial registration through the official website players can be playing the game in minutes. The purpose of the game is to level up and earn access to brand new fishing gear and gradually catching new fish as you journey around the world to new fisheries on the lookout for new and rare fish. The game is extremely casual, fun and family friendly and can be played for minutes at a time or engrossing players for hours.

Might and Magic Duel of Champions MMO
Might & Magic: Duel of Champions is a F2P Card Collecting MMO Game developed by UbiSoft for Windows.

In this free to play card collecting game players get to go head-to-head against each other with their very own deck of cards built up using a variety of powerful heroes, various creatures and monsters, devastating spells, tactical fortune cards and game changing events as they battle it out to try and kill off their opponents hero. With hundreds of available cards players have innumerable strategies that they can utilise to try and defeat their opponents, creating unique and powerful combinations that are constantly evolving with new expansions and the new cards that they bring.

Herokon Online MMO
Herokon Online, it's a Browser Free-to-Play MMORPG, developed by Silver Style.

Herokon Online is a fantasy MMO set in the tabletop campaign world of The Dark Eye where budding heroes can journey through the land of Aventuria to seek out their fame and fortune whilst battling dangerous creatures and terrifying evils. The game is completely free to play with a premium option and can be played directly in your Internet browser without the need for a client download. Players get to choose from three different races each of which has four playable professions (classes) and can be customised with talents and special abilities.

Lets Farm MMO
Let's Farm is a Free to Play Browser Farm MMORPG developed by Ten Square Games.

Let's Farm allows players to step into the shoes of a farm manager, responsible for building up your own farm land and ranch in this free to play farming MMO you can choose from a wide variety of different farm buildings and unlock various produce from cattle, chickens, crops and seeds that can be sold at market or used on the farm itself. The game is easy to access with players registering on the official website and they can instantly play through their web browser without the need to download any client software.

Neverwinter MMO
Developed by Cryptic and based on the popular Dungeons & Dragons's setting: the Forgotten Realms, Neverwinter is a free-to-play action MMORPG where epic stories, action combat and classic roleplaying await those heroes courageous enough to enter its immersive world. You will have the chance to live countless adventure in several locations, from the besieged walls of the city to subterranean passageways in search of forgotten secrets and lost treasures while exploring and defending one of the most beloved cities from the Dungeons & Dragons Forgotten Realms Campaign setting as it rises from the ashes of destruction.

Ultimate Naruto MMO
Ultimate Naruto is a free-to-play anime themed browser MMORPG developed by Bingyou Animation Co. Ltd and is set in the same universe as the original Naruto manga and anime series. The game gives to the players the chance to slip into the shoes of their favorite characters from the Naruto anime series and form their own path as an ultimate and powerful ninja.

The game puts players in charge of a main character that controls a team of 10 ninjas which use combat techniques, skills and seals based on the original Naruto manga and anime series. Each character has a unique combat style, with unique cool and powerful attacks, and the characters and attack animations look fantastic.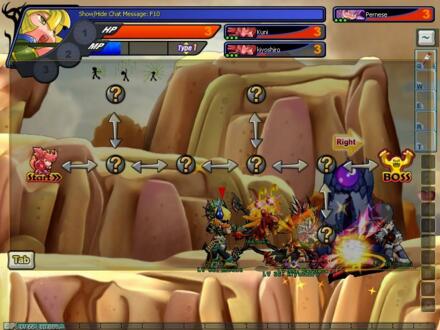 Grand Chase MMO
Grand Chase is a Free-to-play MMORPG Game developed bu KOG Studios for windows.

Set in the land of Bemesiah, a continent that has been at peace for many years has fallen victim to the sinister plot of the Dark Queen, Kaze'aze. By killing the Queen of Kanavan's advisor Kaze'aze use dark magic to polymorph herself to look the same as the advisor and take their place therefore having the ear of the Queen herself. With Kaze'aze manipulation she began a war between Kanavan and the Seradin Empire, a long bloody war that nearly brought on both empires to its knees before Kaze'aze true identity was discovered. The Queen of Darkness fled and was hunt down by many factions that have suffered in the war and in the aftermath the Queen of Seradin created an independent faction of swarm soldiers to defend the continent known as the Grand Chase.

Naruto Saga MMO
Based around popular cartoon anime Naruto, Naruto Saga is a browser-based game that is totally free to play and can be loaded up in your Internet browser requiring no client download. With stylised graphics, interesting features and quest-based adventuring that takes you through the world revealed in the cartoon, there is much to see and do in the game.

Questing is a key element of Naruto Saga, many of the features are unlocked as players slowly progress through the levels, meaning there is always something new to work towards. After completing the first quest players get to select which genre of martial arts they wish to focus on, Ninjutsu, Genjutsu or Taijutsu, each of which have various pros and cons when compared with each other. Players can further increase their own abilities by unlocking the eight gates, each gate having its own particular stat that it will boost, players get to unlock one gate of their choosing every ten levels.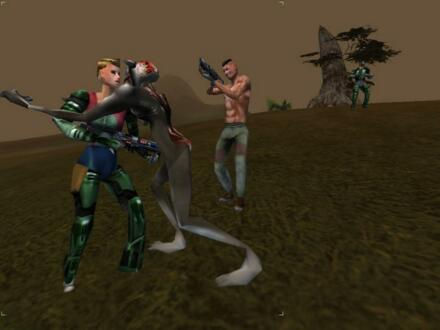 Project Entropia MMO
Entropia Universe

MMO Genre: Social 3D Economy MMORPG
Platform Availability: Windows
Developed By: MindArk

Entropia Universe is a free to play 3-D online virtual world where players create their own unique character in a futuristic sci-fi universe where they begin life as a colonist on the Planet Calypso. The game itself is a completely sandbox adventure offering up the opportunity to have a second life of adventure, exploration and the ability to socialise with other players from around the world.

Empire Universe 3 MMO
Empire Universe 3 is a Free to Play Space Browser MMO Strategy, developed by Looki.

In Empire Universe 3 (MMORTS) players are responsible for establishing a Galactic Empire among the stars, expanding territory of their chosen alien race they must settle planets and create working planetary bases in this space based free to play Empire management strategy. There are strong elements of trade, conflict and diplomacy in the game and players are likely to experience all three as their Empire rises in acclaim. The game can be accessed directly through your web browser after a quick registration and does not require a client download to play.

More free MMORPG Games -> 19 | 20 | 21 | 22 | 23 | 24 | 25 | 26 | 27