ONLINE FREE SPORTS MMO GAMES
Online sports games are extremely popular in the free to play game world with the more console like MMOs being released for PC as either downloadable client based games or sports MMOs that players can play in their web browser. Choice of sports games covers the full spectrum of sports such as basketball games, football games, golf games, racing games, fishing games and more, with even one or two branching into first person shooter themed games with "futuristic sports". Sport games not only allow players to jump into the cockpit of a car or a lace up the boots of a football player and be in the middle of the action but also allow players to manage entire teams in a variety of sport manager games, particularly free football manager MMO games that are growing in popularity. With such a wide selection of games available we show you what each of them are all about with our detailed reviews and profiles, what gameplay features they offer an where you can go to download the game played in your web browser for free.
Sports MMORPG
More Free games -> 1 | 2
GoalUnited MMO
GoalUnited is a browser game mmorpg where the player will manage an entire football team. The player needs to manage all the aspects of the team such as football players, buy and sell the players, build and manage the new stadium and so on.

GoalUnited is localized in a lot of languages and there are a lot of tournaments. These tournaments are formed by a precise number of players that will fight each others to reach the first spot in the ranking and pass to strongest leagues.

Gokickoff MMO
GoKickOff os a Free to play Management MMO abialable for Web Browser plataform,developed by GokickOff.

In this browser based football/soccer manager MMO players are able to run their very own team, responsible for improving facilities, buying and selling players, training new members and players from the youth team and being actively involved in the tactics and strategy utilised in matches as your team tries to climb its way up the league. This free to play game is played by thousands of players, each managing their own team that you will go head-to-head against friendly competitive play, encouraging a strong and social community.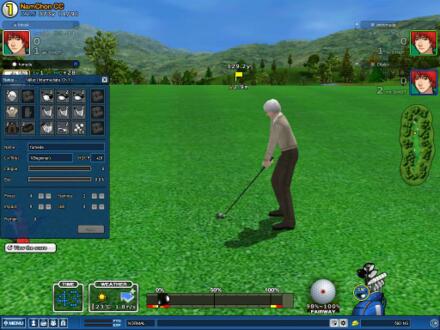 Shot Online MMO
Shot Online is a unique realistic 3D Golf MMO developed by OnNet USA for Windows. Start by selecting one of the game's six playable characters and advance your golf skills by competing against players online. With 18 courses, 7 characters and 9 different game modes Shot Online feels like a complete golfing experience. Shot Online uses a rootkit like anti-cheating software called nProtect GameGuard which is almost impossible to remove after being installed. Shot Online was originally created as a Korean title and then later marketed to the United States. Debuting in 2004 as a free online download, this game worked its way onto store shelves in 2006 when a retail version was made available. Game updates are pushed through an update server with major improvements scheduled every six months. Using this method the developer can make rapid fixes or game changes such as the addition of auction houses to the game. Game developers have promised updates such as graphical improvements in the future.

United Eleven MMO
United Eleven is a Free to Play Browser MMO Manager Footbal Game, developed by Nexon Europe.

For many it is the thrill of finding space to pass the ball to one of your team members, to take down a rival opponent before they can break your defences or to hear the cheer of the crowd as you slam the ball into the back of the net as a star player on the football team. For others the glory comes in assembling such a squad of professionals, being responsible for each player's training and contentment within the team, for strategizing and using tactics and formations and reacting to the opponent teams actions and cheering on from the sideline giving a much-needed team talk in the dressing room at half-time as the manager.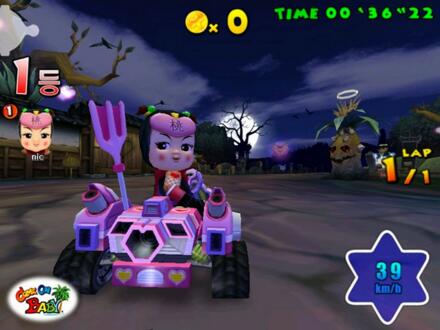 Racing Star MMO
Racing Star: Come on Baby, developed by Expotato, is a baby themed 3D cartoony kart racing MMO by Alaplaya. Race through the games many uniquely designed stages while lobbing items at your opponents to try and slow them down. Come on Baby has some solid racing mechanics and six playable characters to choose from.
Ready to play directly in your browser, it features 6 unique cartoon-style lovely baby characters, outstanding graphics and game play, 250 kinds of clothes belonged to 15 categories, 1 vs 1 "hit face"minigame, 8 kinds of racing vehicles (kart, slider, mount) and 350 accessories for you to DIY your personalized vehicle, under track mode. Players will enjoy themselves in an amusing and carefree atmosphere full of fun.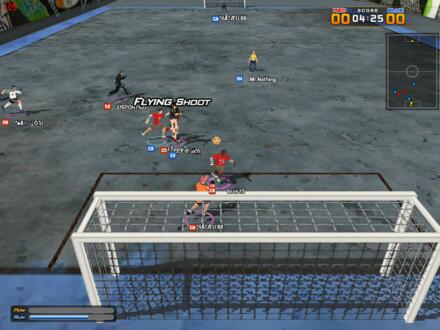 Kicks Online MMO
Kicks Online is a free-to-play soccer MMO (massively multi-player online) developed by Entermate, one of the emerging brands of Korean online games industry. The game was launched on the Korean market on July 2006 and now has more than 300,000 Registered users.

Kicks Online adopts street soccer modes and rules. Only through different tactics (such as various ways of passing ball and adjusting football surface harness) and strong teamwork players can win the match. More the player plays, more the character's skills will improve.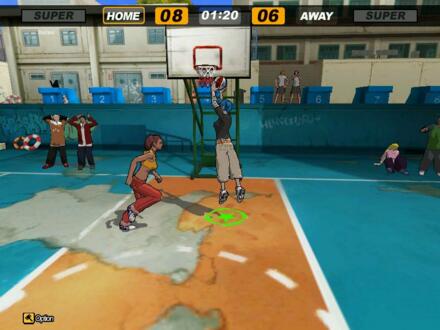 Freestyle Street Basketball MMO
FreeStyle Street Basketball is a fast-paced massively multiplayer online PC basketball game where players meet on virtual courts to challenge each other in a dynamic pick-up game environment, featuring cutting-edge music, fashions and gravity defying basketball moves.

The game's easy-to-learn controls allow players to master every move, from simple shots to crazy alleyoop dunks, using just four keys. Gamers can play 1-on-1, 2-on-2 or 3-on-3 street basketball online against people from around the country. The game boasts an exclusive soundtrack featuring Lloyd Banks, Young Hot Rod and Sha Money XL and clothing and gear from Marc Ecko Enterprises. The globally popular FreeStyle Street Basketball has more than 30 million players in Asia.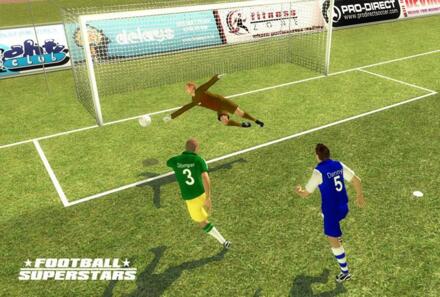 Football Superstars MMO
Football Superstars is a massively multi-Player online (MMO) game based on the immensely popular sport of football. Football Superstars is the first MMO to recreate the game of football and its associated lifestyle. Thousands of players within a huge online persistent world compete to become a football superstar leading to on- and off-pitch glory, fame and luxury.

You control one player, rather than an entire team and develop your player's career from your first days at a football academy all the way towards stardom as a member of the first team of a successful premier club. Along the way you must train, develop your talent, learn new skills, tricks, abilities and use these new found abilities on and off the pitch to further your football career.

Winning Putt MMO
Winning Putt is a F2P Golf MMO for windows develped by OnNet.

A free to play golf simulator with MMO features, Winning Putt is a free to play title that sees players working their way through the golf circuit, gaining XP to level up, acquiring new gear, competing in friendly and cup based challenges and honing their skills.

The game guides players through the rules of golf and the mechanics to make a drive/swing/putt (i.e. hit the ball with a golf club), which follow a relatively traditional format based on direction of the shot and the power and accuracy of the swing. To line up a shot, players hit the Tab button to bring up a birds-eye view of the course where they can see where the ball is likely to land with the currently selected club providing they are precise with their power and accuracy.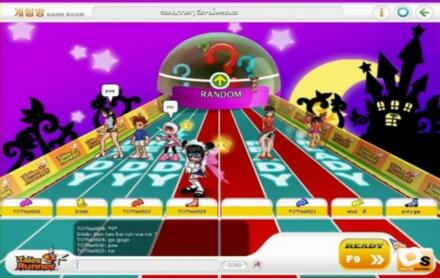 Tales Runner MMO
Tales Runner is an athletic mmo racing game created by Rhaon Entertainment. It combines the genres of social, fantasy and racing games. Players are operating characters using various equipments running, jumping, swimming, or skiing in various racing maps in several racing modes (single, team, survival, relay). Racing maps are themed around various stories, either taken from famous tales. King Henry is the king of a beautiful country. To make the people happy again, he started the "Fairyland Sightseeing Racing Competition" with a fairy tale theme. The winners of the competition will be awarded a stone that can fulfill any wish. Tales Runner's character development consists of gaining experience points and levels and gaining various pieces of equipment which can be used to improve the characters's abilities, either by purchasing them from the in-game shop, or as prizes for racing, participating in events, or completing quests. With low system requirements, everyone can compite and run for any wish you have in mind. What would you like to ask?
Lets Fish MMO
Let's Fish is a Free to Play Fishing Browser MMO, developed by Ten Square Games.

Let's Fish is a free to play fishing MMO that players can access through their chosen web browser, with a quick initial registration through the official website players can be playing the game in minutes. The purpose of the game is to level up and earn access to brand new fishing gear and gradually catching new fish as you journey around the world to new fisheries on the lookout for new and rare fish. The game is extremely casual, fun and family friendly and can be played for minutes at a time or engrossing players for hours.

Victory The Age of Racing MMO
Developed by Vae Victis, Victory: The Age of Racing is a world inspired by the legendary open wheels racing scene, but revised with a post-apocalyptic art direction for cars and tracks which gives to Victory a unique visual appearance in the racing games niche. Victory is based on quick competitions where players gain experience points and collect different car items to increase their car's attributes and reach the top of the leaderboard.

Victory is a game for the casual racers that want more: realistic car physics and a real racing experience with real time collisions, maintaining easy to learn game controls. An easy to use realistic physics means an unprecedented car handling in a game for everyone that is both easy to learn and hard to master. Victory is also a game for the hard core racers that don't have time for a full professional 3 hours race and want to race in a more casual and funny gameplay.

GolfStar2 MMO
GolfStar Season 2 is the free to play Golf Simulator from Gamigo; pick up your clubs and head over to the golf course and go up against other players in friendly and competitive matches. A combination of skill, gear and luck is needed, but with time and patience you'll work your way through the rankings from semi-pro to pro and will no doubt be a Master in no time.

There five different game modes available in GolfStar2, each one offering a different style of play; Stroke puts to players against each other and the one with the fewest amount of taken shots (strokes) wins, in a Match up to four players compete in two teams to see who wins the most holes in the entire match. In Skins players can wager money with each other per hole and the winner takes the prize! The game also offers Competition where up to 20 players go solo in a race against the clock, earning more points for sinking their ball before moving on to the next hole, finally Team Competition, where up to 20 players are divided into two teams and earn points with their final placement after the competition; the scores of all players are added up to determine the winning team.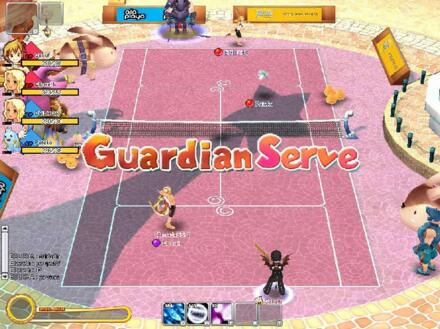 Fantasy Tennis MMO
Fantasy Tennis Season 2 is a fantastic and colorful free-to-play MMORPG with a twist. Take to the courts and compete against players from around the world with a combination of serves, swings, and spells as you level up and customize your character. Whether you choose to be speedy, hard-hitting, or an expert at calling down meteor storms and tossing fireballs, you'll need quick reflexes and a sharp mind to win the match!

Fantasy Tennis Season 2 Features Include: