FREE SOCIAL MMO GAMES
With many MMOs falling into definitive gameplay genres, everything from MMORPGs, FPS, RTS and Racing games, many offer social chat elements that allow the players in the games community to interact with each other. With the advent of online chat rooms and instant chat programs the rise of the Social MMO has marked a new genre in the free online game world. Where others focus on the gameplay the Social MMO acts more as an interactive online chat room where players can log in with their own personally customized character, with everything from their hairstyle, clothing an apparel chosen, and interact with other players in dynamic environments to chat or play mini-games. These games cover a broad spectrum, from more child friendly games where players can meet together in parks or their own personally created areas, or more adult orientated games where users can interact in bars and night clubs. With a number of Social online games around we check them out, identify the key features and put together a detailed profile for you discover just what the "game" is all about.
Social MMORPG
More Free games -> 1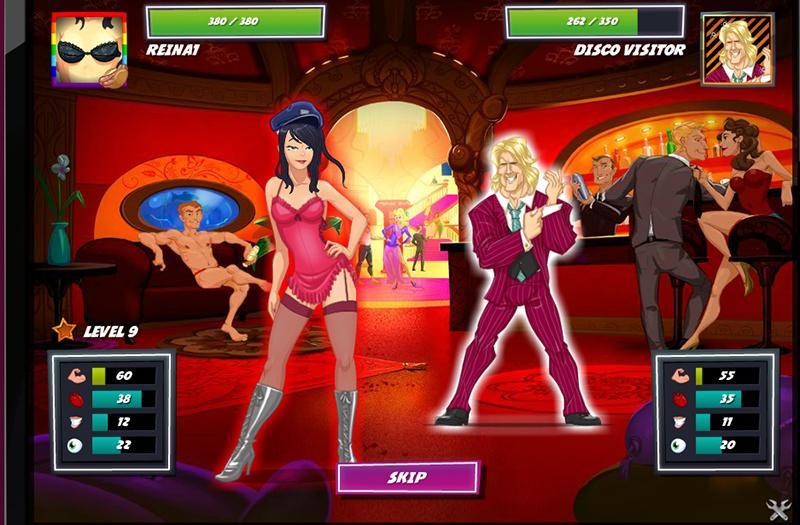 Big Bang Empire MMO
Big Bang Empire F2P MMO RPG you can play on Web Browser, Android & iOS
Developed By: Playata

In Big Bang Empire players lace up their thigh high boots, equip their skimpy panties and don a top that leaves the very little to the imagination as they embark on an epic journey of becoming a porn star of the adult entertainment industry. This free to play browser-based MMO lets players fully designed and customise their own budding entertainer as they rise through the ranks of home-made movie star to the glittering (yet no less seedy) world of feature film pornography. With very tongue in cheek and adult humour players will find much amusement in the direct and uncensored themes and language littered throughout the game.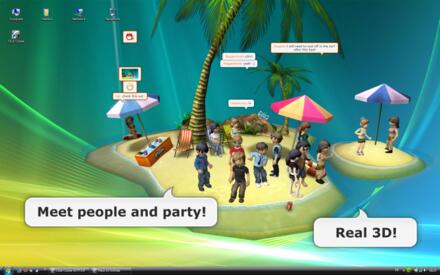 Club Cooee MMO
Club Cooee is a fun F2P 3D Online Chat for Windows and Mac devices, developed by Club Cooee.

Club Cooee is a 3D social chat platform where users can create their own identity with their own unique, fully customisable avatars, and join or create their own 3D chat room environments. With a wide variety of features from DJ rooms, Quiz rooms and player rooms that users can furnish with a wide variety of items, chatting with other people has never been so easy or so fun. Completely free to play the title is cross platform between Windows PC and Mac users.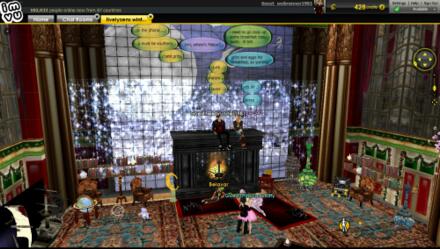 imvu MMO
Developed by IMVU for Windows, IMVU is a free to play online social network and virtual world where millions of members use 3D avatars to meet new people, chat and have fun playing game in animated 3D scenes. You can shop and dress up your avatar with your own personalized look, design and decorate your own 3D space, and connect with new people from around the world.

IMVU has reached 50 million registered users, 10+ million unique visitors per month and a $40+ million annualized revenue run rate. It has the world's largest virtual goods catalog of more than six million items with approximately 7,000 new items added every day, almost all of which are created by its own members. The virtual goods catalog consists of everything from 2D stickers to detailed 3D items like virtual jewelry, clothing, hair, cars and other fun items that help IMVU community members create an IMVU identity as unique as their own.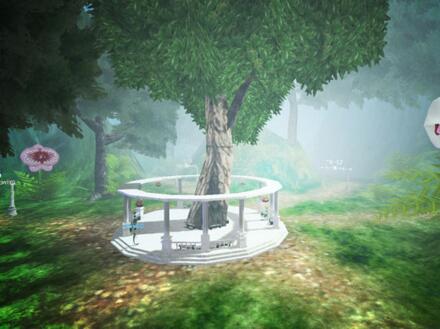 Onverse MMO
Developed by Onverse for Mac OSX and Windows, Onverse is a free online virtual world full of fun people and cool things to do. Unlike 2D social networks that simply give you a profile page, Onverse gives you a free 3D home, clothing, furniture and some tools to get you started. It's your new virtual life in a massive virtual world. Everyone who joins Onverse can create an avatar and get a free apartment, then head out into the world to explore and find new friends. Explore ancient space temples, pirate caves, tropical islands, red rivers and other gorgeous landscapes.

3Dchat MMO
3D Chat is a mmorpg client based developed for Windows. 3D Chat is characterized by a strong social component and his structure reminds the one seen another succesfull social mmo: Second Life. Players can create their characters with a rich editor and can dress them up as they want into the game.

In the game there are a lot of places to know and chat a lot of players like hotels, pubs, shops and so on.

Players can buy a lot of items inside the game such as clothes and they can edit their characters in their favourite way.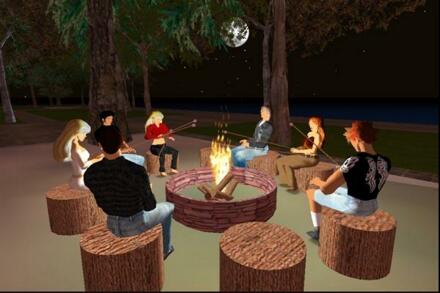 Second Life MMO
Second Life is an online digital world, built, shaped, and owned by its participants. Create a shared reality in a world full of people, activities, adventure, and fun. If you are a designer, programmer, or inventor you will be blown away by the variety of opportunities Second Life provides.

Create beautiful scripted 3D objects in a totally live online environment - from weapons to clothing lines to motorcycles.

Explore a rapidly changing and expanding world simulated on over 100 servers (with new land added almost daily), containing hundreds of thousands of user-created objects, daily and nightly hosted events, games to play, and people to meet.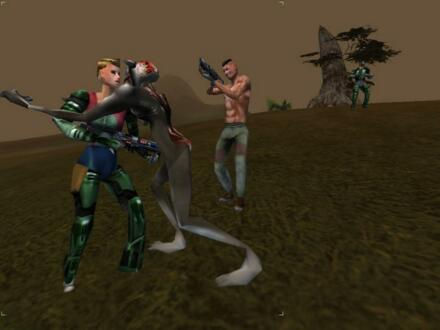 Project Entropia MMO
Entropia Universe

MMO Genre: Social 3D Economy MMORPG
Platform Availability: Windows
Developed By: MindArk

Entropia Universe is a free to play 3-D online virtual world where players create their own unique character in a futuristic sci-fi universe where they begin life as a colonist on the Planet Calypso. The game itself is a completely sandbox adventure offering up the opportunity to have a second life of adventure, exploration and the ability to socialise with other players from around the world.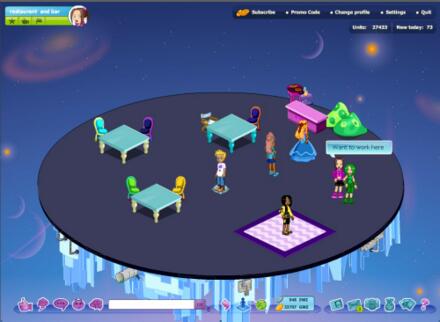 Woozworld MMO
Ready to play directly in your browser and eveloped by Woozworld Inc. for internet browsers. Woozworld is a browser-based virtual MMO world in constant evolution designed for tweens (ages 9-14). In Woozworld, tweens can safely create their own universe, play, and communicate with each other. Woozworld has creative functionalities as well as hundreds of games based on popular childrens' TV series. Woozworld is a 100% safe environment.

In Woozworld, every child can: Create and customize his/her Woozen with accessories; Create his/her Unitz and transform the world; Vote for the best Unitz and Woozen; Play and view hundreds of games and videos (by territory); Communicate and start Spellz battles with others players and friends; Take on the world by storm and complete diverse missions; Earn Beex and Wooz to buy objects; Participate in Woozworld's animations; As well as many more free benefits!

GameGlobe MMO
Gameglobe, developed by Square Enix, is both a platform that allows players to unleash their creativity by creating their own fun and engaging game and a unique free to play action adventure browser-based game. With just a couple of click, players will be able to explore endless inspirational, fun and visually stunning game worlds and creative possibilities made by creators just like you from all around the world, right from your web-browser.


Miss Bimbo MMO
Miss Bimbo is an online virtual reality social networking game. It is a place where bimbos from around the world can join one another and be proud and happy of bimboland. In bimboland users can enjoy a safe fun environment in which to bring up and nurture their beloved bimbos. Users can interact, socialise and educate one another on a wealth of female, fashion and bimbo related topics.

There's a lot to do in Miss Bimbo! Users are able to customise their avatar in a wide variety of ways using all kinds of clothes, shoes and accessories. Think of Miss Bimbo as part game, part virtual world and part social network. This means the players are able to interact with other, discussing their latest creations, fashion preferences or whatever else they feel like chatting about. There are a variety of mini-games available inside Miss Bimbo - all designed to add to the Bimbo experience, encourage collaboration between users and the bottom line, to have fun! You can compete with other Bimbos to see who's the best dressed and most popular. To progress in the game you have to get her a hot boyfriend, a cool place to live, and find her a great job.

More free MMORPG Games -> 1