Woozworld MMORPG
Ready to play directly in your browser and eveloped by Woozworld Inc. for internet browsers. Woozworld is a browser-based virtual MMO world in constant evolution designed for tweens (ages 9-14). In Woozworld, tweens can safely create their own universe, play, and communicate with each other. Woozworld has creative functionalities as well as hundreds of games based on popular childrens' TV series. Woozworld is a 100% safe environment.

In Woozworld, every child can: Create and customize his/her Woozen with accessories; Create his/her Unitz and transform the world; Vote for the best Unitz and Woozen; Play and view hundreds of games and videos (by territory); Communicate and start Spellz battles with others players and friends; Take on the world by storm and complete diverse missions; Earn Beex and Wooz to buy objects; Participate in Woozworld's animations; As well as many more free benefits!
Each player can create a world based on his imagination and choose if he or she wants to share it with his friends and other Woozworld Citi'zens. He can also choose to create complementary Unitz by clicking on the Add box. By choosing to place doors and assigning them destinations (a friend's Unitz, a Public Zone, another one of his own Unitz), your child can create a virtual world to his expectations.

Screenshot: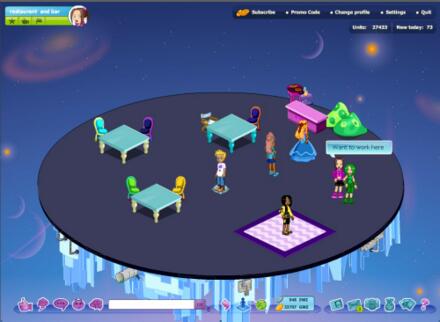 Add this game to your favourite forum, copy this
BB code: CONTROL + C and post it: CONTROL + V
Woozworld Videos