FREE MMORTS GAMES
Strategy MMORPG games
More Free games -> 2 | 3 | 4 | 5 | 6 | 7 | 8 | 9 | 10
Odin Quest MMO
Odin Quest

Game Genre: Free to play Fantasy MMORPG
Platforms: Web Browser
Developer: Dragonsmeet

This fantasy browser-based MMO RPG has elements of traditional Norse mythology where players will adventure across a fantasy realm, seeking out dangerous dungeons and going on journeys. The game is completely free to play with premium options for those who wish to speed up their gameplay and purchase items with real-world money. In the game players can choose from five different classes that offer up a variety of different styles of play to best suit the player. With a number of in-depth systems and features the game has a lot to offer to both new players and old.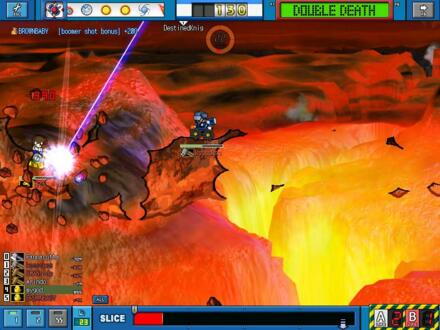 GunBound MMO
For a long time, we have worked in the game industry, and have applied
our creative talent into creating Mobiles that you have never seen
in other shooting games.

With many unique types of armour, we open this game to you, so you can develop crafty and even sneaky! new strategies. The Moondisk also changes the gravity on each map, making it necessary to re-calculate how
the atmosphere will a re-calculate how the atmosphere will alter
how you fire. It's important to use your weapons well and adapt

Orcs Must Die Unchained MMO
Orcs Must Die: Unchained is a Free 2 Play Strategy MMO ( Fortress Siege/Tower Defense MOBA) developed by Robot Entertainment.

Produced by Robot Entertainment, Orcs Must Die: Unchained is a free to play action packed-based "fortress siege" MMO where players can choose from a variety of different classes/characters and go head-to-head against other players or challenging AI in an attempt to destroy their opponents defences and push through waves of minions into their base.

Generals of War MMO
Generals of War is a Free-to-play Browser Empire Strategy game, developed by Playzo GmbH.

Generals of War is a strategy based free to play MMO where players take control of their own forces as a general in the First World War, charged with leading an army, building up their own command headquarters and fighting for their country against challenging AI and other players from around the world. Players must advance their technology, acquire resources, field a powerful military force and work towards becoming glorious in battle and reaching the top of the game leaderboard. Generals of War is a browser-based MMO that is accessible directly through the official game's website and does not require any client download to play.

Summoners Legion MMO
Summoner's Legion F2P TCG MMO browser game. Developed By: R2Games

Summoner's Legion is a free to play trading card/card collecting game where players must acquire their own army/deck of soldiers and go head-to-head against challenging AI opponents facing off against real-world players in PVP matchups. The game offers a high level of strategy as well as addictive gameplay and is ram packed with features as players earn XP, level up and unlock them. Summoner's Legion can be played directly through your web browser after an initial account registration and does not require any bulky client download this to enjoy the fast-paced tactical action.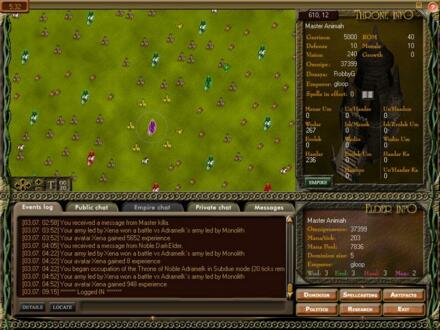 Dominance MMO
Dominance: The Throne of Elders is an online turn-based fantasy strategy multiplayer game. Currently, free and fully playable beta phases are taking place.
In the game you control an Elder, a mighty wizard who wages war with other players or allies with them. Interaction between players is the key issue in our game - prepare to start communicating and plotting right from the beginning. When you start playing you will immediately be aware of your neighbours and other players with interests in your area. Dominance's IRC-like communication modes make sure that the presence of other players is not merely a number on the screen. As opposed to most other Internet games of the similar type (MPOGs), Dominance features a 2D map. Territories are not abstract or generalized, and armies don't dwell "in transit".
Blacklight MMO
Developped by Zombie Studios, Blacklight Retribution is a free to play multiplayer online first person shooter based in a futuristic urban warzone. The game focuses on innovation by fully utilizing Unreal 3 technology and implementing DirectX 11, giving gamers stunning graphics. It provides players (especially FPS enthusiasts) with a massive arsenal of weaponry and gear ranging from bleeding edge side arms to massive mechanized Hardsuits.

Players can customize their weapons and gear for the perfect load out. Blacklight Retribution allows customizing everything about a weapon from barrel, ammo type, stocks, muzzles, optics, colors and even weapon tags. Also they can earn credits in game to change the tide of battle by deploying flame throwers, automatic grenade launchers and even airstrikes. The first in-game tool that players should learn how to use effectively is the Hyper Reality Visor or HRV for short, which enables the player to see through walls, locate opponents, team mates, weapon depots, and even detect a weak point in the structure of the Hardsuit. The second spectacular tool in the game is the hardsuit, a sort of giant mechanical armor. Armed with a minigun and railgun the hardsuit is the ultimate weapon.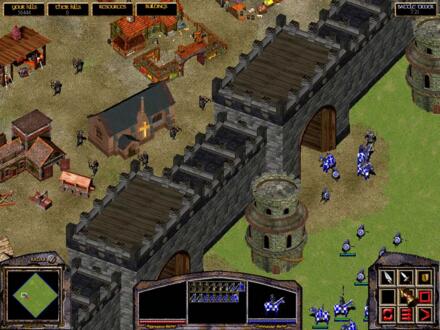 Kingdoms of War MMO
Welcome to the fantasy world of Jairon where you will take the role of a minor Lord who rules over a small fiefdom known as a Province. Your goal is to grow your Province and the Kingdom your province is associated with, by building up your lands, training Peasants as soldiers, learning magic, spying on neighboring Kingdoms, basically anything and everything that will give your Province and/or your Kingdom an edge over your enemies.

The entire game is played out in realtime in a huge persistent world. When you go to battle you will be able to actually take your armies onto the field and fight your enemy in realtime. You will hold Court with the 19 other members of your Kingdom on a regular basis and leaders from the Provinces will be elected to leadership positions in the Kingdom. Your Kingdom will engaged in diplomacy such as setting alliances, or trade relationships.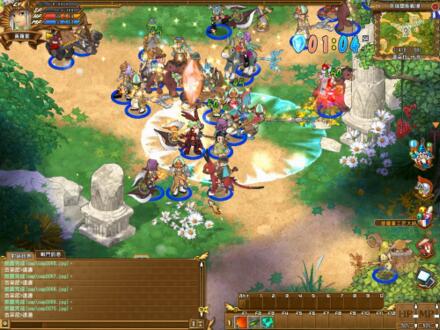 Myth Angels Online MMO
Developed by UserJoy Technology for Windows and PlayStation 3, Myth Angels Online (MAO) is the newest title of the Angels Online series. As free to play mmo title, has kept the original 2D cute style anime flavor of Angels Online, and presents whole new game features, such as instance dungeon mode and pet troop. Based on Greek Mythology, gamers act as warriors called by the gods and goddesses to fight in the battles against evil forces. Gamers can go solo or with their friends to explore the Myth and enjoy the arcade-type excitement to wiping out monsters in the instance dungeons. Besides, gamers can raise various adorable pets to create their own pet troop, and ride on powerful robots to conquer the battles. It features fast combat pace and Magnificent battle effects; various ways of looting; integrating and decomposing equipment; an innovative pet system with a maximum carrying capacity of 10 pets; an instance battlefield, which allows players to form teams and get rewards through fighting; and specific fighting targets.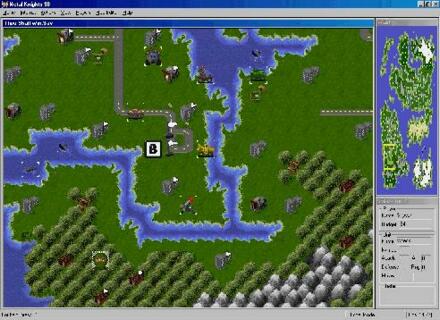 MetalKnights MMO
Metal Knights is a turn-based game. This means that once you've taken your turn, it's up to the other players do theirs before you move again. It takes between 5 and 10 minutes to play a turn, so feel free to play in more than one game at once if you want to play a bit longer! :) Keep in mind that at first your empire is quite small and there won't be much to do in a turn until 4 or 5 turns into a game. And after 15 to 20 turns, your empire may get very huge and playing your turn may take you much more time to complete, as you may have to manage a very large number of cities and units. It's a good idea to spread out when you join games as you'll eventually have many games that will take long time to play all at once if you join them all on the same day.
Winterfrost Legacy MMO
Winterfrost Legacy is a free to play browser based RPG where players must adventure across a huge fantasy realm filed with orcs, elves and benevolent and malevolent gods in a story driven epic where they are the main protagonist alongside their assembled companions. The game focuses heavily on PVE and PVP content and revolved around gathering equipment, unlocking features and making both your primary character and your mercenary team mates stronger in order to take on more difficult challenges. The game comes with a wide variety of features, giveaways and prizes to be unlocked and earned as players level up, ranging from the Server Events, Daily Events, Logins, Prizes and more.

Might and Magic Duel of Champions MMO
Might & Magic: Duel of Champions is a F2P Card Collecting MMO Game developed by UbiSoft for Windows.

In this free to play card collecting game players get to go head-to-head against each other with their very own deck of cards built up using a variety of powerful heroes, various creatures and monsters, devastating spells, tactical fortune cards and game changing events as they battle it out to try and kill off their opponents hero. With hundreds of available cards players have innumerable strategies that they can utilise to try and defeat their opponents, creating unique and powerful combinations that are constantly evolving with new expansions and the new cards that they bring.

Empire Universe 3 MMO
Empire Universe 3 is a Free to Play Space Browser MMO Strategy, developed by Looki.

In Empire Universe 3 (MMORTS) players are responsible for establishing a Galactic Empire among the stars, expanding territory of their chosen alien race they must settle planets and create working planetary bases in this space based free to play Empire management strategy. There are strong elements of trade, conflict and diplomacy in the game and players are likely to experience all three as their Empire rises in acclaim. The game can be accessed directly through your web browser after a quick registration and does not require a client download to play.

Siegelord MMO
Siegelord is a F2P Strategy MMO brwoser game. Developed By: 37games


Siegelord is an exciting mediaeval strategy MMO where players can fight as a Lord in the army of one of three mighty factions that are locked in an ongoing war for resources, territory and dominion over the land of Thieden. In this free to play game players must rebuild their own city, train up and equip a mighty army and then embark on a crusade to destroy their enemies. Siegelord can be played directly through your web browser after an account registration and does not require a client download.

More free MMORPG Games -> 2 | 3 | 4 | 5 | 6 | 7 | 8 | 9 | 10