online multiplayer games
Page 15
More Free games -> 11 | 12 | 13 | 14 | 15 | 16 | 17 | 18 | 19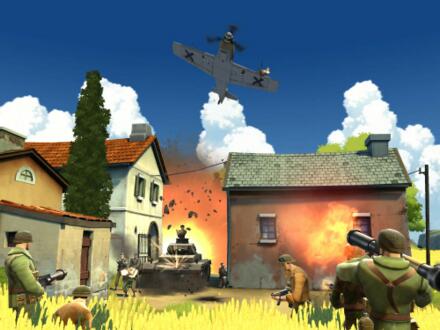 Battlefield Heroes MMO
Developed by EA Digital Illusions for Windows, Battlefield Heroes is a cartoon-style action game in context-specific third- and first-person shooter perspectives (F2P MMO FPS). Micropayments may be made for additional items to customize the appearance of players' avatars without any gaming advantage. The game is said to be placing less emphasis on skill and strategy, and will be less demanding on computer specifications than the previous games of the series to increase the audience base. In addition, a system will be in place to match players of similar skill levels together for fair play.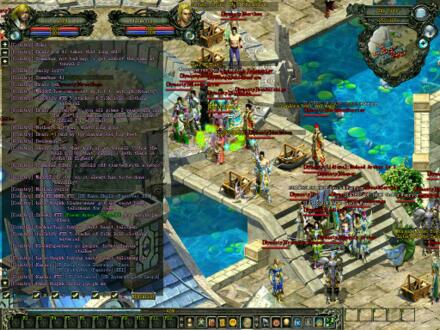 Magic World Online MMO
Innovative new concept , that's what made Magic World Online distinguish itself above other titles. This game is the first MMORPG to integrate in-game video chat system and official robot system. They are all for the pursuit of gameplay and giving players more time to enjoy real-time community with their hands freed from repetitive grinding job.

The game world is set in a distant magic land, the Dynasty and the Empire, namely Humans two opposing camps once invited a catastrophic abuse of Gods Dominant Sword, a divine magic sword for the sealing of destructive Devils. On the edge of extinction, the sinful and helpless Humans have no choice but to try desperately to sink their differences and find the way out. For Humans ultimate fate, is there any underlying twist and turn left? That's what players will experience in this game, which includes fantasy, bravery, love, loyalty, friendship and betrayal through various exciting innovative game systems.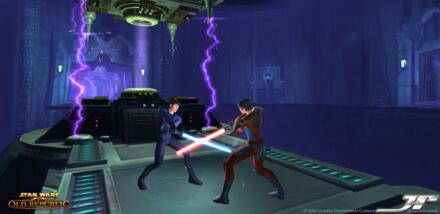 Star Wars The Old Republic MMO
Play Star Wars™: The Old Republic™ and forge your own Star Wars™ saga in a story-driven massively-multiplayer online game from BioWare and LucasArts. Explore an age thousands of years before the rise of Darth Vader when war between the Old Republic and the Sith Empire divides the galaxy.

Choose to be a Jedi, a Sith, or from a variety of other classic Star Wars roles, and make decisions which define your personal story and determine your path down the light or dark side of the Force. Along the way you will befriend courageous companions who will fight at your side or possibly betray you based on your actions. Together, you will battle enemies in dynamic Star Wars combat and team up with other players to overcome incredible challenges.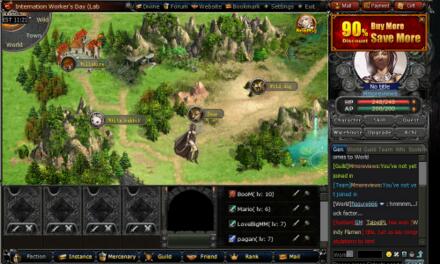 Dragons Call MMO

Dragon's Call is a 2D browser-based, turn-based,fantasy MMORPG, developed by Everdream Studio for internet browsers. Equip your character with a variety of weapons and use skills and magical abilities to travel through mysterious lands. When working in different places, you'll obtain corresponding reputation rewards, as well as certain amounts of EXP and gold. And when your reputation reaches a certain level, you can also get preferential treatment and unexpected surprises accordingly.

Swordsman MMO
Swordsman is a Action Free to Play MMO RPG developed by Perfect World / Arc Games.

In Swordsman players take on the role of a rising kung fu hero, set in ancient feuding China where powerful clans battle against each other you begin life as the sole survivor of a ransacked village, your friends and family butchered at the hands of unknown attackers. As players progress through the free to play MMORPG they will unlock more secrets revolving around that fateful day and the fuelled with revenge that will guide them to becoming powerful martial arts masters. Inspired by a Chinese novel written by JIN Yong (Louis Cha) in 1967 the game has heavy themes of Jianghu/Wuxia where martial artists accomplish superhuman feats such as running up walls, flying across rooftops and other impressive acts.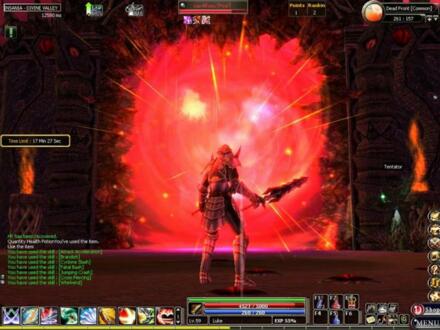 Dekaron MMO
Dekaron is a F2P Fantasy MMORPG for Windows, published by Nexon.

Dekaron is a free to play fantasy-based MMO RPG set in a realm where evil from the Abyss once more threatens the lands of men as the dark lord Karon threatens to once more break the seals that imprison him and lead his hordes to the ultimate extinction of the human race. The game allows players to choose from a wide variety of classes and has a rich and detailed lore background to create an immersive world for players to explore. The game is packed full of stock MMORPG features as well as a number of unique elements.


Pirates of Tortuga 2 MMO
Available in five different languages: German, english, french, spanish and turkish. Developed by worldwidegames GmbH for Internet Browsers. Pirates of Tortuga 2 is a free to play browser based mmo game where you must conquer the Caribbean sea as a feared pirate. Build your own settlement, produce goods and buildings and create your own powerful pirate fleet. Capture, plunder and pillage – nobody's safe from you. Sail through the Caribbean and become a feared pirate through numerous sea battles. Experience the adventure of a lifetime! It's time to set sail.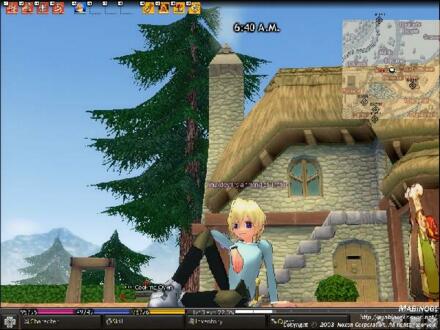 Mabinogi MMO
Mabinogi is a fantasy MMORPG teeming with exciting opportunity and adventure!

Dynamic Combat Experience

* Mabinogi's 2.0 real-time combat system puts you in command of combination attacks, defensive skills, counter-attacks, and special moves! All combat skills are interrelated: you MUST read your opponent's moves and react accordingly to master the art of Mabinogi combat!
* Easy to use, difficult to master! The combat system is very intuitively designed for players of all levels. For some extra assistance, you can just utilize the auto-combat mode to help manage your battles.

Eternal Saga MMO
Eternal Saga is a browser-based free-to-play MMORPG developed by Reality Squared Games, where you have to save the world from a demon invasion. Players will be able to explore new worlds, join up with their friends, and build a unique and powerful set of skills as they fight powerful enemies.

The game offers three different classes which players can choose for their adventures: Hunter, Warrior and Mage. The Hunter wields a bow and is an expert of ranged combat with high critical damage. The warrior wields a sword and is good at melee combat and defense. The Mage wields a staff and uses its knowledge of the elements to launch powerful magic attacks.

Knights Fable MMO
Knight's Fable is a browser Free to Play MMO RPG game, developed by R2Games and YOUZU Games Hongkong Limited.

Knights Fable is a classic point-and-click MMORPG that focuses on players building up their hero by earning and unlocking various items and gear whilst levelling up their character to make them a strong as possible. Players are able to collect and control various beasts to accompany them in battle and explore a wide selection of different game features such as PVP, quest-based activities, key events and even down time mini games such as fishing. The game is completely free to play and can be accessed through the web browser without the need for a client download.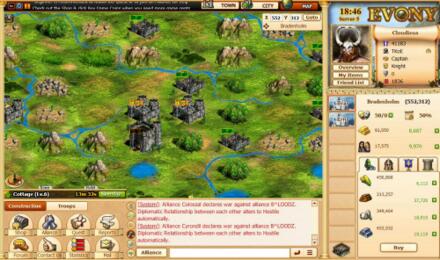 Evony MMO
Evony is a browser-based, strategy-based MMO game. The game is set in medieval times where a player must to establish a city and begin developing various technology and building supporting structures to generate armies and resources for the purpose of attacking other players and in game opponents. Evony is set in a persistent world–when a player logs out, the game continues.
Evony has two different monetary systems. The in-game monetary system revolves around gold. Gold can be obtained by completing quests and by taxing the player's population. It is also possible to sell resources for gold on the marketplace to other players. In lieu of this, a player can use real money to buy game cents with which to purchase items and resources from the in-game shop.

Call of Gods MMO
Call of Gods is a Browser Free to Play Fantasy MMO Strategy, no download game, developed by Boyojoy.

Born from nothing the Justice Dragon and Chaos Dragon erupted from the void with mighty roars, these two both complemented each other and yet were complete opposites. The Justice Dragon and his ancient Dragon subjects created the fertile Masure Mainland from the elements, blessing it with life and bringing forth the Humans and Elves. The Chaos Dragon also created lifeforms from his own vision and so to work born the Demons. A war raged on the generations, with many falling from either side but it was the life Dragon that breezed rebirth into some of the fallen, returning to the land sound of mind but physically ruined were the new race of Undead. And now the world is divided between these factions who now will resist the forces of the Corrupt Deities and Demon servants.

ELOA MMO
Elite Lord of Alliance (ELOA) is a F2P Action MMO RPG for windows developed by NPICSOFT.

ELOA is a free to play fantasy RPG where players step into a realm in turmoil as evil denizens plague the land; dropped into the middle of battle, players begin their journey on the rise of becoming an Elite Lord of Alliance. The game boasts highly detailed and colourful graphics creating a vivid and huge world to explore, broken down into instanced based locations players can progress through these areas picking up a variety of quests and defeating enemies in explosive combo busting battles.

Crusaders of Solaria MMO
Crusaders of Solaria is one Browser F2P action MMORPG, developed by R2 Games.

Crusaders of Solaria is a free to play exciting side scrolling brawler MMO with a high fantasy setting where players can choose to play as either a Mage or a Knight, create and adventuring parties with other players or hired mercenaries and explore and exciting realm as they carve out their own epic saga. With full-scale massive Guild Wars, tradable pets that can be used to boost your abilities, player run farms, powerful world bosses and dungeons there is plenty of content for everybody including PVP in the Arena.

More free MMORPG Games -> 11 | 12 | 13 | 14 | 15 | 16 | 17 | 18 | 19