Caesary MMORPG
Ready to play directly in your browser F2P, Caesary is a browser-based mmo game created on the genre of sim-city building Real-Time Strategy (RTS) battle. Developed by ShenZhen for internet browsers. The economy is Sesterces (taxed) driven; but Kreds-Gold is available for power players to advance level with a quicker pace. Regular players are expected to play it as an idle game. The theme is based on the Ancient Roman Empire (Republic period).
You can simulate the grandeur of past combat in graphical animation and the "detailed statistics" of the fight in text log. It "pleasures" your eyes as well as "educates" your mind. Caesary allows you to join other players' battle in the middle or have someone else's join your own battle. Any time! (In theory, the entire server's players can jump in one battle in progress!) And also the War Simulation Colosseum allows you explosive battles between players for massive prizes!

Start as a Consul of the Roman Empire and rewrite history, bringing order back to Rome. Expand your city, recruit heroes, train devastating armies, conquer land and forge your empire. Battle other players and monsters with immersive real-time strategic combat as you rampage your way across a massive world map.
Caesary is "committed" to recreate the Roman Empire with reference to buildings, quests, items, and the use of tactics! Players get total "immersion" into the era of Roman glory.

Screenshot: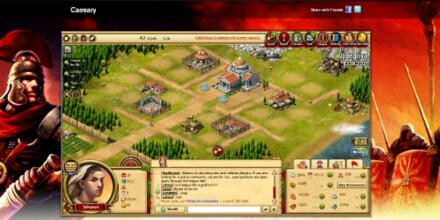 Add this game to your favourite forum, copy this
BB code: CONTROL + C and post it: CONTROL + V
Caesary Videos