games to play online
Page 16
More Free games -> 12 | 13 | 14 | 15 | 16 | 17 | 18 | 19 | 20
Dragons Call 2 MMO
Dragon's Call 2: Revival of the Giant Dragons is a free to play MMORPG set in a fantasy world of magic and dragons, take on the role of a gallant hero as you battle evil and explore the wonderfully crafted world. A different take from most MMORPGs DC2 is a 2D side-scrolling platform MMORPG with beautiful illustrative graphics making up the characters, monsters and and game world itself.

Play as one of three classes; Warriors who make up the strongest fighters on the battlefield using long swords and they are able to parry attacks and take more damage, Assassins wield daggers and are the masters of stealth and misdirection able to dodge their enemies attacks and Mages who harness the power of the elements to bring devastating attacks on their opponents. There is zero character customization within DC2, only the ability to choose your characters' name and gender, but there is a whole host of items and gear that can be picked up during gameplay.

Kingdom Rift MMO
Kingdom Rift is a F2P Hero Building MMORPG Browser Game, developed by R2Games.

Kingdom Rift is an exciting fantasy-based RPG and adventure where players step into the role of the Chosen One, a powerful hero that is destined to save the realm from the forces of evil that threaten the people of the world. In this story driven MMO RPG players will build up their hero skills, acquire powerful artifacts and weapons, acquire their help of powerful Goddess companions and head into the most dangerous dungeons imaginable to face off against powerful AI threats. Kingdom Rift is a free to play MMO with purchasable Recharge options where players can buy in game premium Gold currency or pay for a VIP membership subscription to gain constant benefits depending upon the level of membership they pay for. After a quick registration the game can be played directly through your favourite web browser and does not require a client download.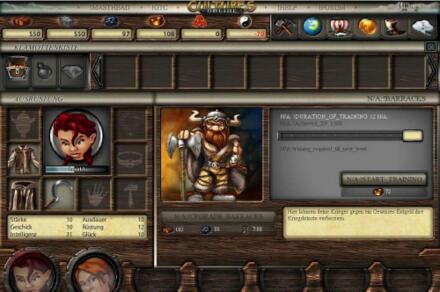 Cultures Online MMO
Cultures Online is a free-to-play browser-based MMORPG where your hero's adventure starts in his or her village way in the icy north on an island somewhere in the vicinity of Iceland. Hire more Vikings and decide whether you want them to help you expand your village or to accompany your hero on raiding expeditions. Bear in mind, though, that only your heroes will be able to make the other Vikings in the village work. You choose how your village should develop.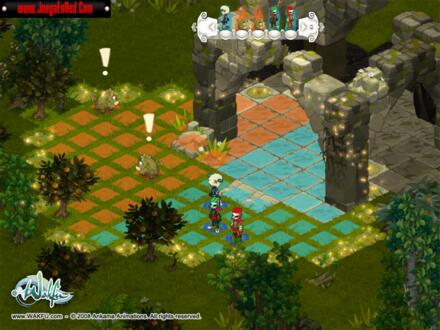 Wakfu MMO
Wakfu is the continuation of the online game DOFUS, developed by Ankama. Its story takes place around 1 000 years after the beginning of the age of dofus and invites players on a captivating new adventure in the different lands of the World of Twelve.

With a choice of 16 playable classes, players can be fierce warriors, magicians with healing powers or even summoners that have the ability to call upon plants or animals. A robust set of customization give players the opportunity to create their own unique character.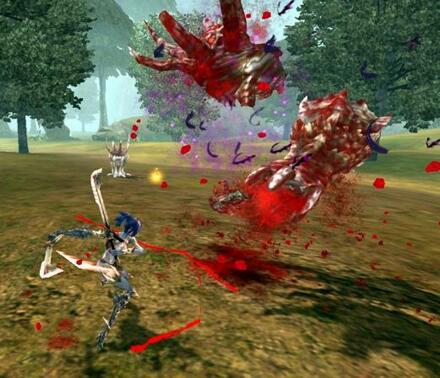 Requiem Bloodymare MMO
Requiem: Bloodymare is a massively multiplayer online game for mature audiences that will immerse you into a dark world of bloodshed devastated by generations of scientific and magical abuse. You'll need to fight against the grotesque monsters that stalk the cursed land, and band together with your allies to survive against the stronger, bloodthirsty creatures that only prowl at night. Use a wide selection of weapons and the mysterious powers of Beast Possession to strike down your enemies and destroy evil. Requiem Online offers a refreshingly new approach to the MMOPRG genre with its grim, dark atmosphere and tense, blood splattering action.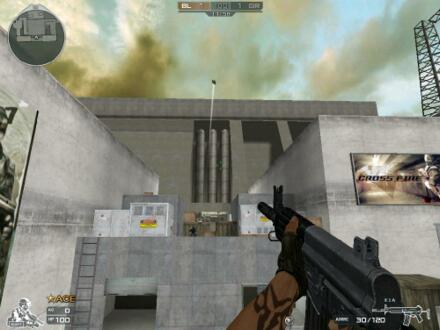 Cross Fire MMO
Crossfire is a Free 2 Play MMO FPS. Developed By: SmileGate / G4Box

Set to the backdrop of a global conflict surroundings two primary factions; Global Risk and Black List, too mercenary organisations that have been given prominence due to the escalating conflicts between the world governments and they use of private military corporations to wage secret proxy wars. Over time these two organisations gained enough resources to establish and entrench themselves in positions of great influence and power and now the war between them both is spread across the world.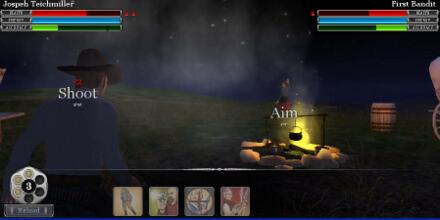 Wild West Online MMO
In Wild West Online: Gunfighter, players assume the role of a gunslinger in the 19th Century American West. However, the game is not a simple "twitch" game, where it's all about reflexes. Those games don't work well on the Internet. Instead, Wild West Online: Gunfighter is a tense, tactical game taking 2-3 minutes, where your ability to get inside your opponent's head is the path to victory. Gunfighter offers players the option to duel against human or computer opponents. The game is set in a rich, 3D environment but playable right from a web browser, so getting in to play for free is dirt simple.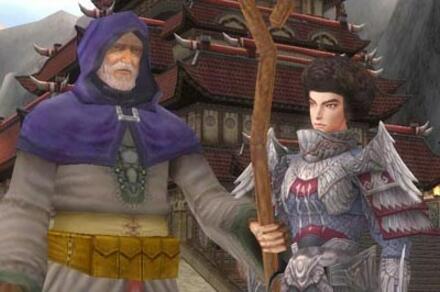 Rohan Blood Feud MMO
Rohan: Blood Feud is a massively multiplayer online role-playing game (MMORPG). The game is a rich and expansive persistent online world, set on the continent of Rohan. The land is full of quests to embark upon, from simple to glorious. Friends and enemies will be made and lost, spectacular battles will be fought, and an abundance of unique game features will keep players on the edge of their gaming seats. There are many features of the game that set it apart from more traditional MMORPGs, including:

A Mystical Land MMO
Developed by Neonga for Internet Browsers, A Mystical Land is a free to play, browser-based, fantasy 3D MMO that combines elements of casual Facebook games with traditional MMOs. The game lets you have all kinds of adventures together with thousands of other players in an enormous fantasy world. Players can keep many animals and plant vegetables in their house and garden. Players may fight and defeat monsters, accept quests to earn rewards and improve their character.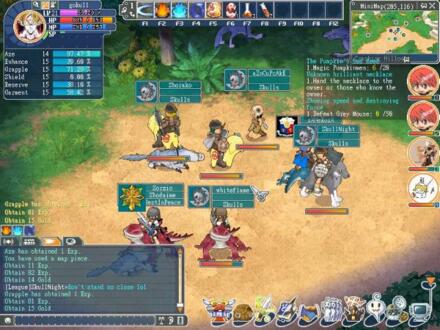 Angels Online MMO
Long long ago, there was no difference between the heaven and human world… Every corner was filled with happiness until one day something unexpected happened. The archangel Lucifer fell in love with a girl; however this girl was already in love with another angel. Lucifer lost his mind and transmuted this girl into dew and the angel into starlight in order to separate the two lovers forever.

Lucifer knew he would be punished sooner or later, so he gathered a rebellious army and attempted to overthrow the rein of Jupiter. Afterwards, Lucifer and his rebel army failed and were expelled to Hell. Ever since Lucifer was expelled to hell, he has been planning his revenge. He is expanding his evil forces now, and has founded a demon-training camp, with the purpose being to destroy the Garden of Eden, and what's worse, Lucifer believes it's the right time to take his revenge on Jupiter.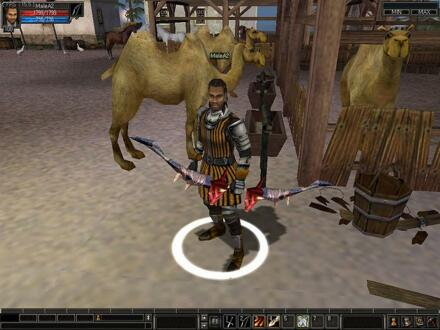 Deicide Online MMO
Deicide Online is with various enjoyable game contents, however this full 3D MMORPG has basic payment free policy for more users to enjoy free game play. For those hardcore users seeking for the great in-game powers, Deicide Online has full system consisted of big scale seize warfare, infinite PvP, various rare items, and also detailed class system with many convenient functions. This game is very unique with special class raising system. In Deicide, you cannot decide your class at the beginning, but can change your class through 16 different advanced class tree. Also, you will be able to control your stats improvement by this unique game system that will allows you to upgrade certain stat contents, which you use a lot. This also shows the basic developing intention of Deicide Online in order to give users as much free will as they can.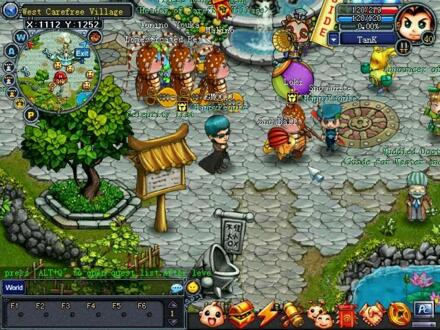 ELF Online MMO
Elf Online features for a funny graphic and relaxing music, with specially designed character and NPC and humorous ingame system.

"There is nothing you can't do" is the slogan of the Elf Online. Spurning the traditional gaming style, Elf Online creates a free and player-oriented in gaming environment enabling players to make their unique weapons and equipments specially designed for them.

Themed by the confrantation of the Imaginary force and the Evil Darkness force in the Dream Land world, the Elf Online provides a tricksy and relaxd game style with a creative and player-oriented gaming system. Jocose epic quest, risible pets, all kinds of strange shapes equipment, medal exchange system, prank system.
Firefall The Game MMO
Firefall is an upcoming free-to-play MMOFPS developed by Red 5 Studios set in an Earth set 200 years in the future which is torn apart by the Melding, an energy storm which mutates and transforms all life and even the terrain of the planet that has spawned monsters called the Chosen.

In FireFall The Game the players have to band together to collect resources, build weapons and vehicles, and utilize special nanotechnology armor suits called Battleframes to fight against the Chosen and reclaim the earth.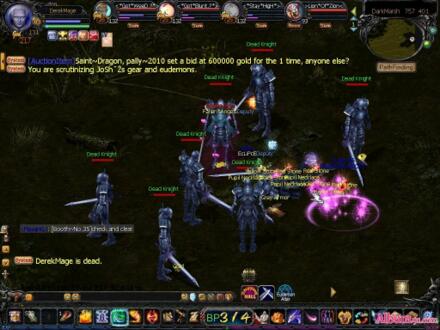 Eudemons Online MMO
Eudemons Online is an interesting 2D Fantasy MMORPG, developed by NetDragon Websoft for Windows. It has a fast rate of leveling and gameplay. The game's most interesting component is the game's pet system. Players can hatch, raise and train their own 'Eudemons' to aid them in battle. Players can have up to two Eudemons at once with them and with over 30 unique Eudemons in the game, the possibilities are vast. In Eudemons Online, you can raise loyal eudemons to protect you and beat your enemies. Eudemon system provides more than 40 kinds of eudemons and mounts for players. These eudemons have unique appearances and skills. The player can collect 3 types about 50 kinds of gems. The gems have various magic effects. They can increase your weapon attack as well as strengthen your armor's defense, and even award you level up Exp. after you reach certain levels. You can judge your enemies strength quickly by checking their potency. Potency is calculated on the basis of your character attributes, equipment, eudemons and legion/family power. It reflects your true strength. If your potency is much higher than your enemy, you are likely to kill him in one second.

More free MMORPG Games -> 12 | 13 | 14 | 15 | 16 | 17 | 18 | 19 | 20