games online free
Page 13
More Free games -> 9 | 10 | 11 | 12 | 13 | 14 | 15 | 16 | 17
Hex Shards of Fate MMO
Hex: Shards of Fate is a Browser Free-to-play MMO TCG (trading card game),developed by Cryptozoic / Hex Entertainment.

Hex: Shards of Fate combines a wide variety of aspects from massively multiplayer online role-playing games to the strategic gameplay and collectable features of a traditional trading card game too great a unique hybrid genre. The core of the game revolves around players earning, buying and trading cards to build up their deck and compete against incredible AI or real-world players in a one on one duels, tournaments and PVE campaigns and dungeons.

Armored Warfare MMO
Armored Warfare is a modern day tank shooter MMO, taking a step away from the more traditional WW2 theme players will instead find themselves rolling around modern day battlezones in a variety of modern armored vehicles. The game focuses on team based battles across numerous environments is heavily PVP based with coop battle options using a variety of class based tanks; developed on CryEngine3 the game looks beautiful and has a realistic physics engine where players deal structural and visual damage to their enemies and their surroundings.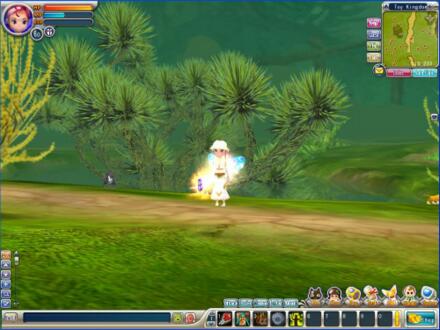 Fairy Story Online MMO
Developed by Ngames for Windows, Fairy Story Online is a 3D fantasy MMORPG set in a world of fairy tales. It is a mix of fairytale adventure and breathtaking combat.

Choose your class between: Brave (Users of magic), Naughty (melee fighters) and Sympathy (they use their magical abilities to heal their allies).

In the game, you can explore an enchanting 3D fairytale world by foot on or one of a dozen mounts; Synthesize cute pets to fortify your kill attempts in battle; or customize weapons and a range of protection clothing before engaging in battle. It features cards. All classes of cards in the game are our necessities to make better items. Cards with different attributes are embedded into the item to enhance item function, so that item can obtain corresponding attribute and its ability will enhance in different degrees.

Space Pioneers 2 MMO
Space Pioneers 2 is Space Free to Play MMO Game developed by Looki.

Space Pioneers 2 is a strategic Empire building free to play MMO that can be played directly in your Internet browser where players either work on their own or with others to create mighty star system spanning empires whilst conducting trade, diplomatic missions and even going to war with rival players. The game is available in a number of different languages and can be accessed quickly through the official website after a simple registration process or players can join up through their Google account or using Facebook connect.

Oh My DollZ MMO
Oh my Dollz is a browser based mmorpg where the players can create and customize their female avatar. The game has a strong social component and the community it's mainly female people. The gamer can modify their doll in each part such as: skin color, hairs, eyes, nose etc.

The player can also change the clothes of his characters buying them in over 30 shops around the game world.

Players will have also a personal house and they can modify it in every part with furnitures and much more!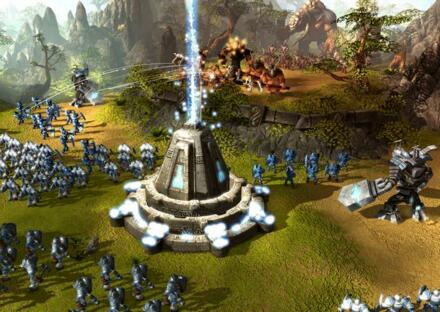 BattleForge MMO
BattleForge is a next-gen real time strategy game, in which you fight epic battles against evil along with your friends. What makes BattleForge special is that you can assemble your army yourself: the units, buildings and spells in BattleForge are represented by collectible cards that you can trade with other players.

With Play4Free you can now explore the full world of BattleForge, for free! An army of 32 units from all factions awaits your command. Lead your forces in single player scenarios now, or team up with your friends in epic co-op real time battles.
Nosgoth MMO
Nosgoth is a Free-to-play MMO Third-Person-Shooter developed by Psyonix.

Nosgoth is a free to play team based third person "shooter" where players get to play as Vampires and their vampire hunting Human counterpart in exciting PVP Team Deathmatch bouts. With soon to be ten different classes divided between the two factions players are also able to customise their characters with a variety of Equipment choices and Perks.

The game falls into the popular Legacy of Kain franchise from Square-Enix, in a vacant point in the timeline where the main protagonist from the series Kain who ruled over the Vampire Empire has disappeared leaving a power vacuum between the remaining vampire clans. As they fight each other for dominance and control of territory the Human slave escapees and those that call themselves free humans have managed to band together and create a powerful fighting force. Now as the Humans march through the southern lands of Nosgoth to reclaim their shattered civilisation the Vampire clans are forced to band together to end their common enemy.

Skyforge MMO
Skyforge is a F2P MMO RPG mmo genere, for windows, developed by Allods Team, Obsidian Entertainment and published for my.com

The world of Aelion is constantly under threat from enemies that would pray on its innocent civilians, the mortals of the world are simply try to live out their simple lives. From atop the Divine Observatory both Gods and Immortals watch over the people of the world, answering their prayers and cries for help when needed and providing their divine assistance.

Doom Warrior MMO
Doom Warrior is a Free to Play Arena MMO game for plataforms Windows / Mac / Linux / Android & iOS, developed by Creaky Corpse.

Doom Warrior is a free to play duelling RPG where players can create their own arena warrior and go head-to-head against other players from across the world in twitch-based combat that relies on fast reactions and equipping your warrior with powerful gear, items and abilities to become the champion of the arena. The game is available on multiple platforms, including mobile devices.

SkyRama MMO
Skyrama is a Free to Play Airport Management Browser MMO, developed by BigPoint.

Skyrama is a free to play airport management game where players have full control over their own international airport, responsible for constructing a variety of buildings to improve their airport facility as well as scheduling various flight arrivals and departures. This colourful and quirky MMO offers up instant appeal to fans of this type of game, extremely easy to access through the official website using a quick account sign up or your own personal Facebook login. Skyrama can be played through your favourite web browser and does not require any client download to play.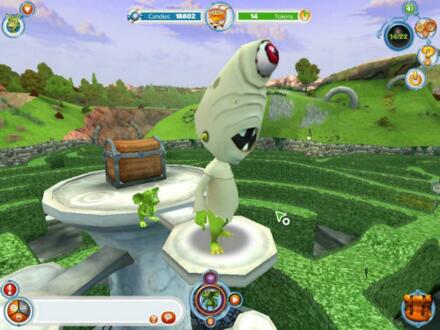 Planet 51 MMO
Developed by Ilion Animation Studios for Windows, P51 Online is a free to play Massively Multiplayer Online (MMO) game based on the animation picture Planet 51. It's an officially licensed product. It allows users to land on Planet 51, exploring it and interacting via the internet in a virtual world populated by other fans of the film.

There's loads to do at Planet 51 Online! For a start, there are hundreds of friends that you can interact with. You'll also be given dozens of challenges and missions, you'll be able to explore and discover areas and elements of Planet 51 not seen in the film, play gripping video games, personalise your avatar with endless combinations of facial details, clothes and accessories, and even take your favourite pet along with you on this wonderful adventure.

Crystal Saga MMO
Developed by R2 Games Crystal Saga is a free to play fantasy MMORPG available to play directly through your browser. In this classic anime styles RPG you take the world of Vidalia where a long time ago the Undead almost conquered the lands in a final battle against the elves, humans and mages under the protection of the Mother Goddess. In a final battle the Crystal of Life ascended the Elves and Mages and destroyed the Undead, but not without the final cries of the Undead War Chief exclaiming he would have his revenge.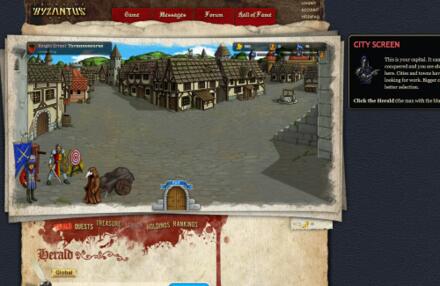 Crown Of Byzantus MMO
Crown of Byzantus is based on historical events in the 14th century but with supernatural elements based on the region and writings of medieval scholars. The player starts by building his army, unlocking new units and features as he rises through the titles of nobility. Eventually he will become embroiled in an epic war of conquest that determines the Emperor, the leading player on the server.

Crown of Byzantus is a Massively Multiplayer Browser Game of adventure, strategy and conquest. It's a game of knights contending for the throne of Byzantium, developed by Casual Continent for internet browsers. Players are knights from all corners of the world who have come to the dying Empire to claim it as their own. Combining real history with ancient legends and gameplay opportunities, Byzantus grabs Medieval Browser Wargaming by the throat. This is not a game about farming or building log cabins. This is a game of steel, gold, glory and blood.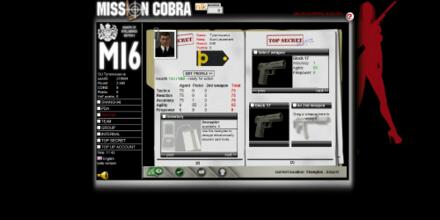 Mission Cobra MMO
Ready to play directly in your browser, Mission Cobra is free to play, browser-based, action adventure. Developed by SEAL media GmbH for internet browsers. Each mission is a challenge, as every decision you make influences the direction that the mission takes. Choose to belong to MI6, MOSSAD, BND, FSB or CIA. There are complete different missions for one of five selectable secret services and take out agents from the other services.

By order of your government you are responsible for the security of your nation. Your operations take place all over the world. Find the terrorist in Beirut or catch the drug baron in Bogota. Use the most modern gadgets, but always be careful, your enemies are out to kill you.

More free MMORPG Games -> 9 | 10 | 11 | 12 | 13 | 14 | 15 | 16 | 17