The West MMORPG
Developed by InnoGames GmbH for internet browsers, The West is a free to play browser based online game settled in the Wild West where players take the role of a workman, adventurer, gunslinger or soldier, searching for glory, luck and gold, on the hunt for adventure and fortune. Players have to build up their town. Once their town is established, players will be able to truly get involve in taming the west. Towns play a central role in The West. Here you can bond with other players and build up a strong, powerful town. Every building you work on gives advantages to you and the other players.

You can challenge another player to fight in a duel, separated into 8 rounds. Each player has eight chances to try to land a hit and eight changes to dodge the attack from the other one. The player that causes more damage in the duel wins. Also, it is possible to place a bounty on another player's head. Bounties can be used to exert revenge on a player, to show your disapproval of a player's actions or just for the sake of it.

The West offers a premium section where players can purchase small ingame and comfort advantages. To get a premium account you need gold nuggets. Those cannot be found, they have to purchased with real life currency.

Screenshot: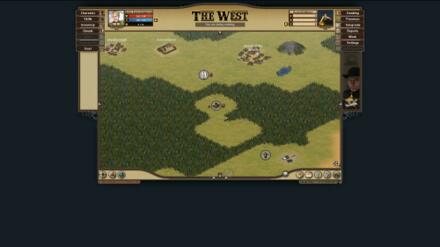 Add this game to your favourite forum, copy this
BB code: CONTROL + C and post it: CONTROL + V
The West Videos