FREE BROWSER GAMES ONLINE
Browser MMORPG
More Free games -> 2 | 3 | 4 | 5 | 6 | 7 | 8 | 9 | 10
Crystal Saga MMO
Developed by R2 Games Crystal Saga is a free to play fantasy MMORPG available to play directly through your browser. In this classic anime styles RPG you take the world of Vidalia where a long time ago the Undead almost conquered the lands in a final battle against the elves, humans and mages under the protection of the Mother Goddess. In a final battle the Crystal of Life ascended the Elves and Mages and destroyed the Undead, but not without the final cries of the Undead War Chief exclaiming he would have his revenge.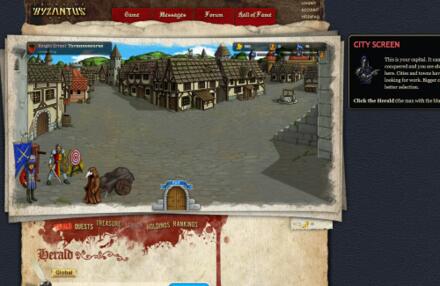 Crown Of Byzantus MMO
Crown of Byzantus is based on historical events in the 14th century but with supernatural elements based on the region and writings of medieval scholars. The player starts by building his army, unlocking new units and features as he rises through the titles of nobility. Eventually he will become embroiled in an epic war of conquest that determines the Emperor, the leading player on the server.

Crown of Byzantus is a Massively Multiplayer Browser Game of adventure, strategy and conquest. It's a game of knights contending for the throne of Byzantium, developed by Casual Continent for internet browsers. Players are knights from all corners of the world who have come to the dying Empire to claim it as their own. Combining real history with ancient legends and gameplay opportunities, Byzantus grabs Medieval Browser Wargaming by the throat. This is not a game about farming or building log cabins. This is a game of steel, gold, glory and blood.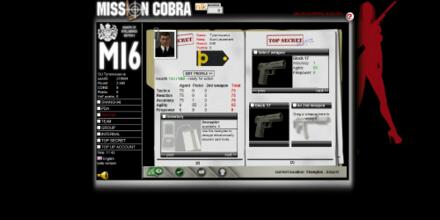 Mission Cobra MMO
Ready to play directly in your browser, Mission Cobra is free to play, browser-based, action adventure. Developed by SEAL media GmbH for internet browsers. Each mission is a challenge, as every decision you make influences the direction that the mission takes. Choose to belong to MI6, MOSSAD, BND, FSB or CIA. There are complete different missions for one of five selectable secret services and take out agents from the other services.

By order of your government you are responsible for the security of your nation. Your operations take place all over the world. Find the terrorist in Beirut or catch the drug baron in Bogota. Use the most modern gadgets, but always be careful, your enemies are out to kill you.

Eredan MMO
Eredan is an mmorpg that can be played directly from your favourite browser. In Eredan the player won't use a single character but he will use a deck and will use it to fight against npc or others real players.

The player will be guided through a tutorial and will understand all the base features of this game.
Of course if he will win a lot of fights he will earn a lot of money, XP points and rewards.

All the cards of the deck are very well characterized and each of them has a class, race and all will have powerful attacks.

3Dchat MMO
3D Chat is a mmorpg client based developed for Windows. 3D Chat is characterized by a strong social component and his structure reminds the one seen another succesfull social mmo: Second Life. Players can create their characters with a rich editor and can dress them up as they want into the game.

In the game there are a lot of places to know and chat a lot of players like hotels, pubs, shops and so on.

Players can buy a lot of items inside the game such as clothes and they can edit their characters in their favourite way.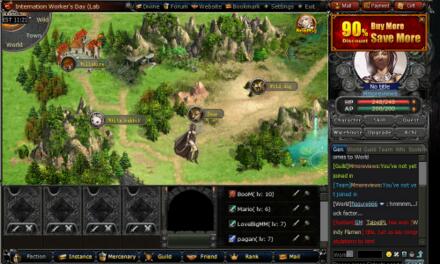 Dragons Call MMO

Dragon's Call is a 2D browser-based, turn-based,fantasy MMORPG, developed by Everdream Studio for internet browsers. Equip your character with a variety of weapons and use skills and magical abilities to travel through mysterious lands. When working in different places, you'll obtain corresponding reputation rewards, as well as certain amounts of EXP and gold. And when your reputation reaches a certain level, you can also get preferential treatment and unexpected surprises accordingly.


Pirates of Tortuga 2 MMO
Available in five different languages: German, english, french, spanish and turkish. Developed by worldwidegames GmbH for Internet Browsers. Pirates of Tortuga 2 is a free to play browser based mmo game where you must conquer the Caribbean sea as a feared pirate. Build your own settlement, produce goods and buildings and create your own powerful pirate fleet. Capture, plunder and pillage – nobody's safe from you. Sail through the Caribbean and become a feared pirate through numerous sea battles. Experience the adventure of a lifetime! It's time to set sail.

Eternal Saga MMO
Eternal Saga is a browser-based free-to-play MMORPG developed by Reality Squared Games, where you have to save the world from a demon invasion. Players will be able to explore new worlds, join up with their friends, and build a unique and powerful set of skills as they fight powerful enemies.

The game offers three different classes which players can choose for their adventures: Hunter, Warrior and Mage. The Hunter wields a bow and is an expert of ranged combat with high critical damage. The warrior wields a sword and is good at melee combat and defense. The Mage wields a staff and uses its knowledge of the elements to launch powerful magic attacks.

Knights Fable MMO
Knight's Fable is a browser Free to Play MMO RPG game, developed by R2Games and YOUZU Games Hongkong Limited.

Knights Fable is a classic point-and-click MMORPG that focuses on players building up their hero by earning and unlocking various items and gear whilst levelling up their character to make them a strong as possible. Players are able to collect and control various beasts to accompany them in battle and explore a wide selection of different game features such as PVP, quest-based activities, key events and even down time mini games such as fishing. The game is completely free to play and can be accessed through the web browser without the need for a client download.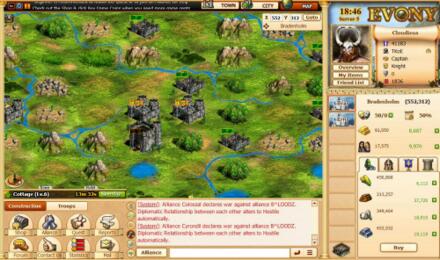 Evony MMO
Evony is a browser-based, strategy-based MMO game. The game is set in medieval times where a player must to establish a city and begin developing various technology and building supporting structures to generate armies and resources for the purpose of attacking other players and in game opponents. Evony is set in a persistent world–when a player logs out, the game continues.
Evony has two different monetary systems. The in-game monetary system revolves around gold. Gold can be obtained by completing quests and by taxing the player's population. It is also possible to sell resources for gold on the marketplace to other players. In lieu of this, a player can use real money to buy game cents with which to purchase items and resources from the in-game shop.

Call of Gods MMO
Call of Gods is a Browser Free to Play Fantasy MMO Strategy, no download game, developed by Boyojoy.

Born from nothing the Justice Dragon and Chaos Dragon erupted from the void with mighty roars, these two both complemented each other and yet were complete opposites. The Justice Dragon and his ancient Dragon subjects created the fertile Masure Mainland from the elements, blessing it with life and bringing forth the Humans and Elves. The Chaos Dragon also created lifeforms from his own vision and so to work born the Demons. A war raged on the generations, with many falling from either side but it was the life Dragon that breezed rebirth into some of the fallen, returning to the land sound of mind but physically ruined were the new race of Undead. And now the world is divided between these factions who now will resist the forces of the Corrupt Deities and Demon servants.

Crusaders of Solaria MMO
Crusaders of Solaria is one Browser F2P action MMORPG, developed by R2 Games.

Crusaders of Solaria is a free to play exciting side scrolling brawler MMO with a high fantasy setting where players can choose to play as either a Mage or a Knight, create and adventuring parties with other players or hired mercenaries and explore and exciting realm as they carve out their own epic saga. With full-scale massive Guild Wars, tradable pets that can be used to boost your abilities, player run farms, powerful world bosses and dungeons there is plenty of content for everybody including PVP in the Arena.

Dragons Call 2 MMO
Dragon's Call 2: Revival of the Giant Dragons is a free to play MMORPG set in a fantasy world of magic and dragons, take on the role of a gallant hero as you battle evil and explore the wonderfully crafted world. A different take from most MMORPGs DC2 is a 2D side-scrolling platform MMORPG with beautiful illustrative graphics making up the characters, monsters and and game world itself.

Play as one of three classes; Warriors who make up the strongest fighters on the battlefield using long swords and they are able to parry attacks and take more damage, Assassins wield daggers and are the masters of stealth and misdirection able to dodge their enemies attacks and Mages who harness the power of the elements to bring devastating attacks on their opponents. There is zero character customization within DC2, only the ability to choose your characters' name and gender, but there is a whole host of items and gear that can be picked up during gameplay.

Kingdom Rift MMO
Kingdom Rift is a F2P Hero Building MMORPG Browser Game, developed by R2Games.

Kingdom Rift is an exciting fantasy-based RPG and adventure where players step into the role of the Chosen One, a powerful hero that is destined to save the realm from the forces of evil that threaten the people of the world. In this story driven MMO RPG players will build up their hero skills, acquire powerful artifacts and weapons, acquire their help of powerful Goddess companions and head into the most dangerous dungeons imaginable to face off against powerful AI threats. Kingdom Rift is a free to play MMO with purchasable Recharge options where players can buy in game premium Gold currency or pay for a VIP membership subscription to gain constant benefits depending upon the level of membership they pay for. After a quick registration the game can be played directly through your favourite web browser and does not require a client download.

More free MMORPG Games -> 2 | 3 | 4 | 5 | 6 | 7 | 8 | 9 | 10