Evony MMORPG
Evony is a browser-based, strategy-based MMO game. The game is set in medieval times where a player must to establish a city and begin developing various technology and building supporting structures to generate armies and resources for the purpose of attacking other players and in game opponents. Evony is set in a persistent world–when a player logs out, the game continues.
Evony has two different monetary systems. The in-game monetary system revolves around gold. Gold can be obtained by completing quests and by taxing the player's population. It is also possible to sell resources for gold on the marketplace to other players. In lieu of this, a player can use real money to buy game cents with which to purchase items and resources from the in-game shop.

Evony features player versus player (PvP) gameplay, making it possible to attack another player's cities. Evony offers many items through its Item Mall, most of them in some way accelerating the player's progression through the game.
A player begins by acting as mayor of a city. The player gives instructions on production and construction with the initial resources. The resources in the game are Gold, Food, Lumber, Stone, and Iron, and the city's population. As with many real-time strategy games, one first has to increase the city's population and hourly resource-collection rates through the construction of certain buildings in the city, and then start developing other aspects of their city and building an army.

Screenshot: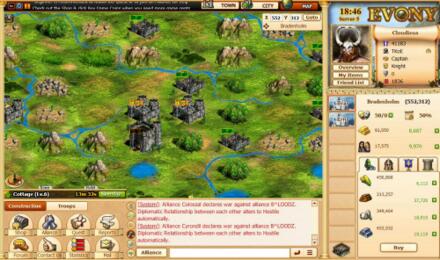 Add this game to your favourite forum, copy this
BB code: CONTROL + C and post it: CONTROL + V
Evony Videos