FREE BROWSER GAMES ONLINE
Browser MMORPG
More Free games -> 1 | 2 | 3 | 4 | 5 | 6 | 7 | 8 | 9
United Eleven MMO
United Eleven is a Free to Play Browser MMO Manager Footbal Game, developed by Nexon Europe.

For many it is the thrill of finding space to pass the ball to one of your team members, to take down a rival opponent before they can break your defences or to hear the cheer of the crowd as you slam the ball into the back of the net as a star player on the football team. For others the glory comes in assembling such a squad of professionals, being responsible for each player's training and contentment within the team, for strategizing and using tactics and formations and reacting to the opponent teams actions and cheering on from the sideline giving a much-needed team talk in the dressing room at half-time as the manager.

The Pride of Taern MMO
The Pride of Taern is a dynamic browser MMO that uses isometric prospective. The main storyline deals with the history of Taern, a nation that fell victim to the invasion of a hostile empire - the Empire of Utor. The citizens of Taern left their homeland in panic and began a journey into the unknown. They reached the Empire of Haligard and that's where the proper game begins. The Taernians aim to reorganize themselves, return to their country and drive the aggressors away which is, of course, not that easy.

Rising Grave MMO
Developed by S3 Studios Pty Ltd, Rising Grave is a free-to-play browser-based zombie game. Unlike the others zombie-themed themed games, where players defend themselves against the zombie menace, Rising Grave puts the player in the undead rotten body of a zombie, trying to attack the humans or the other zombie players.

The game is developed thinking to the needs of both solo players and team players. You can enjoy the game spending hours online with your friends and your horde of 30 allied zombies, or you can just play for few minutes each day killing that nasty humans, doing tasks, training your stats and keeping enemy zombies away from your home.

Total Domination MMO
Total Domination is a free-to-play RTS game developed by Plarinum for internet browser. This title allows you to discover lost knowledge, research new technologies, lead armies, protect your people, control the weapons of the future and claim your empire. Players can construct empires from the ashes of fallen civilizations, wage war for control of the world's resources, develop their colony and instill loyalty in their followers.

The game's interface features all the classic element of the genre which are familiar to long-time gamers, in addition to in-game Immersive storylines developments which introduce non player opponents and new ways to work with or betray other players.

Villagers and Heroes MMO
Villagers and Heroes is a Free2Play Browser Fantasy MMO RPG game, developed by Mad Otter Games.

Explore and discover the vast magical world of the Seven Realms as you carve an epic adventure seeking out information of the Legendary Four, the heroic founders whose footsteps you can only hope to follow in on your fantastic journey. This free to play fantasy role-playing game offers up a classic MMORPG experience with rich gameplay features from typical staples to twists that set it apart in the genre. Villages & Heroes lets players interact with thousands of other players from all across the world taking on the role of one of four different classes as they seek out challenges and begin their paths on becoming a Legend themselves.

Therian Saga MMO
Therian Saga is a Browser F2P MMO RPG developeb by Virtys.

Therian Saga is a free to play RPG with a difference, set in a fantasy world of adventure players will have the freedom to do what they wish, pursue their preferred vocations and experience exciting adventures in a newly discovered continent. Players can create their own bands of thieves, party of fighters, guild of crafters and more as they choose their place in the community to craft items, weapons and treasures for both themselves and other players.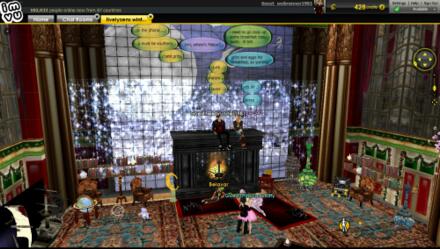 imvu MMO
Developed by IMVU for Windows, IMVU is a free to play online social network and virtual world where millions of members use 3D avatars to meet new people, chat and have fun playing game in animated 3D scenes. You can shop and dress up your avatar with your own personalized look, design and decorate your own 3D space, and connect with new people from around the world.

IMVU has reached 50 million registered users, 10+ million unique visitors per month and a $40+ million annualized revenue run rate. It has the world's largest virtual goods catalog of more than six million items with approximately 7,000 new items added every day, almost all of which are created by its own members. The virtual goods catalog consists of everything from 2D stickers to detailed 3D items like virtual jewelry, clothing, hair, cars and other fun items that help IMVU community members create an IMVU identity as unique as their own.

Tasty Tale MMO
Tasty Tale

Genre: F2P Puzzle
Platform Availability: Web Browser (Facebook) / iOS / Android
Developed By: Sublinet

Tasty Tale is a free to play puzzle based in game where players must match three icons in order to earn points and complete level objectives, which requires strategy, quick thinking and forward planning to earn enough points to complete the level. The game has a beautifully designed colourful graphics, delightful sound effects and music and with the simple interface and fun gameplay makes Tasty Tale suitable for players of all ages; furthermore the fairy-tale theme makes it particularly suitable for children. Tasty Tale is available as an app download on iOS or Android devices as well as being played through Facebook and your web browser with no need for a client download.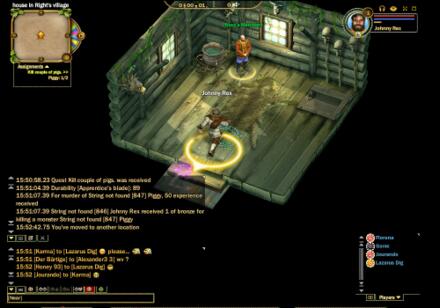 Fragoria MMO
Developed by RUSOFTWARE Co. for internet browsers. Fragoria is a browser-based MMORPG where players start as a Traveler and complete quests for other characters in the game in a fully persistent world inhabited by other players and NPCs. As the game progresses, players specialize their character by picking sub-classes that are broad at first with the choices narrowing down into a more focused class. There are over 800+ quests to complete, several dungeons to crawl through with friends and there are also a handful of PvP games to take part in (ranging from simple 1 on 1 duels to full-scale wars with objectives). Fragoria has an in-depth pet system, an auction house, a mail system, and an extensive crafting system with 4 professions to choose from.

Hex Shards of Fate MMO
Hex: Shards of Fate is a Browser Free-to-play MMO TCG (trading card game),developed by Cryptozoic / Hex Entertainment.

Hex: Shards of Fate combines a wide variety of aspects from massively multiplayer online role-playing games to the strategic gameplay and collectable features of a traditional trading card game too great a unique hybrid genre. The core of the game revolves around players earning, buying and trading cards to build up their deck and compete against incredible AI or real-world players in a one on one duels, tournaments and PVE campaigns and dungeons.

Space Pioneers 2 MMO
Space Pioneers 2 is Space Free to Play MMO Game developed by Looki.

Space Pioneers 2 is a strategic Empire building free to play MMO that can be played directly in your Internet browser where players either work on their own or with others to create mighty star system spanning empires whilst conducting trade, diplomatic missions and even going to war with rival players. The game is available in a number of different languages and can be accessed quickly through the official website after a simple registration process or players can join up through their Google account or using Facebook connect.

Oh My DollZ MMO
Oh my Dollz is a browser based mmorpg where the players can create and customize their female avatar. The game has a strong social component and the community it's mainly female people. The gamer can modify their doll in each part such as: skin color, hairs, eyes, nose etc.

The player can also change the clothes of his characters buying them in over 30 shops around the game world.

Players will have also a personal house and they can modify it in every part with furnitures and much more!

Doom Warrior MMO
Doom Warrior is a Free to Play Arena MMO game for plataforms Windows / Mac / Linux / Android & iOS, developed by Creaky Corpse.

Doom Warrior is a free to play duelling RPG where players can create their own arena warrior and go head-to-head against other players from across the world in twitch-based combat that relies on fast reactions and equipping your warrior with powerful gear, items and abilities to become the champion of the arena. The game is available on multiple platforms, including mobile devices.

SkyRama MMO
Skyrama is a Free to Play Airport Management Browser MMO, developed by BigPoint.

Skyrama is a free to play airport management game where players have full control over their own international airport, responsible for constructing a variety of buildings to improve their airport facility as well as scheduling various flight arrivals and departures. This colourful and quirky MMO offers up instant appeal to fans of this type of game, extremely easy to access through the official website using a quick account sign up or your own personal Facebook login. Skyrama can be played through your favourite web browser and does not require any client download to play.