Mission Cobra MMORPG
Ready to play directly in your browser, Mission Cobra is free to play, browser-based, action adventure. Developed by SEAL media GmbH for internet browsers. Each mission is a challenge, as every decision you make influences the direction that the mission takes. Choose to belong to MI6, MOSSAD, BND, FSB or CIA. There are complete different missions for one of five selectable secret services and take out agents from the other services.

By order of your government you are responsible for the security of your nation. Your operations take place all over the world. Find the terrorist in Beirut or catch the drug baron in Bogota. Use the most modern gadgets, but always be careful, your enemies are out to kill you.

Fight against thousands of enemy secret agents and train yourself and your squad in your embassy to strengthen the power of your group. Enter alliances and fight powerful enemies together with your friends.

Screenshot: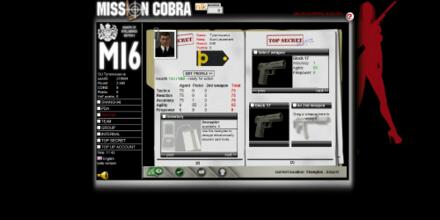 Add this game to your favourite forum, copy this
BB code: CONTROL + C and post it: CONTROL + V
Mission Cobra Videos
Elite: Dangerous Alpha Gameplay Footage - Docking