Three Kingdoms MMORPG
This martial arts free MMO is based on the most popular Asian novel of all time. Choose from 4 exciting and unique character classes to help battle through 200 fantastic levels filled with historical Generals and their relentless minions. Along the way, you can rewrite world history by carefully planning and executing political assassinations.

Become Lord of your Kingdom:
Take control of your Capital City by rising victorious in large scale Castle Sieges, and become Lord of your Kingdom! As Lord, you not only have access to one of a kind equipment and mounts, but also special skills such as buffs and teleports. Watch out for those that covet your position however, as you must defend your Castle from intruders that wish to become Lords themselves!

Mercenaries- Never Fight Alone :
Thanks to the Mercenary system, players can hire up to 5 mercenaries to take along with them on their fight to unify China. Not only will they stick by you till the bitter end, but they level up as you do, and can be trained to use special skills. Never fight alone!

24 Hour PvP Battles:
PvP Battles are available for you 24/7 to test your skill against rival Kingdoms and their followers. Earn Fame by killing your enemies, and use it to buy exclusive items not available anywhere else. Whether you wish to fight on your own or engage in epic guild versus guild battles, Three Kingdoms has a mode that will challenge you anytime, anywhere.

Unique Quest System:
Instead of having to walk all across the land on simple delivery missions like other games, Three Kingdoms features a one of a kind Quest System that delivers quests to you whether your are out exploring a dungeon or spending a quiet night in town. Spend more time playing, less time walking!
Screenshot: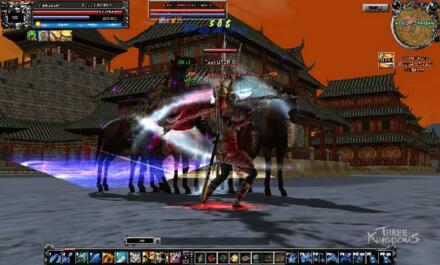 Add this game to your favourite forum, copy this
BB code: CONTROL + C and post it: CONTROL + V
Three Kingdoms Videos