SpaceCowboy MMORPG
SpaceCowboy Online is an action based Massive Multiplayer Online (MMO) 3D Space Shooter. In SpaceCowboy Online, players can pilot their own space fighter ships (Gears) on an imaginary planet and upgrade skills or the Gear itself.


• 3D Space Shooting MMO

In Space Cowboy, gamers have full control over the Gear's control making it very different from the traditional RPG's mouse click control method. This is a game based on Role-Playing Game (RPG) level concepts, but the fun and action of a First Person Shooter (FPS).


• Diverse Selection of Fighting Gears

There are 4 kinds of Gears available to choose from, with each Gear having it's individual unique characteristics. These characteristics differ in skill and items giving the player the opportunity to choose which items to equip to suit the player's preferences. Gears can be upgraded to change color, performance, weapons, and so on in order to satisfy the gamer's growth of the character.


• Battle Formation/Brigade System

A formation system is possible that is similar to the generic party concept of a Role-Playing Game. There can be a maximum of 6 players in a formation (triangle formation, reverse triangle formation, X form formation, etc.) dependant on the formation leader at the center of the formation during battle. The performance of the formation depends on the player's ability to work together and different formations require different skills and playing styles.

In addition to the formation, there is a brigade concept that is the equivalent to the guild term from other Massive Multiplayer Online games. A brigade can consist of 40 members, and have a specific brigade mark specified by the brigade leader to identify the brigade.


• Battle/Large-Scale Battle

SpaceCowboy Online has an intense battle system including Player vs Environment (PVE) and Player vs Player (PVP) elements. PVE elements are used for standard leveling from experience points, while PVP elements can be seen through 1 on 1 battles, formation (party) battles, and even brigade battles. As opposing nations exist, there will be large scale nation wars throughout the game servers resulting in a possibility of occupying enemy forces and increasing profits for ones own nation. The 3-D aerial and ground battles will bring a whole new experience to the user.


• Mission

A large number of missions are available which bring the storyline into perspective depending on the player's chosen nation and have it's share of rewards.


• Voice Communication System

When a headphone and microphone are in hand, 1 on 1, formation, and brigade voice communication options are possible. Using voice communication will make interaction between the users easier and more personal than just the text form of communication, as well as giving a method of communicating while the gamer can continue to be focused on their game control. Using voice communication within SpaceCowboy Online will help organize strategy in large-scale battle, and missions where many people can join in.
Screenshot: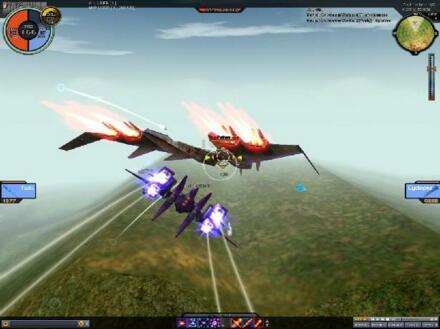 Add this game to your favourite forum, copy this
BB code: CONTROL + C and post it: CONTROL + V
SpaceCowboy Videos