SilkRoad Online MMORPG
Fantasy on-line game to describe the ancient Chinese, Islam and European civilizations.

The online game 'SilkRoad' targets the unceasingly active world other than the existing online games which the has built the entrenched world. On the specious Silk Road, the merchants constantly moves for trading and burglars who intend to strip them of goods. In addition, there are hunters who specialize in removing such burglars. On the Silk Road which seems to be static, the hostility and secret strife in which various groups continuously engage for the benefit of their own groups inform the Silk Road world with new life.

Besides, there is no fixed job in the SilkRoad world. All players can freely promote the growth of their own characters by their wills, and change his/her own group to other groups like merchant, burglar and hunter which he/she affiliated with as well as alter his/her character.

The player is to have an experience of ultimately free world with setting up not fixed, organically changed world.

The server system processed in the parallel decentralization can simultaneously accommodate a large group of users without fail and offer the more fresh game by virtue of minimized loading time. Moreover, realizing the more natural character's movement through the motion blending and dynamic animation technique provides the players with the improved oneness with the character.

Now, the road to SilkRoad is open to you.It is entirely up to you whether you will earn much money in the trade, become one wolf which pounds the extensive and outlawry continent or play an active part of guardian who protects the peace of SilkRoad.
Screenshot: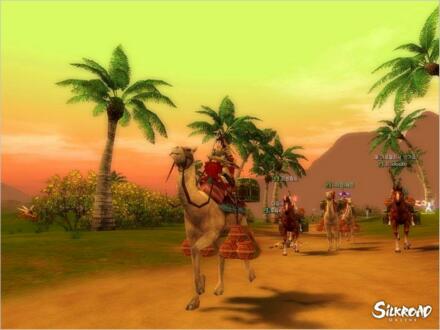 Add this game to your favourite forum, copy this
BB code: CONTROL + C and post it: CONTROL + V
SilkRoad Online Videos