Rumble Fighter MMORPG
Rumble Fighter is a fighting MMA (mixed-martial arts) game, easy to pick up and fun to play.

In Rumble Fighter, players can upgrade and customise their fighter by either earning "Carats" (through winning battles), or by buying "Astros".

Gamers are invited to create an online character with a unique fighting style and virtual personality, then scrap it out, online to the bitter end against fighters from all over the World.

Pit your fighting wits against fighters across numerous feature-rich 3D environments using a wide variety of fighting techniques and in-game weapons and items.

Rumble Fighter's Features:

- Free to download and play

- Fully customisable – change your character's appearance and choose its fighting style and techniques

- Solo and Team modes- choose to battle alone or join forces with friends

- Up to 8 players in the same room

- Easy to learn – casual and fun gameplay makes Rumble Fighter easy to understand and quick to get to grips with

- Hardcore Gamer or Casual Fighter – Rumble Fighter is exciting for players of all abilities, from the "Casual" to the "Hardcore"

- Transform – Rumble Fighter's unique "ExoCore" systems enables players to evolve during battle and further enhance their character's attributes

- Upgrade with Astros – use in-game points known as Carats or buy OGPlanet's universal cyber currency Astros to further customise your characters and buy new techniques, weapons and other items

- Rich graphics – Rumble Fighter's custom-built graphics engine utilises cell shading techniques and pre-rendered global illumination map textures, creating vibrant rich imagery inspired by Japanese animé

- Available to PC users.
Screenshot: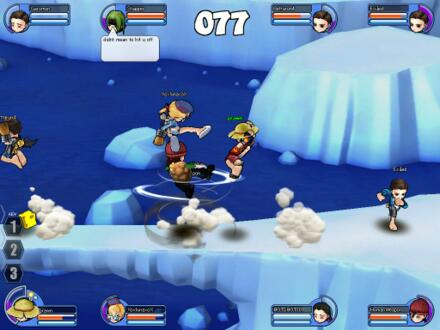 Add this game to your favourite forum, copy this
BB code: CONTROL + C and post it: CONTROL + V
Rumble Fighter Videos