MicroVolts MMORPG
MicroVolts is a free-to-play MMO third person shooter with cartoon style graphics, developed by SK-imedia for Windows. It includes deep customization options, tight controls, excellent gameplay mechanics, social features, and impressive visuals.
For ages, a secret battle has been waged, going unnoticed right in our own backyard. No one knows for sure when or where the first toy declared war. Rumor has it that their uprising began with four original limited edition figures, code named MicroVolts. The four playable characters are: Naomi (Naomi, a model figure, and the first female doll in the Micro World, is a friendly and charming high school girl), Knox (Knox, a super poseable hip hop action figure, uses his street smarts and heavy build to defend himself in the toy battlegrounds. Some say his bark is worse than his bite, as he tries to intimidate opponents to mask his fearful character), Pandora (Named after a Greek myth, Pandora uses evil tricks to dominate the playground) and C.H.I.P. (C.H.I.P. or "Complex Humanoid Interchangeable Parts" is a mechanized Stikfas Figure originally created using spare parts salvaged from a junk yard.).

It offers four characters to choose from that are customizable with a choice of thousands of cosmetic items, strategic teamwork with dynamic and fast paced gameplay, multiple maps, designed by Toy Concept, offer a distinct and visually rich view of the world and different game modes. Players have full access to 7 different types of weapons during a match. All weapon types are available to any player, not being tied down to a specific class. Being able to quickly switch weapons to suit the current situation in a match is a key aspect of gameplay.

Screenshot: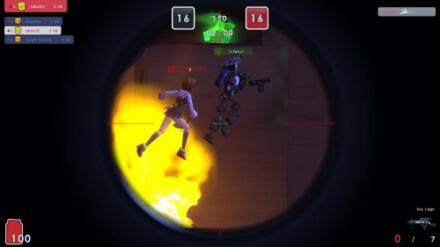 Add this game to your favourite forum, copy this
BB code: CONTROL + C and post it: CONTROL + V
MicroVolts Videos
MicroVolts Varsity Volts update Trailer - MMO HD TV (720p)

MicroVolts Rumpus Room Ruckus content Update - MMO HD TV (720p)

MicroVolts Open beta trailer - MMO HD TV (720p)

MicroVolts Summer recharge Patch Teaser trailer - MMO HD TV (720p)

MicroVolts celebrates Oktoberfest Trailer - MMO HD TV (720p)

MicroVolts The Arms race Patch Content Update - MMO HD TV (720p)