Gates of Andaron MMORPG
Gates of Andaron, a fantasy MMOG - with RTS elements - published by Gameforge4D.

The two nations of Iberia have splintered into two factions: Derion and Valorian. Fight for disputed territory, besiege castles, and wage all-out warfare against your enemies - or in their defense. Duel your opponent and celebrate your victory. If the battlefield is not your calling, administer the conquered territories. The fate of the Gates of Andaron lies in your hands.

A Fantasy Story

Quests are tasks that you have to complete in the game. The numerous quests that offer a variety of challenges make this game fun and exciting to play. The audiovisual presentation of the characters provides you with a unique and enthralling atmosphere.

Dungeons

Challenges for Parties

The dungeons in Gates of Andaron are private conquests, reserved for parties looking for glory and the reward of fantastic items. Only the bravest will enter, for the risk is especially great. Should the party survive, the fireside tales will be very heroic indeed!

Conquests

An Ever Raging War

Fight against other players in battles and take part in daily conquest wars. Help capture new territories for your people and defend them against attackers! Only the victorious will be rewarded with access to new villages, new missions and special merchants.

Strategic Battles

Alone or as an Army

Be the brave hero as you weave your way among opponents, changing the fate of nations. Or command armies in conflicts of up to 49 players using a unique real-time strategic command system (RSCS) This command structure allows you to view events on the battlefield and issue commands as you lead your kingdom to victory.

Screenshot: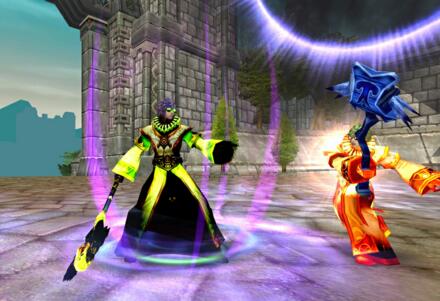 Add this game to your favourite forum, copy this
BB code: CONTROL + C and post it: CONTROL + V
Gates of Andaron Videos