Free Realms MMORPG
Free Realms is a free 3D virtual world with stunning unique graphics and fun, quirky activities. Free Realms is an attitude. It's innovative, dynamic and deep. Welcome to Free Realms, where there's so much to see and explore!

Free Realms offers a variety of features, including:

* Free Gameplay: Free Realms is free to play; however, additional content can be accessed through a Membership or micro-transactions.

* Rich Character Creation: With thousands of customizations and combinations, you can blend fantasy and reality to create your perfect avatar.

* Be Whoever You Want: Characters aren't locked into classes or jobs - you can be a ninja one minute and a race kart driver the next.

* Kid Safe: Free Realms is designed with kids' safety in mind and has pre-canned chat, reporting, filters and Parental Controls that allow for the customization of security options for younger players.

* Something for Everyone: Players can take care of pets, sort mail, destroy cars in demolition derbies, battle goblins or cook meals for their friends.

* Vibrant, Deep Environment: Adventurous gamers can spend hours exploring towns, bustling cities, beaches, forests, snowy mountaintops and more.

* Connect with Friends: Whether you're meeting up with old friends or finding new ones, Free Realms allows players to stay connected through its social networking page. Just log in, see what your friends have been up to, click their avatars and join them in Free Realms.

* Everyone Can Access: Free Realms is designed to run on nearly all PCs. The game will stream to your PC as you play, so Free Realms will not take up a lot of memory and will download quickly.

* Trading Card Game: The Free Realms Trading Card Game will let players pit fun characters like dragons and goblins against one another in fun, fast-paced combat. Half the game is collecting new cards so you are armed with the best lineup of attacks and defenses to prove your might in online tournaments.
Screenshot: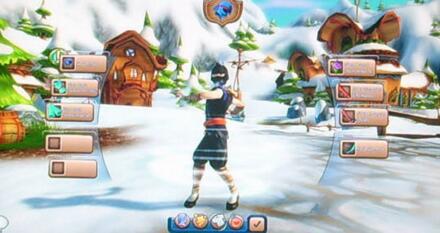 Add this game to your favourite forum, copy this
BB code: CONTROL + C and post it: CONTROL + V
Free Realms Videos