Dynasty Warriors MMORPG
Developed by Techmo Koei for Windows, Dynasty Warriors Online is an action free to play online 3D MMO game with tactical combat. It is set in the Three Kingdoms era of Ancient China and the beautiful graphics will transport players back into the heart of this dramatic and romantic period. This game artfully combines MMO elements with the fast paced, exciting combat players have grown love from other Dynasty Warriors titles. The action oriented gameplay is not all that common for MMORPGs and will be something that sets DWO apart from the rest.
It features instance based leveling which allows players to change their strategies mid-fight by leveling up various attributes; numerous battle modes to allow players to fight one another, hone their skills in solo modes, even capture enemy towns; and for the first time, up to 24 players can participate in Show Downs. In addition to these, Dynasty Warriors Online is the first title to feature character creation that allows the player to become the hero of the story. As players grow and become more powerful warriors, they continue to become more individual as the game offers a variety of customization options for both armor and weapons. To take their power to even higher levels, players can take advantage of an easy to use item enhancement system. Every warrior should have a place to call home; Dynasty Warriors Online provides player houses and furinture to decorate the place to all their social needs. Finally, Dynasty Warriors Online has a guild system to let players create newer and greater strategies for large-scale wars.

While all battles are generally instanced and faction-based, PvP is separated into different battle modes: Melee, Campaign, Arena, Showdown and Mock Battles. Each battle mode is differentiated according to its scale and the conditions at stake. Battles can accommodate as much as 24 players in a 12-versus-12 showdown of epic proportions. Factions have the whole of China, divided into cities, to dominate and takeover. The number of areas taken over has different effects on your faction, such as advances in weaponry and relatively lowered prices.

Screenshot: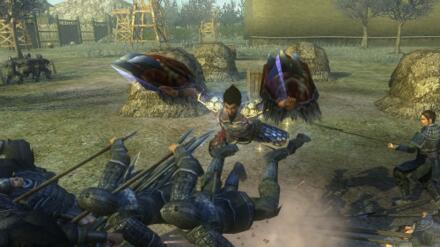 Add this game to your favourite forum, copy this
BB code: CONTROL + C and post it: CONTROL + V
Dynasty Warriors Videos