Blitz1941 MMORPG
Blitz 1941 is an online-based Full-3D tank simulation based on the German-Soviet conflict during World War II. You can shoot, operate a tank, fight against other players, and occupy the enemy¡¯s cities, using the mouse intuitively. In Blitz 1941, a maximum of 3000 players per server can engage in combat operations at the same time. This means players can be a part of a large-scale tank combat operation.

In Blitz 1941, there are around 60 different kinds of tanks. These tanks were all used by the German and Russian armies during World War II. If you gain a victory against your opponents, you will get Exp. bonus, contribution, and money, and can promote a tank commander character (an avatar). You can also gain a combat skill, and purchase stronger tanks to increase your ranking in your country. You can buy reinforcing parts for your tanks. Unlike simple P2P games, where a player creates a room and plays against another player, Blitz 1941 allows you to easily enter and exit an ¡®international battlefield (composed of 15 cities in Europe) in real time¡¯ and places you into tense combat against other players to occupy a city. The winner can occupy the city and have the advantage of an economy area and supply of materials.

Since you can also improve your own tank with reinforced parts, your tank can be more effective in combat and have different characteristics from other players¡¯ tanks. While you need to operate your tank properly and shoot for a direct hit in one-to-one combat, you should try to make strategies to cooperate with other friendly tank units in large-scale tank combat, where around 200 tanks are simultaneously used in combat operations,
Game Background
The game is based on the combat area in which Eastern Europe was divided into 15 cities in 1941 during the German-Soviet war: Warsaw (Poland), Helsinki (Finland), Copenhagen (Denmark), Oslo (Norway), Stockholm (Sweden), Prague (Czech), Munich (Germany), Hamburg (Germany), Kiev (Ukraine), Vilnius (Lithuania), Riga (Latvia), Tallinn (Estonia), Minsk (Belarus), Leningrad (Russia), and Stalingrad (Russia), and also involve Berlin (Germany) and Moscow (Russia), the capitals of both countries.
The cities are identified as either a metropolitan city, a small city, a munitions city, or a commercial city according to its characteristics. The structure, size, and feature of the levels of each characteristic are expressed differently. Roads connecting the cities will be configured to enable combat on the roads. Since 3D graphics can illustrate tactical movements, tank firing, and the geography of the area, players can play many different games according to geographical features.
The different levels of Blitz 1941 show different geographical features and architectural styles for each city and country. All the cultural elements and unique architecture of the cities are meticulously represented in the game to recreate Europe during World War II. Blitz 1941 illustrates hilly land, hillocks, low-lying areas, rivers, and artificial structures (e.g. bridges). The background has been beautifully recreated through real terrain processing so players can use the land tactically in combat.
Screenshot: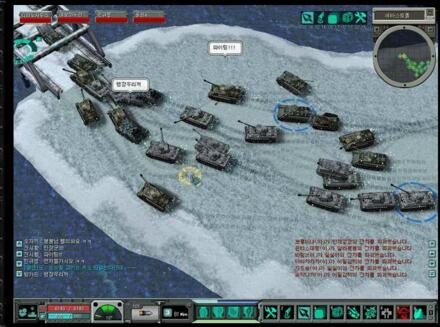 Add this game to your favourite forum, copy this
BB code: CONTROL + C and post it: CONTROL + V
Blitz1941 Videos