Avalon Heroes MMORPG
Avalon Heroes is based off the incredibly popular Warcraft III mod 'Defense of the Ancients' (DOTA). One of the most important features in Avalon Heroes is to collect, to level and to master the up to 100 unique Heroes. It is an online RTS RPG free to play game. New Heroes will be added to the game one and there are various ways how to obtain Heroes. Five Heroes of Oriens and five Heroes of Aeonia are waiting for you to master them when you log in to Avalon Heroes for the first time. Play these ten different Heroes to get to know the game and to find out which Hero type suits you best. Up to five Heroes of the two camps can fight against each other. It offers a stunning combination of real-time strategy and role playing with competitive elements.

The goal is to destroy the Sacred Nest of the opposing faction by demolishing certain buildings in a defined order. You can hunt creeps, level your Hero, spawn creatures, develop the perfect strategy and much more. These Heroes can neither be purchased nor obtained in the game, they can only appear at random when you use the Random Cube. Some Heroes can be bought in exchange for Aron, the in-game currency, in the Lobby Store. You might need a certain Kin or TLV to purchase these Heroes. The Heroes you can purchase in the AP Store come with 20,000 Aron and 1250 SP which means they already have all their skills. All Heroes in the AP Store are also available elsewhere in the game, for example in the Lobby Store. Some Heroes can be be obtained by completing the various Scenario Mode chapters. Play the Scenario Mode to collect all Heroes! A few special Heroes can only be played when you select the Random Cube as your Hero.

Screenshot: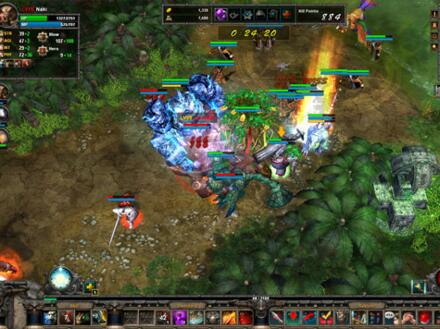 Add this game to your favourite forum, copy this
BB code: CONTROL + C and post it: CONTROL + V
Avalon Heroes Videos