Auto Assault MMORPG
Auto Assault is a Massively Multiplayer Online Game (MMOG) that combines vehicular combat with role-playing elements. You explore a Post-Apocalyptic future in customizable cars, motorcycles, semis, and even tanks.

Three surviving factions — Humans, Mutants, and Biomeks — battle each other for control of the world, using tricked out vehicles as their primary weapons.

Do you love the smell of radioactive mutant fusion bombs in the morning? Do you enjoy the company of oversized, toxic, hungry xenomorphs? Did you ever wish that the world would just come to a crashing apocalyptic end, after which heavily armored, tricked out combat vehicles were the only means of survival?

Welcome to Auto Assault, where all your post-apocalyptic dreams can come true!


Take a spin through the Auto Assault universe, and here's what you can expect:

* Massively multiplayer gaming at the wheel of your combat automobiles
* A uniquely destructible world where you can destroy everything that moves (and most things that don't)
* Realistic effects! The Havok 2™ physics engine makes jumping ravines, smashing through barriers, and sending buildings crumbling to the ground incredibly realistic
* Unique mission system—level up while playing, rather than playing to level up
* Unprecedented world map system minimizes travel time and maximizes actual gameplay
* Dynamic map generation—plug-in modules, terrain, creatures, and spontaneous world map events allow for virtually limitless replay ability
* Highly scripted scenarios: solo, group, and common areas
* Gain fame in the arenas, create wealth by trading, complete missions to advance your standing, or battle for the dominance of your faction in outpost wars

Have you played other MMOGs before? Here's a few more features that might interest you:

* No heavy death penalties... you'll never lose hours or days of progress
* Road Maps and Subdimensional Waypoint (Sub-Way) system minimize travel times, getting you to the action faster
* Demanding action-oriented gameplay, where collision and momentum matter... no click-and-wait combat
* Scripted PvE campaigns for solo and cooperative provide hours of enjoyable questing.
* Blueprint crafting system allows for experimentation or reliability for all character classes... without progress bars
* PvP Outpost scenarios are unique and highly scripted mini-games... each outpost has its own subtleties to master
* Random module technology allows for the same stretch of road to change from day to day... reexplore areas you've already visited for surprises
* Legacy slash command support... many common slash commands from popular MMOGs are aliased for your convenience, although no slash commands are required to play
* Prefixed & Enhanced loot and enemy generation means you won't fight the same monster for hours at a time
* Unique and varied special f/x sounds and a professionally composed soundtrack for each environment
* You can actually have fun and make progress in small amounts of time... even playing solo!

Screenshot: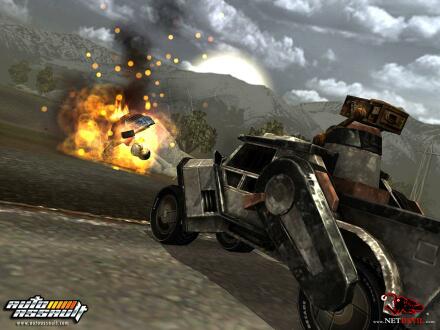 Add this game to your favourite forum, copy this
BB code: CONTROL + C and post it: CONTROL + V
Auto Assault Videos
Auto Club Revolution Open beta Trailer - MMO HD TV (720p)

Elvenar Dwarves "Guest Race" Introduction