Atlantica Online MMORPG
Atlantica brings back classic turn-based gameplay and marries it to a deep strategic framework that encompasses combat, character/party development and city/country management. Developed by NDOORS and published by NEXON.

NDOORS designed Atlantica's combat, mercenary and city/country management systems to set it apart from the rest of the MMO market.

The turn-based combat system offers players the chance to strategically plan every move of the nine characters in their group. Players can form teams of three to bring 27 controllable characters into combat. Or for simple fights, players can preset each character/mercenary's skill set and let the auto-battle system resolve the fight.

The mercenary system gives players the chance to manage multiple characters' development simultaneously. In addition to their main character, players can hire eight mercenaries each with a different class and skills. They can be obtained as an infant and raised, married to other mercenaries and even have their own children. Mercenaries' stats will decline as they age, necessitating the need to constantly update and upkeep the mercenary roster.

The city/country management system adds a layer of strategic play beyond typical party level interaction. Guilds can establish control of cities and go to war with each other. They will need to plan everything from culture, commerce and industry, even down to the placement of buildings for the maximum output. Groups of guilds can even band together to take control of countries. Controlling cities and countries allows them to obtain rare items and mercenaries.

Players take on the quest to destroy the Oriharukon energy, a powerful sensor from Atlantis that is poisoning the world. This journey will take players around the globe, including the ancient civilizations of Hanyang (Korea), Indus Valley (India and Pakistan), Mesopotamia (Iraq, Syria and Turkey) and Egypt, as well as North America and legendary locales such as the Pyramids and Angkor Wat.
Screenshot: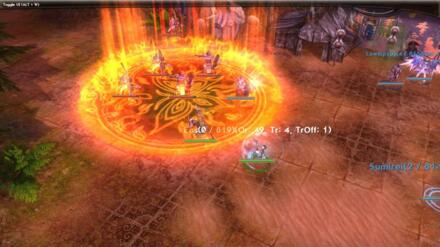 Add this game to your favourite forum, copy this
BB code: CONTROL + C and post it: CONTROL + V
Atlantica Online Videos