Asda Story MMORPG
Asda Story uses cute proportionally divided into 5 ways characters in full 3D MMORPG.

Based on a colorful, bright, and cheerful world, it is an easy game where monsters with strong characteristics come out. Lots of female users can have some great tastes of this comfortable game easily.

Asda Story can satisfy hardcore users who would like to use complicated key controls where unlimited item expansions are possible and lots of skill trees and casual users who would like to just click around the game to enjoy it.

Especially, the world's first trial, 'Real Costume Play' in MMORPG is well rated by Koreans and Japanese. Also 1:1 party system, 'Soulmate System' has very unique characteristics of Asda Story and lots of people are very interested in that.

Fun and never be bored! Omnibus type of organization for casual players

The 'Kingdom of Tales' was established by the god of creation, Asda Story main background world, Kingdome of Tales was based on a society where human beings dreamed about living there and God, Asda once lived.
Asda Story, thus;
God of creation: Asda & her Kingdom of Tales
God of Destruction: Rumpere & his Fire Realm
Great Satan: Omnidecron & his Army
Based on a history of war between these three gods and their kingdoms, the game has an omnibus-style scenario which connects short stories in a parody style; the short stories are on the myths in Orient and the Occident world throughout classics of medieval times.

Synopsis
Asda, God of creation, built the real world that people have dreamed for a long time. The world was called "Kingdom of Tales".
"Kingdom of Tales" was always filled with exciting stories and fun dreams since its creation.
However, since people were not innocent and they were not able to have pure dreams any more, "Kingdom of Tales" had been losing its pure spirit and energy.
On the other side of "Kingdom of Tales", there was Rumprere, God of Destruction.
He hated his role to destroy everything and had a strong desire to have own Kingdom.
While "Kingdom of Tales" became weak, Rumpere secretly stole pieces of "Kingdom of Tales". Finally, Rumprere decided to build his own incomplete Kingdom, "Fire Realm."
These societies were called 'Omnibus World' and became unstable. Asda's "Kingdom of Tales" and Rumpere's "Fire Realm" confronted with each other in Omnibus World.

One day, the merciless devil called "Nihil" came to Omnibus World.
No one knew where he came from. He destroyed Fire Realm and then invaded "Kingdom of Tales."
People of "Kingdom of Tales" and "Fire Realm" had to fight together against the Njhil and succeeded in stopping cruel destruction.
But in Nihil's society, a Satan Omnidecron appeared who was much cruel and aimed to conquer Omnibus World.

Omnibus citizens need desperate help from you to save Omnibus world where conflict of "Kingdom of Tales" and Omnidecron became much more severe.

There are lots different special characteristics with variety of jobs, skills, very instant and active battles, etc. in MMORPG.

1. Soulmate System
Two can be better than one, and having soul mates in one clan makes the power get stronger.
1:1 party system is only allowed in Asda Story, Soulmate System. When two users become a soul mate, Soulmates can have their own item such as a Soulmate Apple, Entrusting one's soul to Soulmate, Soul Stone to double the fun in a game. Also soul mates can have their own Soulmate Skills that low level users can be a great help to their soul mates, high level users with powerful and unique skills to use. It would be a great combination that soul mates form a party together to use powerful skills, and Clan Leaders would recommend their members to form a Soulmate.

2. Sowel Item System - Real Costume in MMOPRG
Sowel item system – Real Costume in MMORPG
Second special characteristics only in Asda Story, unlimited detachable and attachable items, Sowel system!
Female users were very satisfied with this, and this was proven fun and unique system in Korea and Japan.

In Asda Story, weapons and shields items are considered as just shells. Asda Story's real items are Sowel with spirit. Users with great weapons and shields cannot serve their purpose with Sowels. If a user has Sowels with attacking skills and defending skills, the user can wear anything he or she wants to adjust user's skills. This is same for weapons! The user can use one hand sword or spear with other combinations in anyway and anywhere he or she wants.

3. Customizing system – unlimited free will of items
There are lots of 'optional Sowels' apart from 'basic Sowels' with attacking and defending skills.

Total of 6 item parts can have 3 each up to 18 as optional Sowels.
A user can transform freely from a well powered warrior to a magician with 18 options filled to be physically strong only. Also it is possible to upgrade each of basic Sowels and optional Sowels or shells, weapons and shields.
Not only the exterior design but purpose of items, any users can create personal, only one of kind items in world to enjoy the game with extra flexible item systems in Asda Story!

4. Skill System
Various specialists and 3 different ex-jobs with 230 skills are ready, and up to 5 ex-jobs with 450 skills will be ready.
Within same specialists, users can experience distinguished games depending on how the users combine weapons and skills. You can have your own personal characters with one of kind specialists in Asda Story world.

5. Quest
Non stopping quests, various kinds of quests are presented in Asda Story. Users will be changing their jobs two and three times as solving quests one by one and acquiring necessary items by knowing the exciting moments of Asda Story synopsis without realizing it.

6. Instance Dungeon
First of all, there are definitely different backgrounds and monsters from a field and possibly acquiring items. Users can feel the extreme combat unlike from regular field. The game inside another game, this space, Instance Dungeon is only for Soulmates and Parties.
Screenshot: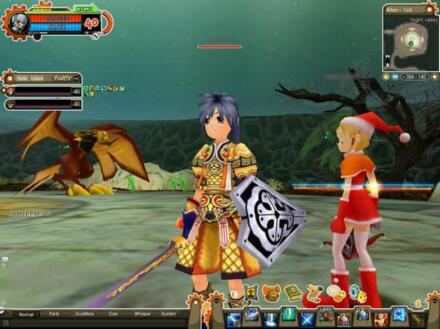 Add this game to your favourite forum, copy this
BB code: CONTROL + C and post it: CONTROL + V
Asda Story Videos