APB Reloaded MMORPG
Developed by Realtime Worlds for Windows, APB is a free to play third person shooter MMO game, set in San Paro, a persistent, online modern city which lives and breathes, filled with a population of civilians going about their daily lives. The game offers an expansive game world, divided into Action Districts (were you can engage in Missions, firefights, and open world activities), and Social Districts ( combat-free zones). It allows 100.000 players per World, 100 players per Action District and 250 players per Social District.

It features powerful and comprehensive in-game customization tools. Through an impressive character creation toolset, you can recreate yourself or anyone you would like to be with astonishing realism, from the veins in your skin to the freckles on your face. You can create logos, pictures and symbols to put them anywhere you want: car, skin, clothes. Also you can customize clothing with your own symbols and colors and make use of a fully featured music editor to create player themes.

It's an online sandbox where there are two factions matched against each other to choose from: Criminals (They create mayhem in the city through vadalism, arson, robbery and bombings) and Enforcers (they track down criminal celebrities or hunt down those who hide in the shadows). Collect hundreds of weapons including pistols, machine guns, assault rifles, grenades and rocket launchers. Enforce the law humanely, if you so choose: stun and then arrest criminals with less than lethal weapons.

Screenshot: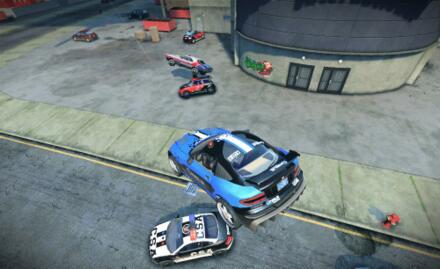 Add this game to your favourite forum, copy this
BB code: CONTROL + C and post it: CONTROL + V
APB Reloaded Videos