mmorpg games
space mmorpgs
More Free games -> 1 | 2 | 3 | 4 | 5 | 6 | 7 | 8 | 9 | 10 | 11 | 12 | 13 | 14 | 15 | 16 | 17 | 18 | 19 | 20 | 21 | 22 | 23 | 24 | 25 | 26 | 27 | 28 | 29 | 30 | 31 | 32 | 33 | 34 | 35 | 36 | 37
Wargame1942 MMO
Wargame 1942 is a military strategy browser game based in the Second World War developed by Playzo. The game gives players the opportunity to build up their base, research and develop different military vehicles and aircrafts in order to build an army to fight against the enemies. Use your army to fight against thousands of different players or use your diplomatic skills to influence the world politics and to write yourself into the history books.

Rail Nation MMO
Directly playable in any major browser, Rail Nation is a free-to-play strategy and management MMO which puts players into the shoes of a manager of a small railroad company whose goal is to transport as many goods as possible through the different historic railroad eras. The game combines an in-depth transport simulation with a refined strategy game in charming graphics.

In Rail Nation, players will have to carefully plan comprehensive timetables for transporting over 40 different goods and efficient routes. Targeted goods deliveries to the cities also influence their development. Growing profits can be used for extending their own fleet of steam, diesel or electric locomotives and different types of railcar.

Anno Online MMO
Anno Online is a free-to-play strategy simulation game developed by Ubisoft for Internet browsers focused on city building and economy management. As part of the famous Anno series, Anno Online upholds the long-held tradition of city management and economic development that are hallmarks of the franchise while introducing more extensive and in-depth city management tools and resources than ever before.

In Anno Online the key element is the player's main island, because this is where their commercial empires are going to be set. When players satisfy the needs of its population, managing production and constructing new buildings, they'll unlock new buildings and face new challenges as their population's demands increase. When the time passes, one island won't be enough to satisfy all the population needs and players will have to discover and conquer more islands and connect them via ship trading routes to your home island.

Merc Elite MMO
Merc Elite is a free-to-play next-generation MOBA game developed by Bigpoint for Windows that combines modern military warfare with team-based combats in intense, demanding, and rapid sessions. The game is set in a world where governments have faltered and collapsed, and 5 power hungry multinational conglomerates have emerged and now fight for the few remaining resources. You can build up a team of mercenaries, join one of these conglomerates and take them into combat operations around the world.

Ghost Recon Online MMO
Tom Clancy's Ghost Recon Online is a tactical 3rd person squad based shooter developed by Ubisoft for Windows. The game puts you in the boots of an elite Ghost and use advanced weaponry and equipment to dominate your enemies on the battlefield in fierce 16 player online firefights.

Players can pick from 3 different classes of Ghosts: Recons, Assaults or Electronic Warfare Specialists. The Recons use intelligence gathering and stealth technologies to outsmart the enemy, the Assaults are the point men, suppressing the enemy for his squad to advance through hardened enemy positions and the Electronic Warfare Specialists use ruggedized electronics to disrupt enemy technologies and protect their fire team. Each of these classes can use different offensive and squad support capabilities which can be used to defeat your enemies during a match.

Dragons Prophet MMO
Set in the world of Auratia and developed by Runewaker for Windows, Dragon's Prophet is a free-to-play fantasy action MMORPG which let you explore a vast world as you attempt to fight, tame, and take flight of a wide variety of dragons as you take on this epic adventure which determines the world's survival.
In the beautiful world of Auratia, dragons fill the sky. The game tells the story of the relationship between humans and dragons and for the first time ever, you have the ability to capture, train and ride your very own dragons.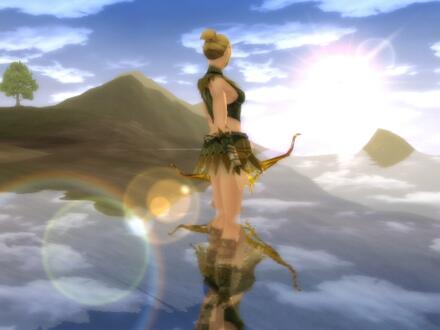 Last Chaos MMO
Last Chaos is an on-line role playing game where thousands of players can simultaneously be connected, fight and upgrade their courage and battle skills through adventures, quests and crafting skills with fellow adventurers. It is set in the land of Iris, a place where anarchy, terror and ambition reign after an epic struggle between the Gods
In the world of Last Chaos, the mortal races fight for power and conquest of Iris. In a land of shifting alliances, bloody betrayals and insatiable ambitions, players have full control of their destiny; every action and decision is meaningful and important. Fate rests on their shoulders and they determine the evolution of Last Chaos's story through brutal warfare, brilliant strategy and political power. By accomplishing missions, learning crafting skills and experiencing adventures in the huge and unknown world, players acquire the bravery, intelligence and strength to become the true ruler of Last Chaos.

The Mighty Quest for Epic Loot MMO
The Mighty Quest For Epic Loot is a free to play MMO from Ubisoft that puts you in the role of a daring hero looking to earn fame and fortune by conquering the castles of their neighbours and stealing their treasure hoards from within. The fantasy world of Opulencia is all about bragging about how much you have and never been satisfied; you can always have more loot.

The game plays in two modes; firstly players are responsible for being the builders and caretakers of their own castles, the place where their treasure hoards are held. Be careful as your neighbours look on with greedy eyes to break into your vault at the first chance they get and so to ensure this is no easy feat to accomplish players are able to lace their rooms and corridors with all manner of traps and monsters.

Infinite Crisis MMO
Set in the multiverse of the DC Comics, home to some of the biggest comic book legends such as Wonder Woman, Flash, Green Lantern and of course Batman, Infinite Crisis is a fast paced MOBA from Turbine that lets this all-star cast slog it out with each other and create some absolute carnage on the battlefield.

Players are able to currently choose from seventeen champions to play from falling into various different roles (bruiser, support, blaster or marksman) , the biggest and most memorable characters from the DC multiverse, both heroes and villains from all different ages. Play as classic Joker as you go up against, or fight alongside, Batman or even the lesser known Gaslight Batman from the Age of Invention, all of which have their own unique attacks and abilities.

Rising Cities MMO
Rising Cities is a free-to-play browser-based construction/management MMO, produced by Bigpoint, which will let you became a virtual mayor who have to build and manage his very own city. But getting to the top is long and arduous. Only with proper planning, good resource management and a consciousness for the well-being of your citizens you will become a powerful and respectful mayor.

In order to progress in the game, players will have to create healthy living spaces for their residents, collect rent and invest in industry, power generation plants, transportation systems and a plethora of additional constructions essential for a flourishing metropolis. Just like a real city, their online metropolis requires a vast amount of resources and energy.

Castlot MMO
Castlot is a free-to-play browser-based strategy game developed by Power Hosts Technology Limited. The game features the two factions, turn-based and real-time combats, competitive gameplay, resource management, and the ability to frame and scheme against other players and their resources through setting traps, stealing resources, and spying.

The game is set in the early 6th century medieval era during Britain's struggle against the Saxon invaders. The game has three separate factions, the Bright Knights, the Dark Faction and the Saxons (controlled by the AI). Led by Arthur, the Bright knights are responsible for protecting Britain and strike down those who would disturb its peace. While in the Dark faction, Lord Blackmore plans to eradicate every known power to rise as the land's prime ruler.

BigHead Bash MMO
BigHead Bash is a frantic free-to-play browser-based multiplayer shooting game developed by Spicy Horse Studios. Set in a world of collectible vinyl toys, the title offers swift and frenetic team-based matches in which players fight with a huge variety of weapons ranging from conventional arms like sniper rifles, machine guns and rocket launchers to even hilarious contraptions such as pepper grinders or tea canons.

Due to its fast-paced action, quick kills and lots of explosions, this shooter is reminiscent of old-school death match games but provides a much more varied gameplay experience featuring multiplayer, co-op, team and capture modes for matches of up to 8v8. Players compete in real-time against each other. When being out on a kill streak, characters' heads inflate which, on the one hand, gives additional boost to their damage but on the other makes them a bigger target for the enemy team.

More free MMORPG Games -> 1 | 2 | 3 | 4 | 5 | 6 | 7 | 8 | 9 | 10 | 11 | 12 | 13 | 14 | 15 | 16 | 17 | 18 | 19 | 20 | 21 | 22 | 23 | 24 | 25 | 26 | 27 | 28 | 29 | 30 | 31 | 32 | 33 | 34 | 35 | 36 | 37