mmolist
Page 8
More Free games -> 4 | 5 | 6 | 7 | 8 | 9 | 10 | 11 | 12
Rail Nation MMO
Directly playable in any major browser, Rail Nation is a free-to-play strategy and management MMO which puts players into the shoes of a manager of a small railroad company whose goal is to transport as many goods as possible through the different historic railroad eras. The game combines an in-depth transport simulation with a refined strategy game in charming graphics.

In Rail Nation, players will have to carefully plan comprehensive timetables for transporting over 40 different goods and efficient routes. Targeted goods deliveries to the cities also influence their development. Growing profits can be used for extending their own fleet of steam, diesel or electric locomotives and different types of railcar.

Anno Online MMO
Anno Online is a free-to-play strategy simulation game developed by Ubisoft for Internet browsers focused on city building and economy management. As part of the famous Anno series, Anno Online upholds the long-held tradition of city management and economic development that are hallmarks of the franchise while introducing more extensive and in-depth city management tools and resources than ever before.

In Anno Online the key element is the player's main island, because this is where their commercial empires are going to be set. When players satisfy the needs of its population, managing production and constructing new buildings, they'll unlock new buildings and face new challenges as their population's demands increase. When the time passes, one island won't be enough to satisfy all the population needs and players will have to discover and conquer more islands and connect them via ship trading routes to your home island.

Ghost Recon Phantoms MMO
Tom Clancy's Ghost Recon Phantoms (Ghost Recon Online in the past) is a tactical 3rd person squad based shooter developed by Ubisoft for Windows. The game puts you in the boots of an elite Ghost and use advanced weaponry and equipment to dominate your enemies on the battlefield in fierce 16 player online firefights.

Players can pick from 3 different classes of Ghosts: Recons, Assaults or Electronic Warfare Specialists. The Recons use intelligence gathering and stealth technologies to outsmart the enemy, the Assaults are the point men, suppressing the enemy for his squad to advance through hardened enemy positions and the Electronic Warfare Specialists use ruggedized electronics to disrupt enemy technologies and protect their fire team. Each of these classes can use different offensive and squad support capabilities which can be used to defeat your enemies during a match.

Warlord Saga MMO
Warlord Saga is a Free-to-play browser Hero Building MMORPG, developed by LeKoolGames.

Warlord Saga is a free to play browser based MMORPG where players get to travel around the vast world, levelling up their hero, acquiring new items and gear to make them stronger as well as recruiting various companions to aid them in their fight. Set in the Three Kingdoms era of Ancient China players take on the role of a wounded stranger appearing in the peaceful riverside village of Changshan and quickly find themselves involved in a battle against the rebels of the Yellow Turbans. Warlord Saga can be played directly through your web browser after a quick online registration and requires no payment or subscription fee to play but holds the option of purchasable premium currency (Tal) to spend in game on various perks and buffs.

Dragons Prophet MMO
Set in the world of Auratia and developed by Runewaker for Windows, Dragon's Prophet is a free-to-play fantasy action MMORPG which let you explore a vast world as you attempt to fight, tame, and take flight of a wide variety of dragons as you take on this epic adventure which determines the world's survival.
In the beautiful world of Auratia, dragons fill the sky. The game tells the story of the relationship between humans and dragons and for the first time ever, you have the ability to capture, train and ride your very own dragons.

Big Farm MMO
Big Farm is a Free to play Farm Managing MMO developed by GoodGame for internet browser games.

In Big Farm players are put in charge of their newly acquired farmland, left to them by their Uncle George, which to start with is small, slightly rundown and in much need of some care and attention. Thankfully you are not expected to undertake this task on your own, with the assistance of hired farmhands, helpful neighbouring ranch owners and business minded suit, you will be well armed and informed on how to get the most out of your humble plot of land and making big money in no time.

The Mighty Quest for Epic Loot MMO
The Mighty Quest For Epic Loot is a free to play MMO from Ubisoft that puts you in the role of a daring hero looking to earn fame and fortune by conquering the castles of their neighbours and stealing their treasure hoards from within. The fantasy world of Opulencia is all about bragging about how much you have and never been satisfied; you can always have more loot.

The game plays in two modes; firstly players are responsible for being the builders and caretakers of their own castles, the place where their treasure hoards are held. Be careful as your neighbours look on with greedy eyes to break into your vault at the first chance they get and so to ensure this is no easy feat to accomplish players are able to lace their rooms and corridors with all manner of traps and monsters.

Rising Cities MMO
Rising Cities is a free-to-play browser-based construction/management MMO, produced by Bigpoint, which will let you became a virtual mayor who have to build and manage his very own city. But getting to the top is long and arduous. Only with proper planning, good resource management and a consciousness for the well-being of your citizens you will become a powerful and respectful mayor.

In order to progress in the game, players will have to create healthy living spaces for their residents, collect rent and invest in industry, power generation plants, transportation systems and a plethora of additional constructions essential for a flourishing metropolis. Just like a real city, their online metropolis requires a vast amount of resources and energy.

Prime World MMO
The battle for Prime has begun as two mighty nations battle over the powerful energy resource that alters the world giving its users power over it, in the lands of Prime World everyone needs Prime. Align yourself with the Dohkt Imperium or the Keepers of Adornia, the two rivalling Empires that are locked in an endless war, battling for control of the alien resource; those who seek world conquest must first control the Prime.

Play as a hero and duke it out against other players in enemy factions as you fight through fast and furious battles, find glory and riches and build up your own castle for combat superiority against your foes. Castles are an important feature in the game and heroes can construct all manner of buildings in their personal growing settlement, thereby unlocking new skills and talents to use on the battlefield.

Fantasy Rivals MMO
Set in the world of Rhynn, Fantasy Rivals is a free-to-play collectible card MMO game developed by Boostr for web browser and iOS/Android devices. Players have to prepare themselves to face their opponents in intense strategic battles to move up in the rankings and finally reach the prestigious Diamond League. The very best players might even join the 200 Masters of the game. They will discover hundreds of Heroes, complete epic quests, and meet players from all over the world while getting powerful Heroes and leveling them up.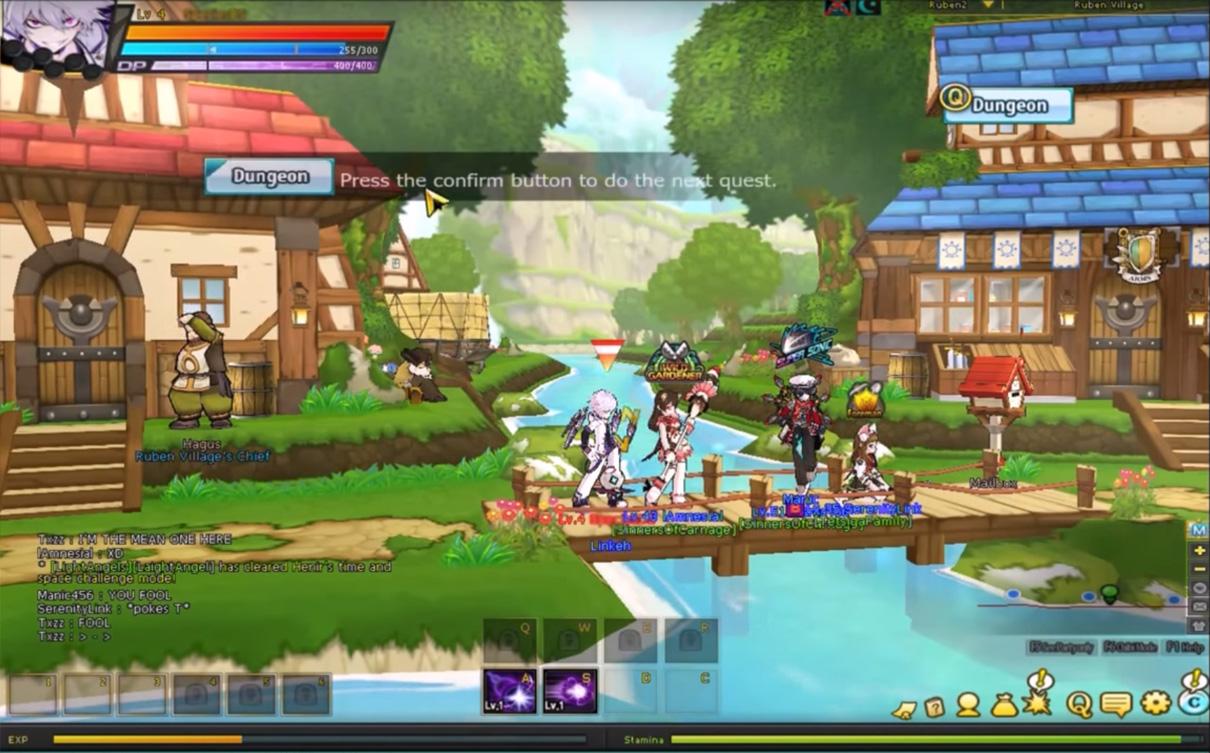 ElsWord Online MMO
Elsword is a fast-paced, multiplayer online action-packed beat 'em up, combining super slick combat and easy to master controls with wicked anime-style graphics.

Take on the roles of Elsword and his friends in this story based multiplayer online action game featuring exciting anime style graphics. Start a party or go solo through hundreds of quests and watch your character grow from a young adventurer to a battle ready hero. Level up to specialized job classes and shape your destiny.

Magic Barrage MMO
Step into the world of Magic Barrage, where a powerful being known as Crassus has risen up a Demon army with the sole purpose of destroying all of humankind. Corrupted by a magical soul weapon, which was able to tempt even the most wilful of souls, Crassus has brought the human world to its knees. Stand up against Crassus and his demon army in this wonderful free to play browser-based MMO RPG with its charming 8-bit pixel graphics that sets an old school retro vibe and offers a score of classic MMO features to create a well-rounded game.

Blade Hunter MMO
Blade Hunter is a Free to play MMO Action RPG genere type game for Web Browser plataforms, developed by R2Games.

Blade Hunter is a free to play browser-based action MMORPG that blends classic MMO features with a side scrolling 2-D platform arcade beat-em-up style game in a vibrant fantasy setting. With exceptional manga style and anime graphics for both the character art, backgrounds and explosive combat attacks the game is extremely fast-paced an action packed. Adventure across a huge world, taking on quests from the various characters met along the way whilst levelling up the character's abilities and learning to perform even more devastating attacks.

Hero of the Obelisk MMO
Hero of the Obelisk is a classic fantasy RPG that takes you to the stunning and exciting continent of Abate, a land literally filled with dungeons waiting to be discovered and explored. Choose from one of the three starter classes; Swordsman, Adventurer or Scholar, and set off on your journey to uncover valuable riches and adventure!

The three classes players can choose from in the game cover the standard trinity; Tank, DPS and Healing, however there is an element of customization and specialization that is available for players to adapt their character to their preferred play style. As a Swordsman focused on strength and vitality you can focus into becoming an offensive powerhouse or a shield wielding defensive tank. The Adventurer focuses more on agility and cunning and can become a stealthy rogue archetype or a tech savvy gun totting combatant. The Scholar, with their high intellect and wisdom, can either follow the path of the divine to become a cleric healer or school themselves as an elemental sorcerer of destruction. Further customization and specialisation is available through the skill trees where players can further tweak their characters abilities.

More free MMORPG Games -> 4 | 5 | 6 | 7 | 8 | 9 | 10 | 11 | 12