mmolist
fun free mmorpgs
More Free games -> 1 | 2 | 3 | 4 | 5 | 6 | 7 | 8 | 9 | 10 | 11 | 12 | 13 | 14 | 15 | 16 | 17 | 18 | 19 | 20 | 21 | 22 | 23 | 24 | 25 | 26 | 27 | 28 | 29 | 30 | 31 | 32 | 33 | 34 | 35 | 36 | 37
Eredan Arena MMO
Eredan Arena is a Free to play MMO Trading Card Game developed by Feerik for Corss Plataform games (internet explorer, IOS and Android).

The downtrodden and defeated Amnezy is on the hunt for revenge against the heroes that make up those nine Guilds of protectors that dwell within the world known as Eredan, famous and ferocious adventurers who thought they had seen the last of this mischief maker. Using her power Amnezy has successfully captured the heroes leaving this world bare and in peril whilst she makes them fight for her own entertainment in her own private arena. Here allies will be forced to fight against each other and enemies stand side-by-side as companions in this twisted and bloodthirsty game.

Dragon Pals MMO
Dragon Pals is a free-to-play browser based adventure RPG developed by R2Games for Internet browsers. The game features a colorful world full with interesting locations, unique events, and engaging characters.

In Dragon Pals, players can train and tame powerful Dragons. Each dragon has its own set of unique skills; depending on your class some dragons may be more useful than others. As you free new dragons, your dragons will grow in strength. You can upgrade your dragon by upgrading your dragon training skill, morphing your dragon, raising their skills, and through equipping dragon orbs.

Marvel Heroes MMO
Marvel Heroes is a Free to play Action MMO game genre, developed by Gazillion Entertainment for Windows.

Marvel Heroes is a completely free to play action MMO that puts players in the driving seat of some of their favourite heroes from the Marvel universe as they embark on a huge open world's story arc filled with famous faces, villains, super heroes and locations. Created by David Brevik, the man behind both Diablo and Diablo 2 and a story written by famed Marvel author Brian Michael Bendis, the game captures all the feeling of an action RPG wrapped up in the iconic universe that remains true to its setting.

Victory The Age of Racing MMO
Developed by Vae Victis, Victory: The Age of Racing is a world inspired by the legendary open wheels racing scene, but revised with a post-apocalyptic art direction for cars and tracks which gives to Victory a unique visual appearance in the racing games niche. Victory is based on quick competitions where players gain experience points and collect different car items to increase their car's attributes and reach the top of the leaderboard.

Victory is a game for the casual racers that want more: realistic car physics and a real racing experience with real time collisions, maintaining easy to learn game controls. An easy to use realistic physics means an unprecedented car handling in a game for everyone that is both easy to learn and hard to master. Victory is also a game for the hard core racers that don't have time for a full professional 3 hours race and want to race in a more casual and funny gameplay.

Dragon Nest MMO
Dragon Nest is a free to play action MMORPG which mixes adrenaline-pumping and high-speed combat with visually stunning attack combos with an epic storyline and role-playing elements of both classic RPGs and traditional MMORPGs alike. Developed by Eyedentity Games for Windows, Dragon Nest lets you engage the enemies in a third person shooter style gameplay where you have to aim every single blow through a crosshair and dodge every single enemy's attack using a third-person, over-the-shoulder perspective.

Topia Island MMO
Topia Island is a free-to-play browser-based MMO game developed by Bytro Labs, combining social elements such as friends, gifting and common missions with aspects of real-time strategy and city management games. Players will explore a tropical island on which they will collect resources in order to build houses and set up their own community and economy. They will be guided by a character-driven story-telling throughout their journey.

The game's story revolves around an idyllic island named Topia where a peaceful group of people is trying to build a society far away from the evil Empire. Building houses and schools as well as establishing an economy with farming and manufacturing are their first steps towards independence. However, the shadow of the Empire is long and soon the people of Topia may have to rise against oppression.

Combat Arms MMO
Developed by Nexon for Windows. Combat Arms is a fast paced modern MMOFPS (first person shooter). Battle it out on various maps and six game modes. Earn new ranks and cash by winning matches and buy new guns, attachments and gear. New players start with a ton of cash but in Combat Arms guns are not permanent, they expire after a week or so.
There are different gameplay modes: Elimination (Team death match. This is the most popular game mode), Search and Destroy (One team must plant a bomb while the other tries to stop them), One Man Army (Free for all), Capture The Flag (Two teams attempt to capture opposing flag), Spy Hunt (Players attempt to acquire all 3 'intel cases' to become the super spy with access to powerful weapons), and Snowball Fight (Special game mode available until March. Freeze other players with snowballs than shatter them with a shovel).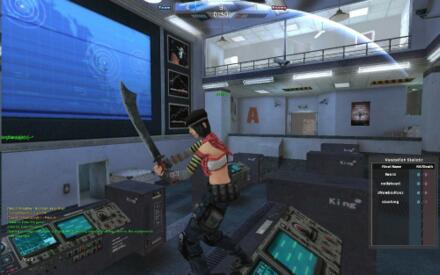 MAT Mission Against Terror MMO
Mission Against Terror (MAT) is a free to play first person shooter (FPS) set in a fictional time not far from our own, pitting two teams against each other all around the world. From the male civilian with a vengeance to a war-torn female soldier with something to prove, characters from all walks of life come together to fight for a common goal. FUelled by a wide array of rea-world weaponry from practical assault rifles to massive gatling guns.Developed by Kingsoft for Windows.

Absolute Force Online MMO
Absolute Force Online (AFO) is a free-to-play fast-paced tactical Shooter MMO developed by TQ Digital. Built on the Unreal Engine 3, this game delivers stunning graphics that perfectly display full-motion video effects, opening up a whole new era for visual experiences in online games. Players will join one of the two opposing factions fighting each other in never-ending skirmishes: the evil Fallen Angels and the proud Hand of Justice.

In addition to the traditional game modes such as Deatmatch, Team Deatmatch, Capture the flag, Bomb mode and Zombie mode, AFO also features several unique modes which are absolutely exclusive to this MMO providing the ultimate fighting experience. There are, for instance, the Exclusive Hero Battlefield mode, in which the character having suffered a certain number of deaths will turn into a hero with increased power and abilities, or the Arsenal mode that supplies players with better weapons each time they've killed an enemy. Choosing the unique Vehicle mode offers the opportunity to take part in exciting 5v5 helicopter fights.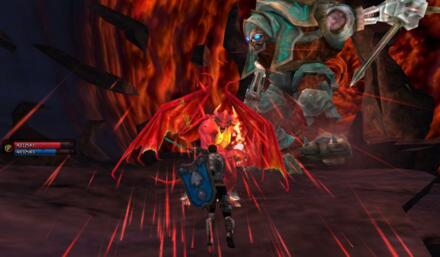 Dungeons n Dragons Online MMO
Developed by Turbine for Windows.Dungeons & Dragons Online: Eberron Unlimited is a f2p MMO which offers a unique and refreshing take when it comes to battle. Known as the Active Combat system, fighting in DDO is unlike anything you've ever seen in an MMO. DDO gives you the ability to feel the action at your fingertips as your skill is truly tested! Monsters can see and hear you, adding entirely new elements to an already advanced system — for no longer is combat relegated to simply pressing your number keys.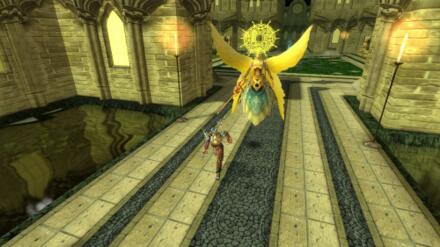 King of Kings 3 MMO
Developed by Lager Network Technologies Inc for Windows, King of Kings 3 is a free-to-play 3D online role-playing game (MMORPG) which is built around battle between players. There are plenty of ways to engage in PvP – be it in duels, open PvP, strategic attacks on other kingdoms or epic battles in which entire realms battle against each other. The different classes you can choose from are: Warrior, mage and cleric. Each one with three advanced classes: Berserker, Ranger, Knight, Sword mage, Conjurer, wizard, Scholar, Bishop and Priest.

Blood and Jade MMO
The Eastern Zhou Dynasty is on the verge of collapse and the Middle Kingdom finds itself in a constant state of war as the seven warring States battle it out amongst themselves to try and claim the highest seats of power and become Emperor of all of China. It is a dark time and the need for a hero has arisen, someone to descend into the darkness, uncover the secrets and conspiracies of the Warring States and once more return peace to your ancient land.

More free MMORPG Games -> 1 | 2 | 3 | 4 | 5 | 6 | 7 | 8 | 9 | 10 | 11 | 12 | 13 | 14 | 15 | 16 | 17 | 18 | 19 | 20 | 21 | 22 | 23 | 24 | 25 | 26 | 27 | 28 | 29 | 30 | 31 | 32 | 33 | 34 | 35 | 36 | 37