Free MMORPG Games Online
More Free games -> 1 | 2 | 3 | 4 | 5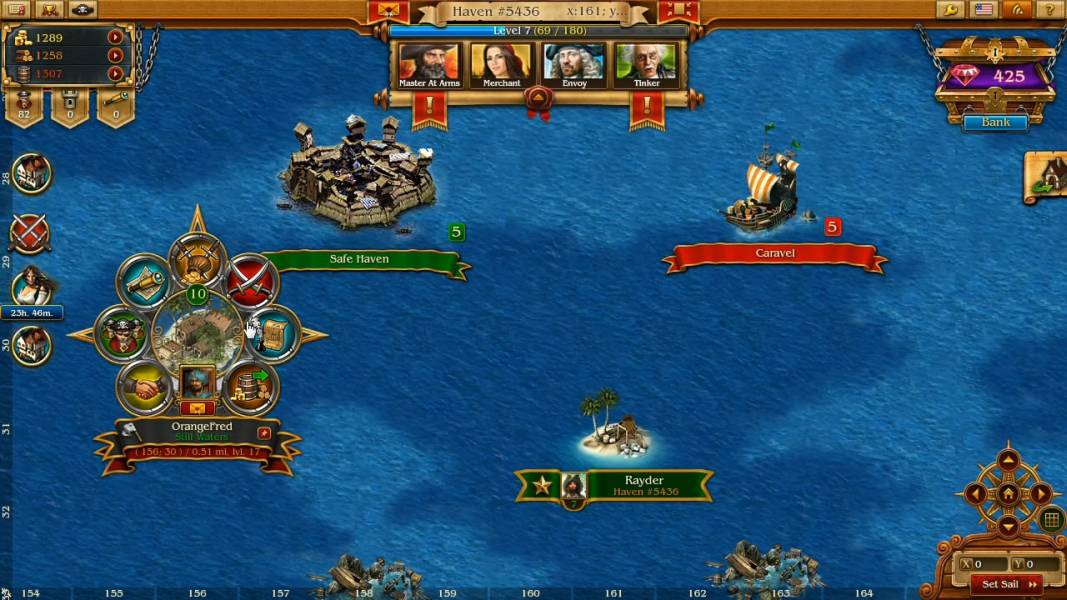 Pirates Tides of Fortune MMO
Pirates: Tides of Fortune

MMO Genre: F2P Base Building Strategy
Platform Availability: Web Browser
Developed By: Plarium

Pirates: Tides of Fortune is a free to play pirate themed MMO strategy where players must establish their own pirate haven, a stronghold to begin their operations and establish a powerful pirate fleet so that they can go head-to-head with other powers across the seven seas including both AI and players alike. Packed full of features the game has a simple learning curve, aided by an NPC guide leading players through the game, but requires high-end strategy in the later game. Players can access Pirates: Tide of Fortune through the official website where they can sign up for an account and play directly through their web browser without the need of downloading any client.

Sword Saga MMO
Sword Saga is a F2P Hero Building MMO RPG for borwsers, developed by R2 Games.

Sword Saga is a free to play browser-based MMO RPG where players are responsible for building up their own hero and team of companions and mercenaries, as players progress through the game they will unlock various new features and content as well as being able to revisit older early game content that has been modified. The main premise of the game is to collect items and gear to improve the overall Battle Rating of your chosen hero to go up against challenging AI opponents in story driven quests, single player and multiplayer dungeons and facing off against powerful world bosses or even going up against the most challenging of all opponents: other players.

Villagers and Heroes MMO
Villagers and Heroes is a Free2Play Browser Fantasy MMO RPG game, developed by Mad Otter Games.

Explore and discover the vast magical world of the Seven Realms as you carve an epic adventure seeking out information of the Legendary Four, the heroic founders whose footsteps you can only hope to follow in on your fantastic journey. This free to play fantasy role-playing game offers up a classic MMORPG experience with rich gameplay features from typical staples to twists that set it apart in the genre. Villages & Heroes lets players interact with thousands of other players from all across the world taking on the role of one of four different classes as they seek out challenges and begin their paths on becoming a Legend themselves.

Shadow Kings Dark Ages MMO
Shadow Kings: Dark Ages is a F2P Castle Building MMO for browser developed by Goodgame Studios.

In Shadow Kings: Dark Ages players are the rulers of their own Castle in a fantasy land filled with dangerous orcs looking to pillage and destroy your settlements, by establishing a strong Castle completes with various buildings, fortifications and defences as well is training up your own personal army. You are able to take the battle to them and destroy the Shadow Camps that crop up all over the world or alternatively engage in PvP with other rival players to assert your dominance over a region.

Space Pioneers 2 MMO
Space Pioneers 2 is Space Free to Play MMO Game developed by Looki.

Space Pioneers 2 is a strategic Empire building free to play MMO that can be played directly in your Internet browser where players either work on their own or with others to create mighty star system spanning empires whilst conducting trade, diplomatic missions and even going to war with rival players. The game is available in a number of different languages and can be accessed quickly through the official website after a simple registration process or players can join up through their Google account or using Facebook connect.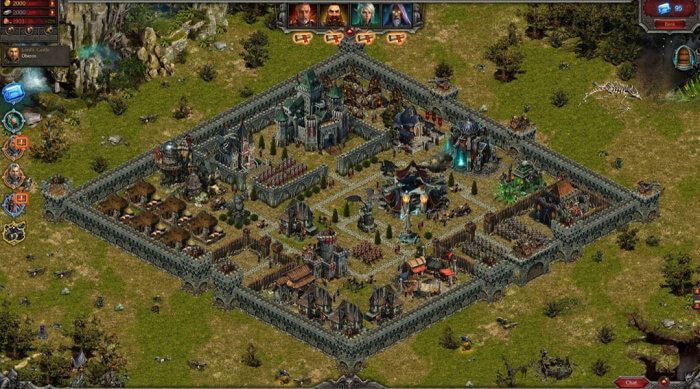 Stormfall Age of War MMO
Stormfall: Age of War is a Free-to-Play Browser MMORPG Strategy game developed by Plarium.

Charged by Lord Oberon to quell evil that rises in the lands of Darkshine you must build up your own fortified keep and take the war to your enemies, seeking out allies to combat those rival Lords that now fight over what remains of Stormfall's fallen Empire. With a land subjugated to war and the people crying out for a hero it is down to you to lay claim to the throne and bring peace to the land through diplomacy and conquest.

Kingdom Rift MMO
Kingdom Rift is a F2P Hero Building MMORPG Browser Game, developed by R2Games.

Kingdom Rift is an exciting fantasy-based RPG and adventure where players step into the role of the Chosen One, a powerful hero that is destined to save the realm from the forces of evil that threaten the people of the world. In this story driven MMO RPG players will build up their hero skills, acquire powerful artifacts and weapons, acquire their help of powerful Goddess companions and head into the most dangerous dungeons imaginable to face off against powerful AI threats. Kingdom Rift is a free to play MMO with purchasable Recharge options where players can buy in game premium Gold currency or pay for a VIP membership subscription to gain constant benefits depending upon the level of membership they pay for. After a quick registration the game can be played directly through your favourite web browser and does not require a client download.

Infinite Crisis MMO
Set in the multiverse of the DC Comics, home to some of the biggest comic book legends such as Wonder Woman, Flash, Green Lantern and of course Batman, Infinite Crisis is a fast paced MOBA from Turbine that lets this all-star cast slog it out with each other and create some absolute carnage on the battlefield.

Players are able to currently choose from seventeen champions to play from falling into various different roles (bruiser, support, blaster or marksman) , the biggest and most memorable characters from the DC multiverse, both heroes and villains from all different ages. Play as classic Joker as you go up against, or fight alongside, Batman or even the lesser known Gaslight Batman from the Age of Invention, all of which have their own unique attacks and abilities.

Swordsman MMO
Swordsman is a Action Free to Play MMO RPG developed by Perfect World / Arc Games.

In Swordsman players take on the role of a rising kung fu hero, set in ancient feuding China where powerful clans battle against each other you begin life as the sole survivor of a ransacked village, your friends and family butchered at the hands of unknown attackers. As players progress through the free to play MMORPG they will unlock more secrets revolving around that fateful day and the fuelled with revenge that will guide them to becoming powerful martial arts masters. Inspired by a Chinese novel written by JIN Yong (Louis Cha) in 1967 the game has heavy themes of Jianghu/Wuxia where martial artists accomplish superhuman feats such as running up walls, flying across rooftops and other impressive acts.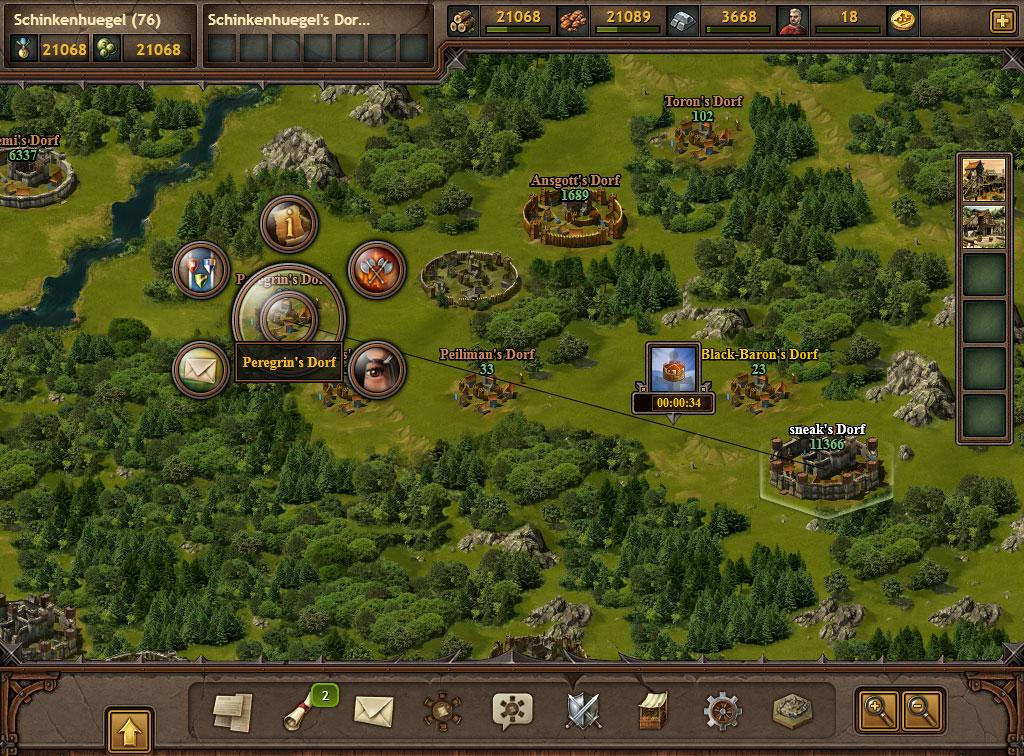 Tribal Wars 2 MMO
Tribal Wars 2 is a Free to Play City Building MMO browser game developed by InnoGames.

Tribal Wars 2 is the sequel to the original successful city strategy MMO Tribal Wars where players are responsible for building up their own mediaeval city, constructing various buildings, training up military units and expanding their territory. This free to play browser-based MMO adds a number of social elements including trade, diplomacy and ultimately war against other players in a ferocious tactical military strategy. With updated features and graphics the game is perfect for those fans of the original MMO and an easy steppingstone into the genre for those new to these types of games.

Chaos Heroes Online MMO
Chaos Heroes Online is a F2P Multiplayer Online Battle Arena (MOBA)developed by Aeria Games / Seven Games / Prosiben

Chaos Heroes Online is a fast-paced, free to play action Multiplayer Online Battle Arena (MOBA) that evolved from the original DOTA Chaos game inspired by the original Warcraft DOTA mod/map (which also gave birth to DOTA Allstars that lead to DOTA 2). The game offers classic MOBA style gameplay where players must work together in teams of 5 to battle through enemy defences including powerful Tower turrets, waves of AI NPC Minions and powerful Heroes that can be played either by the AI or more commonly by other players, and destroy the enemy base.

FEAR Online MMO
FEAR Online is a Free to Play MMO FPS, developed by Inplay Interactive

Set after the events that occurred in FEAR 2: Project Origin, players return once more to the city of Fairport, now in ruins after the first FEAR team were sent in to take down the Armacham Technology Corporation (ATC) and detonated a nuclear device. The city is now swarming with all manner of supernatural and monstrous threats that have emerged as a by-product from the "scientific" research projects that were being undertaken by the ATC. A new government team has been sent in to destroy what remains of the black Ops ATC soldiers, a super soldier team of psionics known only as the [Redacted], who must clean up the mess in Fairport and recover proof of Armacham's activities.

Mythborne MMO
Mythborne is a F2P Hero Building MMORPG for browsers, developed by R2Games.

In Mythborne players take on the role of fledgling heroes rising in a time of strife and peril as the evils of the world threaten the humans and their peaceful lives in this ancient Greek mythology based free to play MMO. The game is a top-down isometric RPG that focuses on building up your character, recruiting new heroes and training them up, equipping them and increasing your overall Battle Rating (BR) that determines how powerful your squad of heroes are. This easy to access browser game is not require any client download and players can register quickly through the official website or signup using their Facebook account.

Crusaders of Solaria MMO
Crusaders of Solaria is one Browser F2P action MMORPG, developed by R2 Games.

Crusaders of Solaria is a free to play exciting side scrolling brawler MMO with a high fantasy setting where players can choose to play as either a Mage or a Knight, create and adventuring parties with other players or hired mercenaries and explore and exciting realm as they carve out their own epic saga. With full-scale massive Guild Wars, tradable pets that can be used to boost your abilities, player run farms, powerful world bosses and dungeons there is plenty of content for everybody including PVP in the Arena.

With an ever-increasing number of MMORPG (massively multiplayer online role-playing games) being released it can sometimes be difficult to decide which game to pick up, especially with such a wide selection of themes, everything from fantasy-based MMORPGs, Sci-Fi or even more modern day urban online RPGs. The number of players that these types of online MMO bring in is staggering, often the ideal escape from the real world where players get to create their own online persona and explore exciting magical realms far-off planets with their friends. The problem for many players as often as not when looking at which online role playing game to play as that many of them seem very similar, few developers choosing to reinvent the wheel and follow a similar previous successful format. However, we make it our job to play each of these games, find out what makes them unique and allow you to compare the various features and mechanics so you can make an educated choice about which MMO is right for you , made all the more easier with our extensive profiles.
More free MMORPG Games -> 1 | 2 | 3 | 4 | 5
LAST FREE MMO GAMES ADDED