FREE SOCIAL MMO GAMES
Social MMORPG
More Free games -> 1 | 2
GameGlobe MMO
Gameglobe, developed by Square Enix, is both a platform that allows players to unleash their creativity by creating their own fun and engaging game and a unique free to play action adventure browser-based game. With just a couple of click, players will be able to explore endless inspirational, fun and visually stunning game worlds and creative possibilities made by creators just like you from all around the world, right from your web-browser.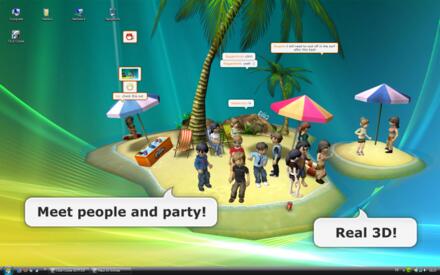 Club Cooee MMO
Club Cooee is the new slick 3D Chatworld Messenger for Windows. Come and meet your friends, chat to your heart's content, listen to your favorite music together, decorate rooms, link websites, share photos and party! It's so easy to use!

Club Cooee is a mix between a messaging program Messenger style and a chat. With the added attraction that is fully three-dimensional. The conversation occurs in real time. You can create your own environment and customize it.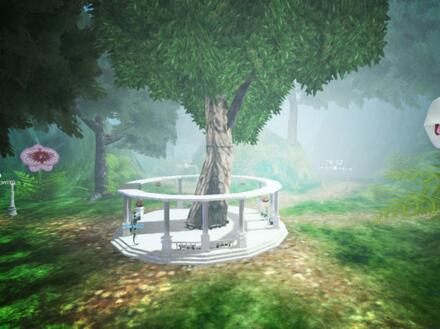 Onverse MMO
Developed by Onverse for Mac OSX and Windows, Onverse is a free online virtual world full of fun people and cool things to do. Unlike 2D social networks that simply give you a profile page, Onverse gives you a free 3D home, clothing, furniture and some tools to get you started. It's your new virtual life in a massive virtual world. Everyone who joins Onverse can create an avatar and get a free apartment, then head out into the world to explore and find new friends. Explore ancient space temples, pirate caves, tropical islands, red rivers and other gorgeous landscapes.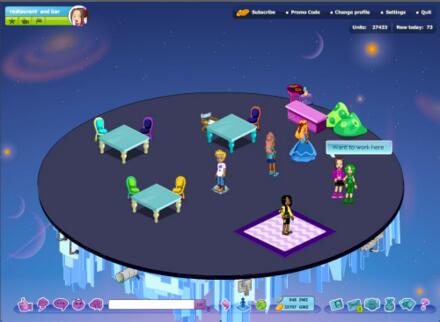 Woozworld MMO
Ready to play directly in your browser and eveloped by Woozworld Inc. for internet browsers. Woozworld is a browser-based virtual MMO world in constant evolution designed for tweens (ages 9-14). In Woozworld, tweens can safely create their own universe, play, and communicate with each other. Woozworld has creative functionalities as well as hundreds of games based on popular childrens' TV series. Woozworld is a 100% safe environment.

In Woozworld, every child can: Create and customize his/her Woozen with accessories; Create his/her Unitz and transform the world; Vote for the best Unitz and Woozen; Play and view hundreds of games and videos (by territory); Communicate and start Spellz battles with others players and friends; Take on the world by storm and complete diverse missions; Earn Beex and Wooz to buy objects; Participate in Woozworld's animations; As well as many more free benefits!

3Dchat MMO
3D Chat is a mmorpg client based developed for Windows. 3D Chat is characterized by a strong social component and his structure reminds the one seen another succesfull social mmo: Second Life. Players can create their characters with a rich editor and can dress them up as they want into the game.

In the game there are a lot of places to know and chat a lot of players like hotels, pubs, shops and so on.

Players can buy a lot of items inside the game such as clothes and they can edit their characters in their favourite way.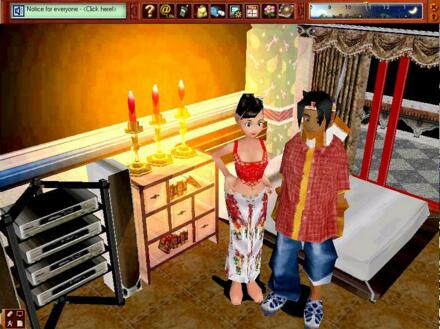 OZ World MMO
Oz Online offers a breath of fresh air in today's combat-ruled MMORPG landscape. Instead of forcing players to compete against each other, this game promotes community and friendship by concentrating on friendly interactions and social gatherings. Players who decide to participate in the unique system of Oz Personal have a much easier time making friends online, at the same time getting to know some of them in real-life.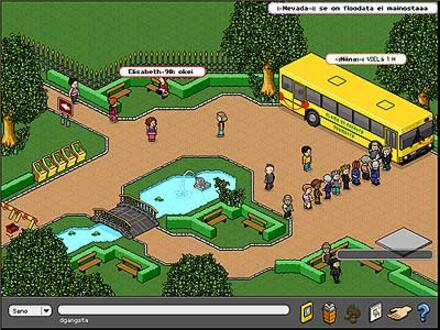 Habbo Hotel MMO
Habbo Hotel is a virtual hotel where you can hang out and make new friends. It's designed for 13 to 18 year olds in the US.

When you register you 'become' a Habbo and then you can walk, dance, eat, drink and chat in the cafes, restaurants, swimming pools and games rooms. The real fun begins when you decorate and furnish your own room. Then you can host your own party.

It's not hard to break into conversation for the first time and you'll soon find a friend who has something in common with you.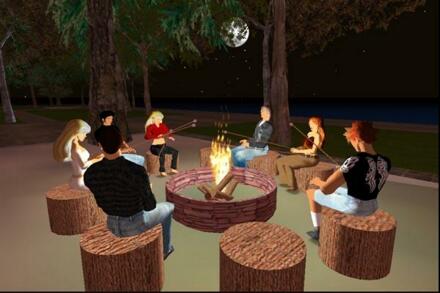 Second Life MMO
Second Life is an online digital world, built, shaped, and owned by its participants. Create a shared reality in a world full of people, activities, adventure, and fun. If you are a designer, programmer, or inventor you will be blown away by the variety of opportunities Second Life provides.

Create beautiful scripted 3D objects in a totally live online environment - from weapons to clothing lines to motorcycles.

Explore a rapidly changing and expanding world simulated on over 100 servers (with new land added almost daily), containing hundreds of thousands of user-created objects, daily and nightly hosted events, games to play, and people to meet.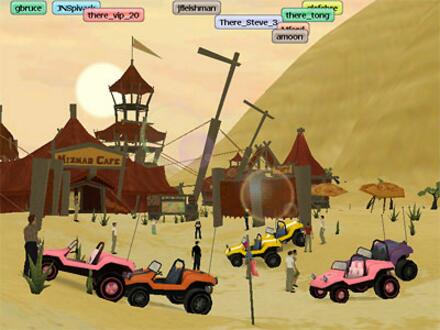 there MMO
There is an online getaway where you can hang out with your friends and meet new ones--all in a lush 3D environment that's yours to explore!
Project Entropia MMO
Project Entropia is a massive virtual universe with a real cash economy.

Together with people from all over the globe you experience adventure, you form societies, and you are a part in the creation of a brand new world.

While on the planet Calypso you use the PED currency to invest in your personal development. The assets you acquire can be exchanged back into real world funds.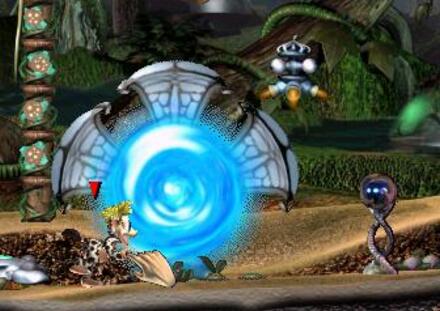 Docking Station MMO
Docking Station is a completely FREE artificial life game for both Windows and Linux, developed by Creature Labs - the creators of the Creatures series of Artificial Life simulation games.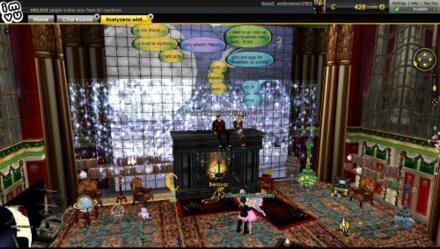 imvu MMO
Developed by IMVU for Windows, IMVU is a free to play online social network and virtual world where millions of members use 3D avatars to meet new people, chat and have fun playing game in animated 3D scenes. You can shop and dress up your avatar with your own personalized look, design and decorate your own 3D space, and connect with new people from around the world.

IMVU has reached 50 million registered users, 10+ million unique visitors per month and a $40+ million annualized revenue run rate. It has the world's largest virtual goods catalog of more than six million items with approximately 7,000 new items added every day, almost all of which are created by its own members. The virtual goods catalog consists of everything from 2D stickers to detailed 3D items like virtual jewelry, clothing, hair, cars and other fun items that help IMVU community members create an IMVU identity as unique as their own.