free mmorpg games
online mmorpgs games
More Free games -> 1 | 2 | 3 | 4 | 5 | 6 | 7 | 8 | 9 | 10 | 11 | 12 | 13 | 14 | 15 | 16 | 17 | 18 | 19 | 20 | 21 | 22 | 23 | 24 | 25 | 26 | 27 | 28 | 29 | 30 | 31 | 32 | 33 | 34 | 35 | 36 | 37
Fantasy Rivals MMO
Set in the world of Rhynn, Fantasy Rivals is a free-to-play collectible card MMO game developed by Boostr for web browser and iOS/Android devices. Players have to prepare themselves to face their opponents in intense strategic battles to move up in the rankings and finally reach the prestigious Diamond League. The very best players might even join the 200 Masters of the game. They will discover hundreds of Heroes, complete epic quests, and meet players from all over the world while getting powerful Heroes and leveling them up.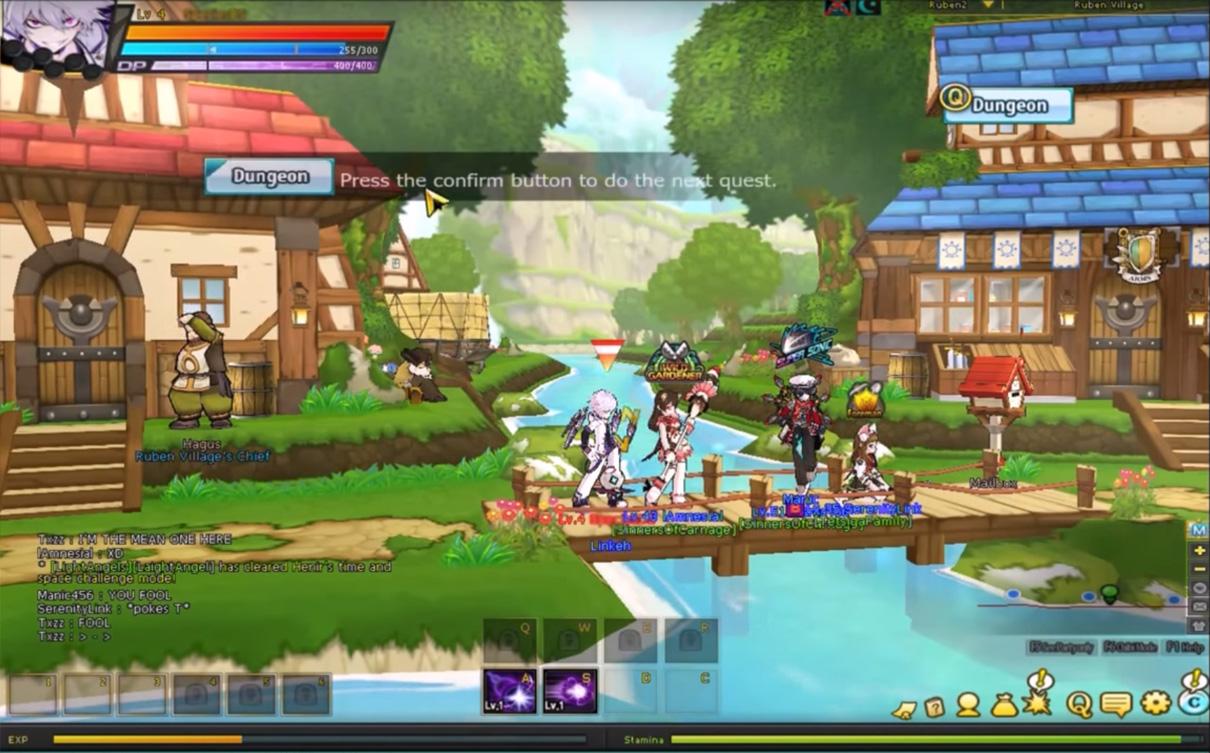 ElsWord Online MMO
Elsword is a fast-paced, multiplayer online action-packed beat 'em up, combining super slick combat and easy to master controls with wicked anime-style graphics.

Take on the roles of Elsword and his friends in this story based multiplayer online action game featuring exciting anime style graphics. Start a party or go solo through hundreds of quests and watch your character grow from a young adventurer to a battle ready hero. Level up to specialized job classes and shape your destiny.

Hero of the Obelisk MMO
Hero of the Obelisk is a classic fantasy RPG that takes you to the stunning and exciting continent of Abate, a land literally filled with dungeons waiting to be discovered and explored. Choose from one of the three starter classes; Swordsman, Adventurer or Scholar, and set off on your journey to uncover valuable riches and adventure!

The three classes players can choose from in the game cover the standard trinity; Tank, DPS and Healing, however there is an element of customization and specialization that is available for players to adapt their character to their preferred play style. As a Swordsman focused on strength and vitality you can focus into becoming an offensive powerhouse or a shield wielding defensive tank. The Adventurer focuses more on agility and cunning and can become a stealthy rogue archetype or a tech savvy gun totting combatant. The Scholar, with their high intellect and wisdom, can either follow the path of the divine to become a cleric healer or school themselves as an elemental sorcerer of destruction. Further customization and specialisation is available through the skill trees where players can further tweak their characters abilities.

Wolf Team MMO
Wolf Team is a high-octane MMOFPS that features the ability to transform between Humans and Werewolves. The ability to switch between Human and Wolf form at any time adds an element of strategy that is wholly unique to Wolf Team. Players never need to worry about running out of ammunition because Wolves have their own distinct advantages – such as running on walls then dropping onto enemies unexpectedly. In certain modes, players can even harness special Wolf mutations, such as Ghost Wolves, which can turn invisible.

GoalUnited MMO
GoalUnited is a browser game mmorpg where the player will manage an entire football team. The player needs to manage all the aspects of the team such as football players, buy and sell the players, build and manage the new stadium and so on.

GoalUnited is localized in a lot of languages and there are a lot of tournaments. These tournaments are formed by a precise number of players that will fight each others to reach the first spot in the ranking and pass to strongest leagues.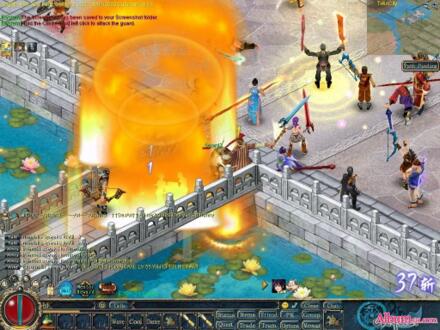 Conquer Online MMO
Conquer Online is a free-to-play 2.5 MMO developed by TQ Digital Entertainment offering a fast-paced combat and a myriad of PvP options. Set in the beautiful and opulent world of oriental fantasy in ancient China, the game favours a straightforward combat-focused play style, incorporating common elements of many MMORPGs such as wealth, fame and character development.


Players will take control of a strong and gallant hero, slaying frightful monsters and completing dangerous quests with their friends. There are eight classes for them to choose from: Warrior, Ninja, Trojan, Archer, Monk, Taoist, Pirate, and Oriental Assassin, each one possessing a unique set of skills and powers. In addition, characters can also join various sub-classes and receive different bonus effects. In order to further customise your character, the title features in-depth customization options for an abundant choice of beautiful garments, hairstyles, mount armour, and even weapon accessories.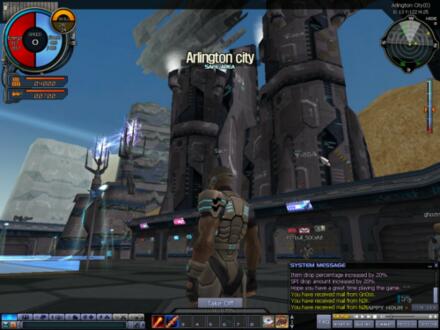 ACE Online MMO
ACE Online is a 3D space shooter that combines action and MMORPG
elements. Developed by Yedang Online, one of Korea's most renowned
gaming enterprises, the game puts players in the role of fighter
pilots and behind the controls of ships known as "Gears". As the
player battles in this intergalactic world at war, they will complete
missions and engage other players in intense aerial dogfights.

ACE Online injects action and shooting elements into the traditional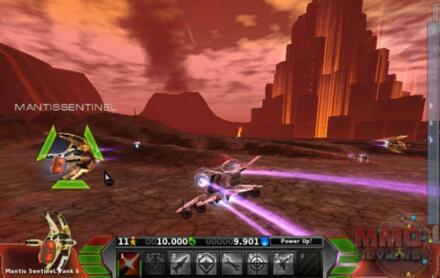 Pirate Galaxy MMO
Set in a distant future and Developed by Splitscreen Studios for Windows, Pirate Galaxy is a browser-based, massively multiplayer online game. It's free to play and provides real time 3D graphics directly in your browser, and it's aimed to players who wants to enjoy fast-paced, tactical spaceship combats, become part of a spectacular storyline and invite their friends on exciting missions against the unite enemy.
The game will allow the Players to unfold the story about the resistance of mankind against an alien species called "Mantis".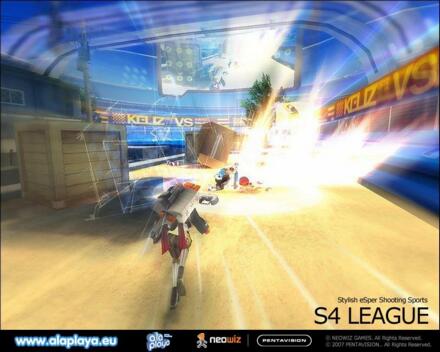 S4 League MMO
What exactly is S4 League?

Style – Find your own style, evolve your own Superhero and become the best S4 player ever. A revolutionary 3D-Cartoon-Rendering Technologie is the current best one and gives you the possibility of cool stunts and hellacious outfits.

eSper – choose one of many supernatural skills use them strategically to bring your team to victory.

Shooting – Train all weaponservices and find out which one is your strength. Only the best combination of skill and weapon brings you to pool position.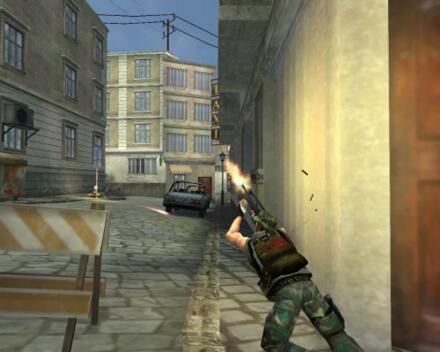 War Rock MMO
Developed by K2 Network, War Rock is a free to play military tactical first person shooter (FPS), which features team or solo based play and unbelievable missions and maps. Equip yourself from a wide array of weapons and field gear, and fight on foot or take the battle to the enemy in armored vehicles ranging from Blackhawk choppers and K1 tanks to F-15 Eagles.

War Rock is free to play. All players have access to the basic features of the game, including frequent content patches and the ability to rank up and unlock new weapons. However, players have the option to access Premium features including extra Dinar, bonus XP gain, extra weapon slots, and more. It features frequent update patches, which include new gear, vehicles, and even gameplay modes, driven by player request. Each Episode begins a new chapter of War Rock, expanding the stage with intrigue and treachery as the Derbaran civil war unfolds. Also, sponsored events and an integrated Clan System drive a fiercely competitive community.

Star Trek Online MMO
In this free-to-play massively multiplayer online game from Cryptic Studios, players can pioneer their own destiny as Captain of a Federation starship. Or they can become a Klingon Warlord and expand the Empire to the far reaches of the galaxy.

In Star Trek Online, players will have the opportunity to visit iconic locations from the popular Star Trek fiction, reach out to unexplored star systems and make contact with new alien species. Explore strange new worlds and seek out new life and new civilizations in a vast, expanding universe. Establish contact with new races, discover resources and uncover mysteries that will influence Star Trek's future. Set in 2409, Star Trek Online exists in a timeframe beyond even the latest movies, so everything you experience will be brand new, but still based on all the fiction you love.

Days of Evil MMO
Entirely playable in the major internet browsers, Days of Evil is a strategy/RPG/Economic Simulation MMO game developed by Media2Art. In this game, the user plays as a scientist from the 28th century, who travels through time and lands on an unknown planet and have to to build an empire and destroy his/her enemies to reach the true power and become a god.

The game offers all the standard and popular features that you could expect from a strategy/management browser game's gameplay. Moreover you can also find some pretty unique features such as a diverse array of research, construction, and support functions and a complex quest system accompanied by a tantalizing PvP and PvE system which provides for long lasting gaming enjoyment for all kinds of players, from casual to hard-core.

More free MMORPG Games -> 1 | 2 | 3 | 4 | 5 | 6 | 7 | 8 | 9 | 10 | 11 | 12 | 13 | 14 | 15 | 16 | 17 | 18 | 19 | 20 | 21 | 22 | 23 | 24 | 25 | 26 | 27 | 28 | 29 | 30 | 31 | 32 | 33 | 34 | 35 | 36 | 37