Featured Free Online MMORPG Games
WindSlayer MMORPG
Wind Slayer introduces blazing fast, side-scrolling 2D action in a combat system that rewards precise control and timing. The game's visual style evokes images of nostalgic fairy tales with friendly sprite-based characters and gorgeous fantasy backgrounds.
In addition to a rich role-playing experience featuring diverse and powerful character classes and hundreds of in-game quests, Wind Slayer includes a thrilling player-versus-player mode offering gamers a chance to battle one another in challenging stages. Other unique features include a character customization system, chat system, mentoring system and captivating visual effects.
Key Features
• Accessible to Gamers of All Ages and Experience Levels.
• Immersive Fantasy World Featuring Diverse and Engaging Characters.
• Mentoring System Rewarding In-Game Cooperation.
• Powerful Abilities and Captivating Visual Effects.
• Hundreds of In-Game Quests and a Deep Storyline.
• Versatile Gameplay and a Wide Selection of Battle Modes Including:
- Team Fight
- Death Match
- Capture the Flag
Screenshot: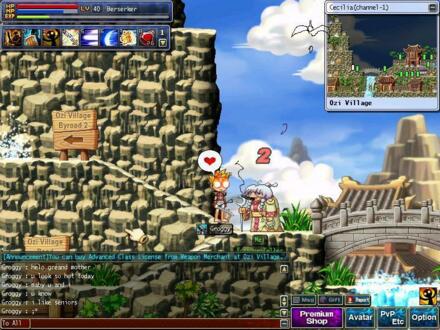 Add this game to your favourite forum, copy this
BB code: CONTROL + C and post it: CONTROL + V
WindSlayer Videos