FREE MMORTS GAMES
Strategy MMORPG games
More Free games -> 1 | 2 | 3 | 4 | 5 | 6 | 7 | 8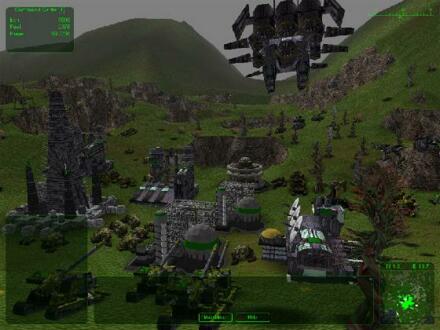 Boundless Planet MMO
Build your cities to withstand attack, build your armies to neutralize any threat, and build your empire to inspire fear.

BoundlessPlanet, the world's first fully 3D Persistent Massively Multiplayer Online Real Time Strategy Game (MMORTS) which pits you against hundreds of other players simultaneously in a planet-wide struggle to claim natural resources and expand an empire using the limitless power of an army, navy, and air force of your own creation.

World of the Living Dead WoTLD MMO
World of the Living Dead is a free to play massively-multiplayer zombie game which features strategy gameplay and life or death resource management in a huge game universe. WotLD is a game you play in your internet browser. No downloads or plug-ins are needed. You need to use a modern browser such as Google Chrome or Mozilla Firefox.

The world has been overrun by the living dead. The national Emergency Control & Relief Agency (NECRA) was established to take over management of the most important global issue: survival at all costs. You play the role of a NECRA operative who has been sealed into a secure bunker and given the task of remotely guiding survivors to supplies and shelter.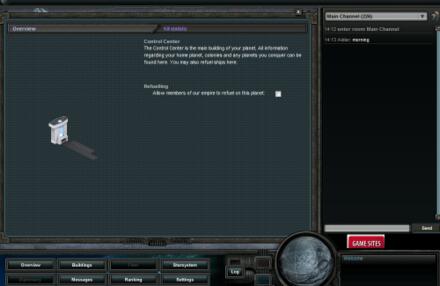 Empire Universe 2 MMO
Developed by Looki Games for internet browsers, Empire Universe 2 is a space browser-based Massive Online Game where you can chose your own path in the galaxy. Choose from 9 different races with their own unique stats and starting places in the galaxy map. Collect 10 different resources via mining asteroids and wreckages or through your planet's resource mines, customise 21 different spaceship chassis with over 66 components allowing for a lot of room for experimenting. With 146 different technologies to research it is a long spanning game that cannot be either won or lost. There is a strong focus on allied gameplay and it promoted teamplay whether you decide to join one of the many empires out there or create your own. Use your warships to fight real time battles against hundreds of opposing players and train ground troops to act as your last line of defence for when all your warships have been destroyed. Choose your alignment through the actions you take in the game you can become a scientist, pirate, warrior, trader and bounty hunter. With over 120,000 planets in 10,000 sectors there is plently of space for everyone.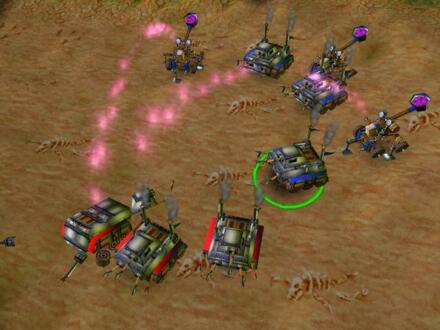 Ballerium MMO
Ballerium is a Real-Time Strategy Massively Multiplayer Online Game, in which thousands of players can simultaneously play a game of control involving a strange world called Ballerium. In Ballerium players gather armies, trade, clan, fight, and explore to gain more power and additional friends with which they can color the map theirs.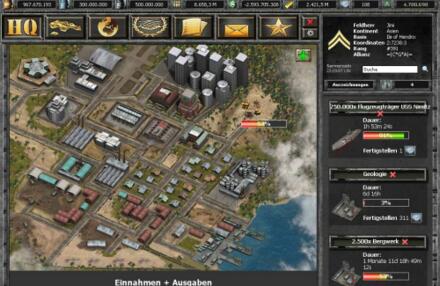 Desert Operations MMO
Desert Operations is a free to play military Strategy Browser-based Game where you fight as the Ruler of a small country against thousand other players or make allies with them through clever diplomacy. Developed by Playzo GmbH for Internet web browsers and ready to play in your browser directly. Raise your influence on the world politics by creating alliances or making war declarations. Found alliances, so you and your allies can fight against your enemies. Trade with your allies and spy on your enemies.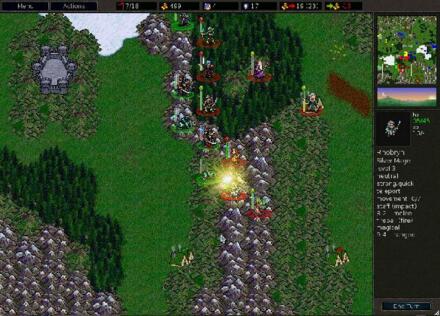 The Battle for Wesnoth MMO
The Battle for Wesnoth is a free, turn-based strategy game with a fantasy theme.

Fight to regain the throne of Wesnoth, of which you are the legitimate heir, or use your dread power over the Undead to dominate the land of mortals, or lead your glorious Orcish tribe to victory against the humans who dared despoil your lands … Wesnoth has many different sagas waiting to be played out. You can create your own custom units, and write your own scenarios – or even full-blown campaigns. You can also challenge your friends – or strangers – and fight multi-player epic fantasy battles.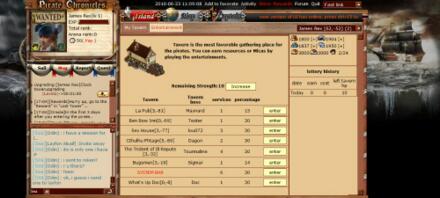 Pirate Chronicles MMO
Ready to play directly in your browser, Pirate Chronicles is a browser-based mmo game with historical fantasy, RPG, city-building, business and strategy elements. Developed by ShangHai-headquared WeiQu for internet browsers. It features rich Browser Based SLG + RPG; epic game world with thousands of rewarding quests; three distinct nations: Western Europeans, Northern Europeans and Arabs; pirate Captain and Flag Ship Systems with extensive RPG elements; completely browser-based, no downloads required, and free to play; and regular major content updates.

Rivality MMO
Rivality is an exciting next-generation web game in the war strategy genre developed by reputable FunRock Media. The first version of the game was released in August 2008 and got a major update and facelift in its current third version in 2012. FunRock Media has a great passion for creating truly unique and compelling user experiences. But beware some players get addictive to the game and are constantly online to respond to enemy attacks and get the latest updates from allies and the outcome of executed enemy attacks. FunRock is committed to vigorously updating the game. User feedback is highly appreciated in order to improve the game in the direction that the player community. Rivality is played directly in the web browser: Nothing to download and free to play for as long as you like, guaranteed. After the simple registration process you can choose an area to build your own base camp in the gigantic world of Rivality and start building what's needed to gain power and money in the game.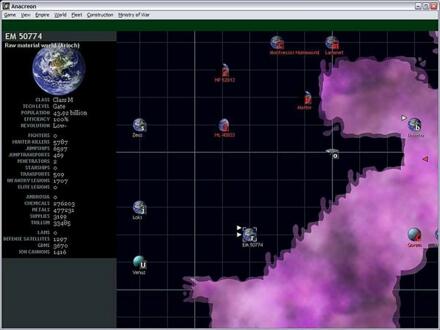 Anacreon MMO
This is a highly detailed and challenging game in which you have complete control of an entire galactic empire. This is much more than a simple war game—players may arrange interstellar trade routes, make treaties with other empires, control the production of planets, and race against the enemy to create new technologies and more destructive weapons. This is a game of power and control, conquest and rebellion, all set in a Machiavellian milieu in which it is better to be feared than loved.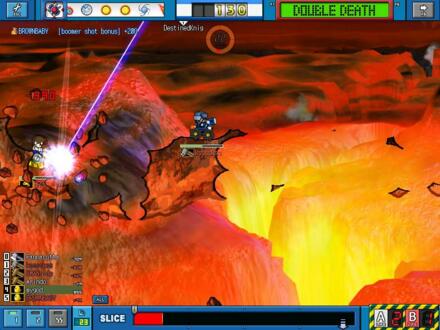 GunBound MMO
For a long time, we have worked in the game industry, and have applied
our creative talent into creating Mobiles that you have never seen
in other shooting games.

With many unique types of armour, we open this game to you, so you can develop crafty and even sneaky! new strategies. The Moondisk also changes the gravity on each map, making it necessary to re-calculate how
the atmosphere will a re-calculate how the atmosphere will alter
how you fire. It's important to use your weapons well and adapt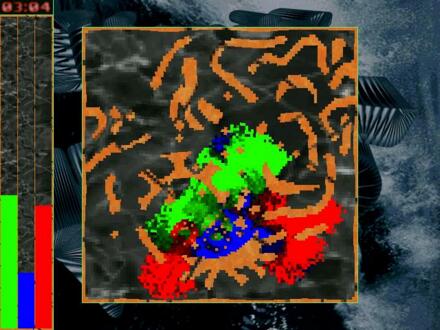 LiquidWar MMO
Liquid War is a unique multiplayer wargame. Its rules are truely original and have been invented by Thomas Colcombet. You control an army of liquid and have to try and eat your opponents. A single player mode is available, but the game is definitely designed to be multiplayer, and has network support.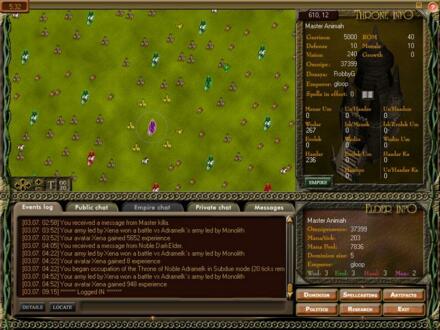 Dominance MMO
Dominance: The Throne of Elders is an online turn-based fantasy strategy multiplayer game. Currently, free and fully playable beta phases are taking place.
In the game you control an Elder, a mighty wizard who wages war with other players or allies with them. Interaction between players is the key issue in our game - prepare to start communicating and plotting right from the beginning. When you start playing you will immediately be aware of your neighbours and other players with interests in your area. Dominance's IRC-like communication modes make sure that the presence of other players is not merely a number on the screen. As opposed to most other Internet games of the similar type (MPOGs), Dominance features a 2D map. Territories are not abstract or generalized, and armies don't dwell "in transit".